One of the best ways to make the most of your outdoor patio is to call over your friends and family members, spend the night watching the stars, roasting some marshmallows, and watching a movie. However, all of that becomes increasingly difficult when it is the winter season. 
Depending on where you live, even with a blanket, you will be shivering.
Luckily, that is not the case anymore. As more and more people opt for spending time outdoors at least once a week, homeowners have started exploring ways to heat their patios so that they can enjoy their time outdoors all year round.
If you are also looking for the best ways to heat outdoor patios, then you've come to the right place. Please keep reading to find a list of things you can build or install in your outdoor area to warm it up.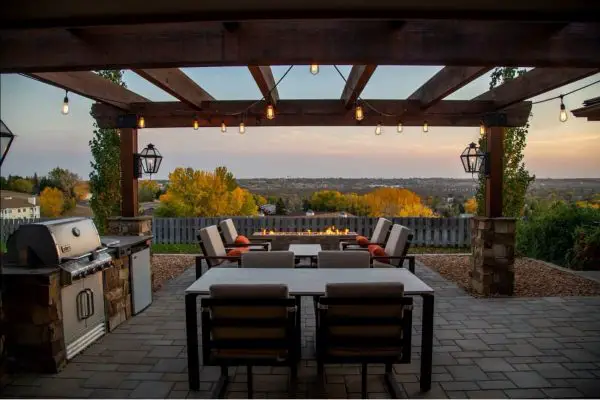 Best Ways to Heat Outdoor Patio
There are several options you can choose from depending on your needs, preferences, and budget. The most popular ways you can heat your outdoor patio or porch are the following:
1.    Fire Pits
One of the most common ways homeowners choose to keep their outdoor spaces warm is with fire pits because they offer many benefits. They don't cost a lot, come in a myriad of different shapes and sizes, and can be customized according to one's preference. If you are looking to buy one for yourself, look at our recommended top gas fire pits for patios.
You can even build a fire pit yourself. Here is a guide on how to build your DIY fire pit.
2.    Custom Fireplace
These days, a fireplace has become common, not just indoors but also outdoors, where they provide even more warmth and a cozy ambiance. Not only that, but they are also an appealing architectural feature because they are so eye-catching and elegant.
 You can either build a custom fireplace yourself or have one installed in your outdoor space. Building one may require a lot of effort, but it will be worthwhile. Here is a simple guide on how to build an outdoor stacked fireplace.
3.    Hot Tubs
We know it sounds absurd, but it's a great idea! Not only will they help warm you up during winters as you cozy up in the warm water, but you can also use them during the summers. They are also the ideal way to ease sore muscles.
Hot tubs can be a worthwhile investment, and if you love this idea as much as we do, you would want to know more about outdoor hot tubs in your backyard.
4.    Heated Floors
Heated floors have become a well-liked feature for patios because they are considered the best ways to heat outdoor patio. These systems can be installed in your patio deck, and you can lounge around even when it's snowing. Any snow that lands on these floors will melt away. However, be mindful that adding heated floors to patios is not a DIY job. You will need to hire a professional.
5.    Outdoor Kitchen
Though outdoor kitchens are not made specifically for heating purposes, if you install all the right appliances to help warm up the atmosphere, such as grills and ovens, you will be in luck. They will not only automatically create warmth, but they will also be a place for you to enjoy fresh food right out of the grill and oven. 
Outdoor kitchens are a true investment because they serve multiple purposes.
If a complete outdoor kitchen is not something you are comfortable with, you can consider a cooking station that will warm up your outdoor area. Here is how you can build an outdoor cooking station yourself.
6.    Patio Heaters
An obvious and possibly the best way to heat an outdoor patio is with a patio heater. They come in so many different shapes, sizes, and materials. You can even choose between a portable or permanent patio heater. 
Though they may be costly compared to other alternatives, they will do the job efficiently and warm up your outdoor area in less time and with less effort. If you are considering buying a patio heater, here are some top patio heaters available in stores.
7.    Outdoor Rugs & Blankets
Compared to the other options, this is an inexpensive way of warming up your patio and backyard area. Putting up outdoor rugs and providing blankets to everyone will give your outdoor space a cozy ambiance and naturally warm up the area. 
When your area looks warm, it will also feel very relaxing for everyone. You can keep outdoor rugs in baskets next to the seating area.
How to Choose the Best Option for You
Now that you know what the best ways to heat outdoor patio are, you might be confused and wondering which option to go for. To make your decision, consider the following questions:
What is your budget?
How many times in a week, on average, would you spend outdoors?
How many people would benefit from this heating option?
How is the weather like in your area? Does it get extremely cold, and does it snow very often?
Depending on your answers to these questions, you will be able to decide which method of heating is the most appropriate for you.
Individuals who have a low budget can opt for outdoor rugs and blankets, a fireplace, or a fire pit since they are cheaper. Alternatively, those with a higher budget can consider the more expensive heated floors, an outdoor heater, or a hot tub. 
Additionally, if more people use the heating option and benefit from it, spending money on a heater or heated floors would be worth the investment.
Similarly, individuals who frequent the patio should go for heaters, heated floors, or a fireplace as they are a long-term option. Moreover, fire pits might not be the best option for areas with extreme weather conditions or snow. Instead, hot tubs, fireplaces, heated floors, and patio heaters would be better.
Final Words
These were some of the best ways to heat your outdoor patio to enjoy a nice, cozy night outside. If you are still confused about which option is the best for you and your patio specifically, consider talking to a professional.