Most of us often have grand ideas about how we want our backyard to look- from lush grass to beautifully designed water fountains. However, it is always the small things that make the most significant difference.
When you are looking to have a more luxurious looking patio or backyard, you have to invest in an outdoor gas fire pit. Apart from adding a touch of class, fire pits will also provide you with a place where you can retreat with friends or family and have a chat as the sunsets. Nothing beats a chilled out Sunday evening than being with a person you love, having those deep intimate talks as you watch the flames dance.
­That being said, a fire pit is a considerable investment. As such, you can't just pull out your credit card and buy just any product that you land on Amazon. There are several things that you have to keep in mind. In this article, we will provide you with the basic information you need to guide your purchase. Also, we will review some of the best contemporary outdoor gas fire pits available in the market.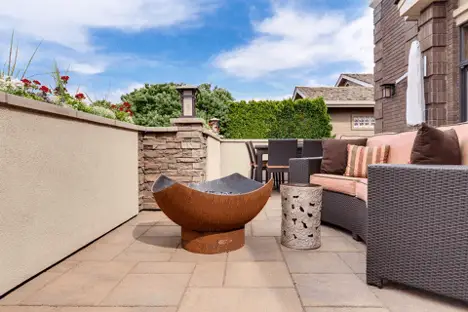 ** We may earn commission on some links without any extra cost to you **
Why Gas and Not Wood Fire Pits
Convenience
There are plenty of reasons why you should go for a gas fire pit. However, the main one is convenience. With a gas fire pit, you no longer have to worry about cutting wood, drying them, or dealing with ashes. Also, igniting the flame is effortless; you don't have to wad up newspapers and split kindling. All it takes is a simple Knob turn, and you are good to go.
Flexible and easy to customize
Woodfire pits have a standardized design. However, with gas fire pits, your design options are endless as they come in different shapes, sizes, and finishes. This way, you can easily select one the suits not only your preference but also enhance the general outlook of your patio or backyard. Furthermore, you can uniquely customize your pit even after purchase. To create a more personalized look, you can add some logs, stones, or fire glass.
Let's Talk Safety
Safety is a major concern when it comes to fire pits. However, no need to worry- most contemporary gas fire pits come with enough safety features. Ensure that the product you settle for has a safety ignition and shutdown valve that can automatically close the gas source's connection if a flame is not sensed.
Also, all leading manufacturers often ensure that their fire pit tables are UL listed. This means that the product has been thoroughly tested by independent 3rd parties to ensure that it meets all safety and quality thresholds.
Unlike wood-burning fire pits, gas pits have a smoke-free design, and you also have more control over the flame. This is because you can easily adjust the flame from low to high with a simple turn of a knob. Safety is so important that there are regulations that outline how and where fire pits can be installed in some areas.
Before you invest in this fantastic product, check with your city building codes and local authorities for regulations on outdoor fire pits. However, in most cases, these laws are meant to restrict the use of wood. If you live in an apartment complex, you should also check with your building homeowners association.
After you get all the approvals, some of the other safety measures you can take include;
Ensure the pit is at least 10 feet away from fences or buildings
Follow all the guidelines for DIY installation.
Don't leave children alone with the fire
What Style/Design Should You Choose
The style might be a preference; however, there are certain designs that you can never go wrong with. Let's start with the materials. Most modern fire pits are made using stone, enamel, metal, concrete, or a mixture of different materials. Always go for a material that complements the design of your backyard. It should also be durable and does not stain easily, even after frequent use.
Each of the highlighted materials has its drawbacks. For instance, natural stone and concrete are prone to staining, while powder-coated metal can get hot. The best option is to go for a fire pit using a mix of materials.
The best contemporary gas fire pits come in many designs, from portable ones to tabletop style pits. Ensure you explore all these options to acquire one that suits your need and complements your backyard's look.
Afterward, you can always accessorize them with fire glass and rocks. These accessories are relatively cheap, and you can choose to add colorful reflective fire glass, fire gems, or even crystal fire diamonds.
Overview of the Best Contemporary Gas Fire Pits
| PRODUCT | DIMENSONS | MATERIAL | FUEL |
| --- | --- | --- | --- |
| Bali Outdoor Propane Fire Pit Table | 30 x 30 x 25 Inches | Stainless Steel, Ceramic Tiles | Propane |
| Outland Firebowl 870 Outdoor Portable Propane Gas Fire Pit | 19 x 19 x 11 Inches | Steel | Propane |
| Bond Manufacturing 63172 Fire Pit | 19.49 x 19.49 x 29.13 Inches | Envirostone | Propane |
| Hanie Design BFP-200 Fire Pit | 16.54 x 16.54 x 25.98 Inches | Concrete | Propane |
| Christopher Knight Home Chesney Stone MGO Fire Column | 19.49 x 19.49 x 29.13 Inches | Concrete | Propane |
| Hiland Fire Pit | 38 x 29 x 38 Inches | Steel | Propane, Butane |
| Meridian Outdoor Living Maitre D' Liquid Propane Gas Fire Pit Table | 48 x 48 x 24 Inches | Thick Gauge Steel | Propane |
| Ehomexpert Fire Pit | 37 x 34 x 11 Inches; 78.8 pounds | Steel | Propane |
| Bali Outdoors Propane Gas FirePit Table | 42 L x 24 W x 24.2H Inches | Steel | Propane |
| Peaktop Round Fire Pit | 7128 x 28 x 9.05 Inches | Concrete | Propane |
Bali-Outdoors-Propane-Gas-Fire-Pit-Table
Our favorite pick has to be the Bali outdoor propane fire pit pan. This pan will indeed illuminate your garden or patio with its rustic exterior painting and its dazzling blue flame swaying with the breeze. Not only that, it comes at a reasonable price. Despite being reasonably priced, this gas fire pit has plenty of outstanding features.
The pit is made from sturdy stainless-steel and ceramic tiles on top that can withstand ultra-high temperatures and harsh conditions without rusting or cramping. This environmentally friendly pit uses propane. The pit's design ensures complete combustion of the propane, which burns with a beautiful luminous flame that is completely soot-free and ash-free.
One unique feature about this gas pit is that you can also use it as a tabletop for your patio when you are not using it. This is because it comes with a lid covering the pit, turning it into a center table. Also, due to its length, it can house a 20 lbs propane tank. No one will even notice it is a fire pit until you turn it on.
Despite its size, it very portable, allowing you to redesign your backyard whenever the need arises. The installation process is like child's play. Put the fire pit on a flat surface, fasten it to a gas source, fill the cavity with fire glass, and you're good to go. The manufacturers are also generous enough to provide you with 15 pounds of blue fire glass to bring out that classy blue flame. How simple is that?!
It also comes with an extra mounting plate for an ignitor. The 50,000 BTU burner might be on the lower side- however, this is more than enough to keep you warm as you relax and have a chat with your loved ones. Overall, this product is multi-functional, convenient, and aesthetically pleasing, making it a perfect complement for your courtyard, patio, terrace, or even balcony.
Outland Firebowl 870 Premium Outdoor Portable Propane Gas Fire Pit
The Outland Firebowl 870 Fire Pit is yet another cost-effective fire pit that you can use both in your patio and while on the road. The size and lightweight frame ensure that you can comfortably fit it in the trunk of your car. You'll be forgiven to assume that the frame structure is not as strong, but this is not the case.
The pit is constructed using a sturdy steel material coated with smooth black paint. This is not just for appearance's sake, but it further reinforces the pit's rust resistance giving you durability and value for your money.
The Outland Firebowl Fire Pit comes with a 10 feet propane hose that ensures the propane gas tank is safely kept away from the flames. A valve knob will enable you to adjust the intensity and height of the flames to your liking. The 58,000 BTU fire pit also features a set of natural lava rock designed to produce a flickering and brilliant flame display pleasing to the eye.
This contemporary gas fire pit allows you to enjoy a smokeless and safe campfire with no risk of sparks flying around, which may be detrimental to the surrounding environment.
If portability is a must-have feature for you, then this fire pit is your best bet. Its portability also makes it very versatile. You can go camping with it, or you can use it to spice up your patio.
Bond Manufacturing 63172 Fire Pit
This Bond Manufacturing fire pit will have you sold at first glance. While we don't recommend you go for products solely because of how they look, we can all agree that beauty influences our purchases to a significant extent. However, don't worry; this baby's features equal its appearance. To give it a rustic outdoor finish, this product is constructed using a lightweight envirostone.
You can hardly tell the difference between the material and natural stone. However, unlike natural stone, envirostone is both UV and weather resistant.
Now on to the technical features. This gas fire pit is very versatile since its heating system enables uniform heat distribution and gives you more control over the flame's intensity. The flame is also very stable, and you can easily adjust its intensity depending on the occasion. However, the maximum expected heat is 40,000 BTU.
This might be on the lower end than most pits on this list; however, it is enough to provide warmth and gentle light to your outdoor area. The pit also features an electric igniter and a conveniently concealed control knob. All you need to fire this bad boy up is place a 20 lb propane tank in the pit's internal compartment, connect it to the burner, and you are good to go.
Lastly, the package comes with natural lava rocks to fill the fire bowl. The rocks are meant to conceal the stainless steel burner and add a tasteful earthy touch to the pit. This pit should be among your top choices when looking to purchase a contemporary outdoor gas fire pit.
Hanie Design BFP-200 Fire Pit
Our next pick is this amazing product from Hanie Design. The Hanie Design BFP-200 Fire Pit is constructed using high-quality faux concrete and painted creamy grey to give it an elegant, classy look. Despite producing a scorching flame, this gas pit is very safe. This is because it produces a smokeless flame that not only protects you from inhaling toxic smoke but is also kind to the environment.
It has a square base, making it stable and easy to topple over even during windy conditions. The fire pit features an 18-inch fire bowl, and your propane tank is stored away inside the concrete pillar for a simplistic and safer structure. A gas regulator is mounted on the side of the pit to enable you to adjust the heat power to your convenience.
Hanie Designs provides you with lava rocks, but it is also compatible with glass panels, which you can purchase separately.
To sum it all up, this magnesium oxide-coated fire pit is robust, resists the corrosion of various liquids, more durable, and is rust-resistant. To avoid unnecessary accidents, keep kids and pets away from the pit as it can get scalding, regularly inspect the fuel line to ensure the gas is flowing correctly, and remember to clean it occasionally.
Christopher Knight Home Chesney Stone MGO Fire Colmn
High-quality products have put Christopher Knight as one of the world's leading manufacturer of fire pits. They keep breaking new barriers, and this new Chesney Stone Square Column model ranks among the top contemporary gas fire pits. The sleek design of the fire pit provides a unique ambiance to your porch and garden.
It looks similar to the Bond Manufacturing fire pit. The only noticeable difference is this one has a rectangular pit, and the latter has a bowl-shaped one.
One great thing about this product is that the manufacturer provides you with 6.6 pounds of lava rock as the filler to the fire pit for heat retention and cozy flame. It also comes with an electric igniter for the CSA certified burner. This enables you to adjust the flames illuminating your garden more comfortably.
The gas cylinder is concealed beneath the concrete. This is meant to enhance safety and also give it a more natural look.  If you are looking for a quality gas fire pit with all the features to match its price, this is the product for you. Christopher Knight
Hiland Fire Pit
The Hiland Fire Pit is similar in appearance and features our favorite pick (Bali outdoor propane fire pit pan). As such, it would be an injustice not to include it on our list. The only reason it is not our first pick is its price and significantly lower heat output. Nonetheless, it is still a fantastic fire pit that packs a lot of exciting features.
The Hiland Fire Pit comes with a unique design that allows it to act both as a fire pit and a table. Just place the lid over the burner, and you've got yourself a tabletop to use during the daytime. Its square tabletop measures 38 inches and is only 28 inches tall, making it convenient for any patio.
The bronze hammered powdered coated finishing is appealing to the eye and will undoubtedly increase the time you spend outdoors.
Made from high tensile stainless steel with a BTU of 40,000, it can withstand high temperatures and even the harshest of weather conditions. The versatile fire pit uses both propane and butane to produce a brilliant uniform flame around the pan. You also have the luxury of using 3-4 inch fire glass to create a beautiful flame pattern.
It also comes with a waterproof cover to keep it clean and dry when not in use. The square fire pit has a stainless-steel burner perfect for smokeless barbeques and cooking. A double door provides easy access to your gas cylinder. In contrast, installation is pretty straight forward; be careful to properly fasten the knob to the gas canister to avoid leakages. Always keep it clean and dry immediately after use for long-lasting usage.
With the Hiland fire pit, you get to enjoy a CSA and ETL approved quality product making for a customer-friendly and highly efficient contemporary outdoor gas fire pit.
Meridian Outdoor Living Maitre D' Liquid Propane Gas Fire Pit Table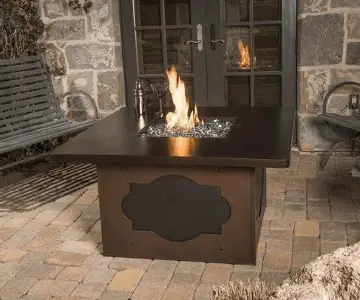 If you are going for a more luxurious look, then this is the product for you. You must have seen its price tag and curiously scrolled down to see what this Meridian Maitre D' fire pit has to offer. This might be one of the most beautiful fire pits available in the market. At first glance, you will be sold by the rustic earth color and the simple design. This Meridian Lounge Table fire pit offers you a perfect balance of elegance and functionality.
You can tell that this fire pit is handcrafted with quality craftsmanship. This is because it comes with thick gauge steel and heavy-duty barrel hinges. The propane tank is safely secured inside the pits' outer frame. Meridian provides a hinged tabletop that can be easily lifted for you to access the propane tank. Additionally, the tabletop has a wide top that can be used to place books, drinks, or food ideal for evening relaxation or laid-back business engagement.
This also gives it a classy look since the view of the pit is unaltered. Moreover, the burner is concealed by lava rock for an added touch of class. You don't have to worry about buying these accessories as the package comes with 20 pounds of lava rock. In terms of firing power, the UL listed burner's heat output is 90,000 BTU; far more than that of any other product we have highlighted on this list.
Installing this beauty is very easy. It comes with a hose, and all you have to do is connect it to the propane tank, and you good to go. The Meridian Maitre D' is rather costly than other contemporary gas fire pits.
Still, if you consider the multiple functionalities and its durability, it is worth the small dent it will leave in your wallet.
Ehomexpert Fire Pit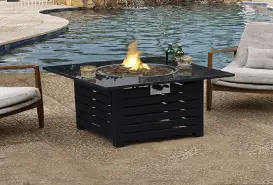 The Ehomexperttable fire pit is designed for the modern lifestyle. It has an outer frame and burner made from rust-proof stainless steel material steel that is strong and durable. The tiled tabletop has been polished for an attractive smooth texture.
The eco-friendly, CSA certified outdoor fire pit has a BTU capped at 40,000. Propane is the recommended fuel source that provides for a stable flame with zero emissions.  It comes with 8.9 pounds of lava stone for cinematic flame displays. You can quickly fire up the fire pit in a second, thanks to its automatic ignition key on the AAA battery-powered control panel.
The fire pit comes with an instruction manual and is relatively simple to set up as the parts seamlessly fit together. However, the tile top should be treated with the utmost care during installation to avoid unnecessary losses and the screws fastened properly for a sturdy frame.
Lastly, Ehomexpert offers you a free rain cover for the fire pit and a 1-year warranty. With a price tag of slightly over 300 dollars, it is worth every penny.
Bali Outdoors Fire Pit Propane Gas FirePit Table
The giant multinational Bali Outdoors Company produces this 42-inch rectangular tabletop fire pit. The captivating design of the Bali Outdoors Gas Fire Pit, which features unique angled lines, creates a stunning masterpiece that transforms your deck into a warm and comfy outdoor living area.
The gas pit has a heat output of 60,000 BTU, which is quite impressive and enough to keep you warm during chilly nights and the winter seasons. It has an enclosed compartment that can house a 9 kg gas cylinder and the connecting hose making the gas pit look like a stand-alone structure.
When you are not using it, you can place a lid on top of the fire bowl, turning the pit into a table, which adds to its versatility. This table can be used as a serving point during barbeques and a bonding point with your folks over a couple of drinks. A PVC cover is included in the packaging to prevent debris or dust from accumulating on the fire pit when not in use.
Peaktop Round Fire Pit
Our last but definitely not least pick is this Peaktop Fire Pit. Peaktop has done such a good job that we had to talk about the two times. This particular product is different from the previously highlighted one.
It comes with a rugged stone design that gives it a neo-classic appearance that will stand out in your garden or outdoor patio. The pit's round shape ensures the heat is evenly distributed within the pit, providing a steady flow of warmth to all those sitting around the fire pit.
This fire pit does not have the greatest heat output. The maximum output is 40,000 BTU. However, this should not scare you away. Such an output is sufficient enough to warm up any moderately sized patio. Additionally, it will help reduce fuel consumption.
It features a 10-foot long gas pipe that connects to a propane tank and a large bowl at the center of the masterpiece with a stainless steel burner mounted underneath the pile of lava stones.
The pit has an integrated ignition switch that allows you to safely light it up and adjust the flames to the desired intensity. The base is sturdily constructed to prevent cracks and damages, offering increased strength and durability. A Waterproof cover enfolds the entirety of the structure to ensure its kept clean and dry when not in use.
In summary, this fire pit is slightly massive but still comes out as one of the best contemporary gas fire pits in the market. When you buy this pit, you are provided with a 3kg bag of lava rocks that gives the fire a rustic feeling while beautifully accentuating the flames.
Final Thoughts: Are Gas Fire Pits Worth it?
While fire pits might require a significant investment, they are worth every penny. However, it is crucial to take some time to think about the product you will acquire. Consider your budget, the design of your patio, and also your preferences.
That said, we have thoroughly done our research, and we believe that you will not regret buying any of the products we have highlighted above.