If you want to make your garden or backyard look good and healthy, it is necessary to water it adequately and on time. An above-ground sprinkler system can be the right choice for you as it makes it easy to water your garden instead of depending on rain or using watering cans. We are reviewing some of the best sprinkler systems in this write-up to help you know more precisely about them and how to install and use them effectively.
* We may earn commission on some links without any extra cost to you *
Above Ground Sprinkler System Reviews & FAQs
Table of Content
Add a header to begin generating the table of contents
MiniMax Turbo Oscillating Sprinkler By Melnor
This oscillator can cover up to 4,000 sq. Ft. area even if its size is small. It provides the right amount of water through its four-way adjustment system. It includes a turbo-drive motor to operate smoothly for a long time without creating puddles. The Quick Connect Product Adapter included in it allows you to disconnect and connect the sprinkler with a lifetime limited warranty quickly.
 Features
Full coverage with mini sprinklers
Turbo-drive motor
Four-way adjustment system
Adapter to connect sprinkler quickly
Extensive water coverage
Easy to install and Use
Zinc Impact Sprinkler On Tripod By Orbit
This sprinkler can cove more than 5500 sq ft area with its 85 ft spray diameter. It can work in any season due to made of high-quality zinc. It can cover 360 degrees watering area. Its spray distance can be customized from 20-42 feet using a diffuser screw and deflector shield.
The tripod height allows water to be sprayed at a greater distance and reduces water pooling near the sprinkler. The tripod might need to be secured to the ground under high water pressure.
Features
85 feet spray diameter to cover over 5500 sq ft area
Made of zinc for durability
360-degree coverage
Adjustable settings
Consistent spray pattern in all directions
Orbit 58322 Traveling Sprinkler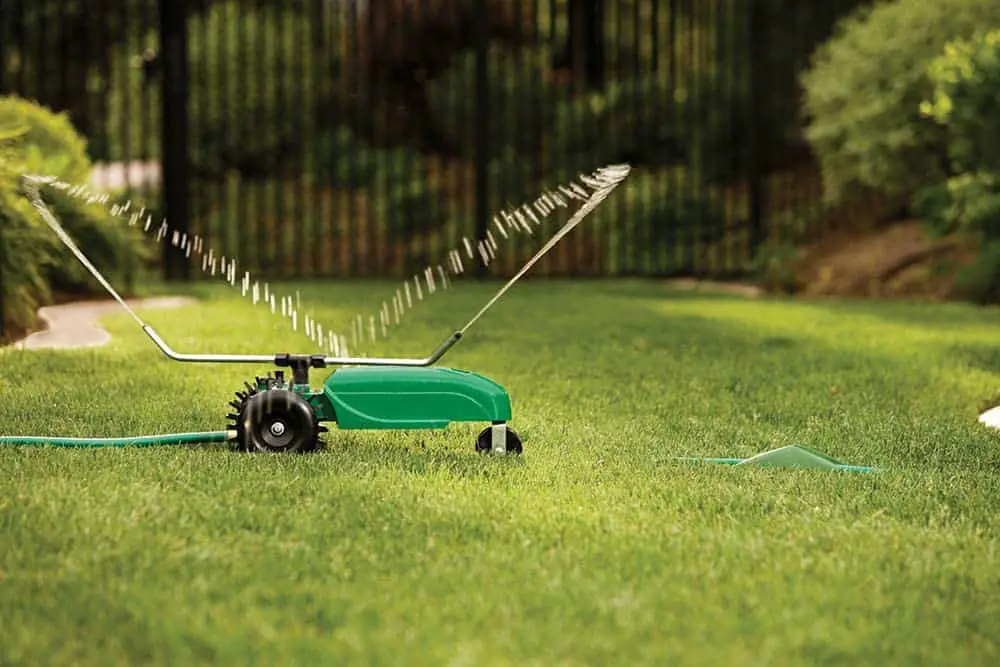 This sprinkler system can be used on a 200 ft hose of 5/8″ to cover up to 13,500 sq ft area. You can change its setting to control the level of saturation of your lawn. Its diameter of coverage can be adjusted from 15-55 feet, and it can be turned off automatically.
Features
Suitable for 5/8″ garden hose
Covers up to 13,500 sq ft area
Adjustable settings
Automatic shut off system
A full-coverage irrigation system
Water coverage of sprinklers is incredible.
Wands and arms are adjustable.
Saves time and energy
360 Degree Rotating Lawn Sprinkler By Kadaon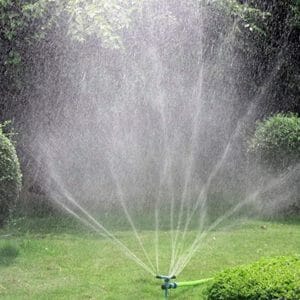 This sprinkler is the best to use in any direction with different spray settings. Its sprinklers can change the scope, density, and size of the water. It can easily cover up to 3000 sq ft area in medium to large-sized lawns. Kids can have the fun of outdoor activities with this system.
Features
Top class construction
Patented water-saving design
Easy to use
Coverage area up to 3000 sq ft
Kids can have fun with it.
No-question money-back policy
Exceptionally lightweight
Works well
Covers larger area
Enforcer Motion-Activated Sprinkler By Orbit

This sprinkler system repels pests and animals from the yard harmlessly by spraying water. It includes intelligent sensing technology to water pants after sensing day and night as well as animals and trees and weather conditions to protect your garden round the clock. Its spray diameter is up to 70 ft which covers over 3,800 sq ft area. The life of its 4 AA alkaline batteries is more than 7,500 cycles of activation.
Features
Repels pests and animals kindly
Flexibility to use 24/7
Stable design to cover up to 3,800 sq ft area
Long battery life
Waters trees after differentiating between animals and trees
Easy to install
The motion sensor works well
Metal stakes allow you to push it in the ground easily
It does lack a remote system to control it
The tilt of the water spray cannot be changed easily
Above Ground Sprinkler System Kit With Multi-Adjustments By Melnor
This kit of this sprinkler system includes three sprinklers that can be adjusted to the water where required in up to nearly 1,800 sq ft area. It includes two 15 ft long hoses to use easily in vegetable gardens and flower beds. It is backed by a limited warranty for 2 years
Features
Three adjustable sprinklers
Two durable hose
Covers up to 1800 sq ft area
Backed by a limited warranty for 2 years
Works perfectly in 4-5 feet long beds
The system is easy to set up
Easy to water raised flower beds
Rotating Lawn Sprinkler By GrowGreen
This lawn sprinkler system is versatile and powerful as it can rotate in 360 degrees to spray water at 80 PSI in a radius of up to nearly 33 ft. You can customize watering in your lawn by adjusting the nozzles of its sprinkler. It is made from high-quality rustproof polymer and ABS plastic to perform well for a long time. It can be used easily to save water and time by using technology to conserve water. It can also be used by kids on hot sunny days to have fun.
Features
Versatile and powerful sprinklers
Sprinklers with adjustable nozzles
Solidly built housing design
Saves water and time
Can be used by kids to play in the summer season
Sprinklers spin fast
Launches water a long distance
How do I install an above ground sprinkler system?
I have installed an above-ground sprinkler system on my lawn a few years back. The tips provided here can help you install one in your garden or backyard to water your plants easily.
Selection of sprinkler system:
First of all, you must choose a suitable above-ground sprinkler system with various sprinkler heads of smaller size. You can be customized to control the water flow and direct the water in 360 degrees or at least 180 degrees to water your yard efficiently with the least efforts. A system of tubing with 10-12 sprinklers can be the best for you.
Prepare your garden:
Before installing an above-ground sprinkler system, you will have to prepare the garden. You should take out the watering system you have been using until now so that you can install the new one without disturbing your plants.
Get water from the supply system of the house:
We had a valve outside our old house. To get water for the sprinkler, we added a split system on the valve so that the water supply to the home can also be used for other than household use like washing cars and tools along with watering your garden.
Install a timer:
Though timer can be a new concept for you, it helps in stopping leakage of water.
Installation of pressure regulator:
These components are attached to the timer to prevent the backflow of the water and regulate the pressure of the water so that you can water your garden at a regulated flow rate.
How to install Tubing:
You should install tubing in the sun to make it easier to lay them out in the garden. It should be placed 5-7 feet away from your plants. To install the tubing closer to the plants, you will have to use smaller tubing. Moreover, your sprinkler heads can cover up a good area as they can reach up to 10-12 feet. To fix tubing in their place, you can use landscaping U-shaped pins. Your tubing is ready for installing sprinklers.
Installation of sprinklers and feeders:
You can set 180-degree sprinklers on the patio edge to water your plants more effectively. In this way, you can screw all the sprinkler heads on each stake. You can use couplers to attach stakes to the tubing. To create holes in the tubing, you can use a punching tool to make holes in irrigation systems.
This above-ground sprinkler system is ready to water your garden effectively without wasting much water.
Is a lawn sprinkler system worth it?
Though you will have to spend on the repairs and maintenance when you install a sprinkler system in your garden, it is still worthwhile due to various reasons discussed briefly here.
Focused service:
The above-ground sprinkler systems are professionally designed to be positioned strategically to water your plants at the right time and location instead of allowing the water to flow freely.
Save time:
You have to water your plants carefully by spending a lot of time using a manual or hand watering system. By installing an above-ground sprinkler system, you can save a lot of time as this system can be customized to water your plants as and when required by including an automatic start and stop system on it.
Maintain the health of your plants:
Too little or too much water can be harmful to the health of your plants. You can use an automatic above-ground sprinkler system to water your plants according to your soil and weather conditions to keep them healthy without wasting water.
Improve aesthetics:
A systematic installation of a sprinkler system can improve your garden's looks as, along with watering your plants effectively, it eliminates the sprinklers and hoses scattered all over in the garden.
Eco-friendly system:
It reduces water use in your garden as it waters your plant at the right time and places the right amount. In this way, it is an eco-friendly system as minimizes the waste of water.
Flexibility:
It can be used more flexibly according to your garden's size compared to the sprinklers used manually.
Freedom:
An automatic above ground sprinkler system provides you freedom from planning the schedule of watering your plants. It will water your plants on time, even if you are on a vacation tour or sleeping in your bed.
What is the best yard sprinkler?
To find the best above ground sprinkler system, you will have to consider a few factors discussed here.
Material:
The material used to make the above-ground sprinkler system should be strong enough to last for many years. It can be plastic or metal, but by spending a bit more money.
Coverage area:
The distance covered by sprinklers can vary. It should cover the entire area of your garden. So, you should buy one according to the area you want to cover in your garden.
The type of sprinkler system:
You can find various types of sprinkler systems in the market, including stationery, rotating, and oscillating sprinklers. It would help if you chose from then according to your region's climatic conditions and the size and shape of your garden.
Adjustable nozzles:
You can easily control the reach of water to your plans if your sprinkler system has adjustable nozzles.
Suitable connectors:
You can easily connect your hose to the sprinkler if you have connectors of the right size and shape; otherwise, you will have to spend more on making adjustments.
The pressure of water:
While purchasing a sprinkler system, you should also keep water pressure in your area in your mind. You should buy a stationary sprinkler if water pressure is low in your area to get the best results.
Size of your garden:
You should also choose an above-ground sprinkler system according to your garden's size to avoid moving it repeatedly from one location to the other.
Frequently Asked Questions
When should I water my garden?
In the morning, before the sun comes up, it can be the best time to water your garden. However, you can also water it in the evening if the morning schedule is not suitable for you.
What to do if sprinkler puddles?
You should continue sprinkling your garden for some time, even if your ground is not absorbing water as expected. However, you can reduce the period if it continues to form puddles.
How much water should I spray on my garden?
It should not be nearly one inch in a week as it is enough to allow your soil to preserve some water and keep the plants healthy.
Does an automatic sprinkler use water less efficiently?
No, you can save water by using an automatic above ground sprinkler system. You will not waste water even if you have not turned the hose off.
How to know that more water is not required for the plants?
You can put some containers in the garden to measure the amount of water you have given to your plants. You can turn off the sprinkler if your containers contain one inch of water.
What if I seldom forget to water my garden?
You need not worry much in this regard if you have taken good care of your garden in routine. You can turn on your sprinkler to soak the grass if it is turning brown. It will make your grass green very quickly.
Conclusion
The information and reviews of some of the best on ground sprinkler systems reviewed in this write-up can help you in installing the most appropriate above ground sprinkler system in your garden to get a green and lively garden every time. The information provided above can help you install a sprinkler system without damaging the landscape of your garden.