There is probably no other better way to end the day than with a relaxing dip in the hot tub. Perhaps that is why you have been considering buying an outdoor hot tub for your backyard. 
They provide a myriad of benefits besides just relaxation; for example, they can help save money and time in the long term since you will not have to go out to pricey spas anymore. Hot tubs can be a great addition to patios and gardens as they are practical and aesthetically pleasing.
However, since hot tubs are not exactly economical, it is best to consider multiple factors before deciding whether an outdoor hot tub for your backyard is the best option for you. For that reason, we have compiled a list of pros and cons and other basic information on hot tubs that you can consider before making your decision.
Pros & Cons of Outdoor Hot Tubs
Considering the pros and cons of outdoor hot tubs will help you decide whether buying and installing one is the right decision for you. Though they offer multiple benefits, maintaining outdoor hot tubs can become a hassle if you do not have the proper time and resources. 
Take a look at all the pros and cons of outdoor spas in detail.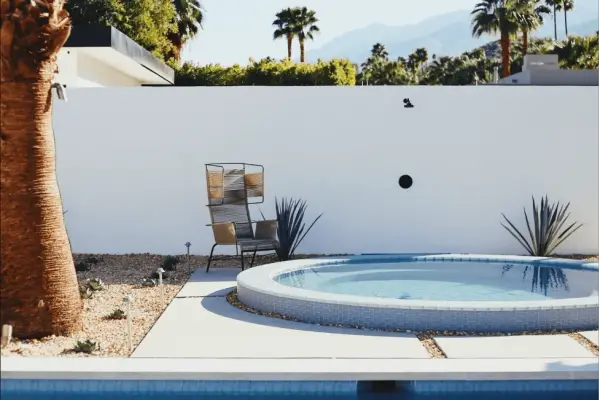 Why We Love Hot Tubs
A soak in the hot tub will lead to deeper and improved sleep
They help relax you and relieve stress
Soaking in hot tubs alleviate joint and muscle pain or arthritis
It gives you time away from technology
It's a fun way to entertain guests
Unlike pools, hot tubs can be used all year round, even during the winter season
Since they are outdoors, you will not have to worry about any build-up of moisture or mold
Why We Might Reconsider Outdoor Hot Tubs
They are pricey
They have high maintenance costs
You may need to change up your patio, backyard, or electrical sockets to accommodate your hot tub
They offer less privacy
Their maintenance requires time
Types of Hot Tubs
There are three main types of hot tubs:
1.    Above-Ground Hot Tubs
These are the most popular kinds of hot tubs because they come in a myriad of shapes and sizes and offer various features, such as ergonomic structures or special massaging jets. They are also what you would consider a typical hot tub.
Above-ground hot tubs do not sink into the ground, unlike swimming pools, and stay on top, similar to a large bathtub. What adds to their popularity is that they are less expensive than other types of hot tubs.
Above-ground hot tubs are also easier and cheaper to install and need to be plugged into an electrical outlet. Additionally, they are safer if you have children and pets because they cannot easily fall into the hot tub. 
However, that is also one reason why above ground hot tubs are not suitable for the elderly or those with joint problems as climbing in and out of them may be difficult.
2.    In-Ground Hot Tubs
They are also popularly known as 'spas' and are built into the ground, usually along with a swimming pool. With an in-ground hot tub, you can step right into it without having to climb over anything. Compared to other hot tubs, in-ground hot tubs add more aesthetic and value to your garden or lawn and even raise the property value.
However, there are a few considerable cons of in-ground hot tubs. For example, they are the most expensive hot tubs, and their installation is also costly. Furthermore, they can be a safety hazard if the appropriate precautions are not taken.
3.    Inflatable Hot Tubs
These are made up of latex and vinyl. They are relatively inexpensive compared to in-ground and above ground hot tubs and are easy to install and maintain. You can practically keep them anywhere and even change their place according to your convenience. 
However, these are not a good option for the long term as inflatable hot tubs are not known for being long-lasting.
Price of Outdoor Hot Tubs
The prices vary widely depending on your region. You can expect to pay around a few hundred dollars for a regular inflatable hot tub, but for an in-ground hot tub, you can expect to pay as much as $15,000.
Other costs that you will need to consider include the installation charges of in-ground and above-ground hot tubs unless you are planning to install them yourself. Installation costs can be between $150 and $500. 
Moreover, it would be best if you also accounted for the cost of water, heating, chemicals, and filter changes.
Where is the Best Place to Install an Outdoor Hot Tub?
Depending on the type of outdoor hot tub you get, you will likely have to place it on a hard-level surface, perhaps on the concrete ground. Whatever surface you plan to keep the hot tub on, make sure it is stable and able to withstand great weight. 
Think carefully about the hot tub location as well to protect it from potential damage or getting dirty too often.
Outdoor Hot Tub Maintenance
Here are some maintenance tasks that you will likely have to undertake if you get an outdoor hot tub for your backyard:
Check the calcium and chlorine levels of the water twice a week
Clean the dirt and grime out of the filter after every two weeks and regularly change the filter
Drain the water from the hot tub and clean it every two months
Remove the cover from the hot tub often to let the moisture and air out
Final Words
This was everything you need to know about outdoor hot tubs for your backyard. By now, we hope you have enough information to make a sound decision about whether a hot tub is for you or not. 
Consider your budget, needs, and options carefully so that you don't feel overwhelmed and confused.