Even though winter is here, you can still have some family time by the patio as you have dinner or maybe watch a movie. However, this is not possible without the help of patio heaters. 
The type of patio heater you go for depends on many factors, such as the size of your patio and how cold it gets in your region. 
For instance, in some states such as Minnesota, winter is usually freezing- in others like Arizona and California, it almost never snows. Even when it's not snowing, some nights can get a little bit too chilly, e.g., during fall. 
That is why you need to invest in a good heater that will keep you and your family warm all year round. 
*we may earn a commission on links without any cost to you*

Table of Content
Add a header to begin generating the table of contents
Types of Patio Heaters
There two main ways you can classify a heater, i.e., based on its design or its power source. The design is basically the shape or the outlook of the heater. Some of the most common ones include:
Free-standing heaters
These are the most common type of patio heaters. Their popular because they offer versatility when it comes to where you can place them. Also, they don't require mounting brackets, and a majority of them use propane tanks. The four types of free-standing heaters include;
Pyramid
This is a tall outdoor heater with a triangular shape and mostly runs on propane. It produces a frame that usually runs up the centre column from the bottom to the top. 
Mushroom-top heaters
These heaters are also known as dome-top heaters since they resemble a dome or a mushroom. They are tall and skinny with a big metal disk at the top. The metallic disk is used to deflect heat downwards and distribute it evenly over your patio. In terms of heat output (BTU), they are almost similar to pyramid heaters. 
Tabletop heaters
These heaters are more diverse than the ones mentioned above. Some look like miniature floor heaters, while others resemble traditional lamps. In most cases, they do not exceed 3- feet in height, making them ideal for patios. 
Fire pits
A fire pit is another common heater. You can either have wood fire pits or gas fire pits. However, for patio use, we recommend you go for a gas fire pit since it does not emit any smoke and is also safer.
Wall/Ceiling Mounted Heaters
Some heaters can be mounted to a ceiling or wall. They can help save on floor space. However, they are best suited for industrial or work areas since they run on natural gas or propane lines. 
Another way of classifying heaters is by the type of fuel they use. Four main types of heaters fall in this category.
Natural Gas Heaters
These are not very common and are mainly used for heavy-duty purposes. This is because they require professional installation and are expensive to buy. You cannot move them around once installed.
Propane Heaters
These are the most popular type of outdoor heaters. They do not require any professional installation and are also relatively cheaper, portable, and heat up faster.
Electric Heaters
Electric heaters are expensive in the long run since they add to your electricity bill. They also heat up very slowly, and you are limited when it comes to where you can install them. This is because you must plug them into a power outlet. 
Wood Heaters
Wood heaters are excellent when you want to create a great atmosphere or ambiance sitting by the fire. However, they are manual and challenging to maintain. Also not ideal for most patios since they produce smoke. 
Some Important Considerations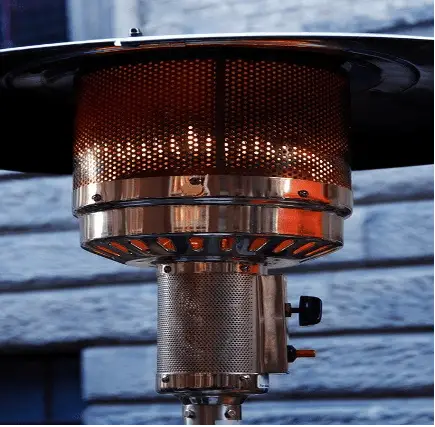 Heat Output
This is an essential consideration that you should never ignore. The heat output is measure in BTUs. The higher the BTU, the more heat the heater produces. However, the output of electric heaters is measured in watts. 
We recommend you go for a patio heater that has an output of at least 30,000 BTU. This should be enough for most outdoor uses. 
The range
This simply refers to how far the heat of the heater will be felt. Some heaters have a range of 2 Ft. while others as much as 18 ft. You have to consider the purpose of the heater and your patio's size before settling for the right range.  
Power source
As described above, there are different fuel or power source options for a patio heater. However, the best option is propane. 
Our Favorite Picks
Given that they are numerous types and brands of heaters in the market, we have compiled a list of some of the best outdoor heaters that we believe can suit any patio.
| Aokairuisi Outdoor Gas Patio Heater | Max Heat Output | Material | Range | Fuel Source |
| --- | --- | --- | --- | --- |
| Aokairuisi Outdoor Gas Patio Heater | 48,000 BTUs | Stainless Steel | 40-60 Sq. Meters | Propane |
| Mr. Heater Corporation 29,000-45,000 BTU 540 Degree Tank Top | 45,000 BTUs | Stainless Steel | 30 Sq. Meters | Propane |
| WSHA Outdoor Gas Patio Heater | 40,000 BTUs | Stainless steel | 30-80 Sq. Meters | Propane |
| PAMAPIC Patio Heater, 42,000 BTU Pyramid Flame Outdoor Heater | 42,000 BTUs | Stainless Steel | Up to 90 Sq. meters | Propane |
| Parasol Standing Patio Heater | 48,000 BTUs | Stainless Steel | 250 Sq. ft | Propane |
Overall Best:
Aokairuisi Outdoor Gas Patio Heater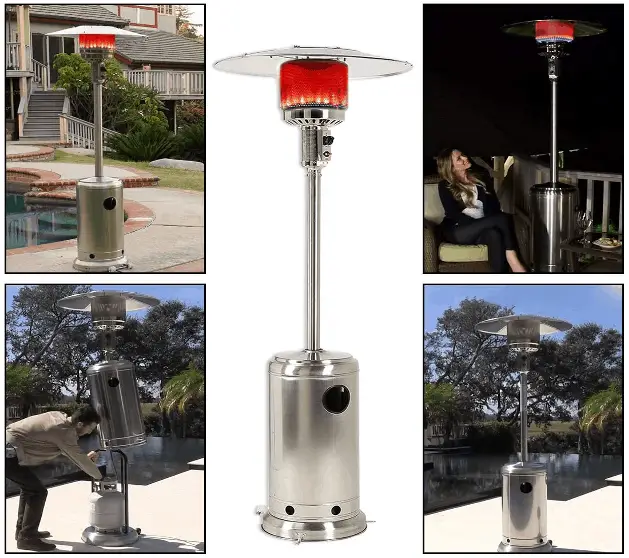 The vital things that you should always consider before buying an outdoor heater include; the heat output (BTU), price, heating area, and fuel source.  You will be glad to know that this heater from Aokairuisi ticks all those boxes. 
It is affordable, costing less than $300. Despite being cheap, it has all the fantastic features suitable for a patio heater.
For starters, it has a very high heat output of 48,000 BTU and a wide heating area of 40-60 Sq. Meters. That's almost the size of a small one-bedroom apartment. If your patio is small, you can start the heater on high then turn it down once the area is heated enough to save on gas. 
Also, the heater comes with its own 20lbs propane cylinder, which is the standard size. 
The heater is made of high-quality stainless steel, which cannot melt even after extended exposure to such amounts of heat. Safety is another critical consideration. That is why the manufacturer has included the propane cylinder at the base of the heater to ensure maximum stability. 
Moreover, it has an auto shut off tilt valve and safety auto shut off when the gas runs out. In essence, this heater has all the impressive features that you see on expensive gas patio heaters. Given its price, functionality, and design, this has to be our overall favorite product.
Budget Friendly:
Mr. Heater Corporation 29,000-45,000 BTU 540 Degree Tank Top
If you don't want to spend hundreds of dollars on a patio heater, then this is the product for you. This outdoor heater from Mr. Heater will only cost you a few dollars. However, it still comes with some impressive features. One thing that we like about this heater is its heat output. 
For such a small heater to have 29,000 to 45,000 BTUs is very impressive. To better control the heat output, the heater allows for 3 heat settings (30,000, 36,000, and 45,000 BTUs.) To shift between the three, just use the multi-output valve.
It is also easy to operate since it has a convenient Piezo ignition built right into the rotation of the knob. This allows you to ignite it with just one hand. This means that it can be used on any patio. 
Also, due to its size, it is very versatile and can be used during camping, picnics, fishing, construction sites, or loading docks. However, this product does not come with a propane cylinder. 
If you are on a budget but don't want to compromise on quality, this is the heater for you.
Best Splurge:
WSHA Outdoor Gas Patio Heater
If you want a heater that will complement your luxurious rattan or wicker patio furniture, then this is the item you should go for. We never recommend you go for a product simply because of aesthetics; however, we can all agree that this heater's glossy powder-coated steel finish is to die for. 
The color s minimalistic, and the design is unobtrusive, which allows it to blend naturally with most outdoor finishing.  Looks aside, the features of this bad boy can turn any patio into a warm and comfy place where you and your family can spend the night chatting and having a great time.
To start with, it generates heat quickly. Within seconds your whole patio will be warm. The power of this heater is 12 KW watts, which equates to around 40,000 BTUs. It also has a vast heating area of approximately 30-80 sq. meters depending on your space's outlook. 
You can also easily adjust the temperature to suit your needs since it has a multi-speed temperature adjustment system. Due to the simple pulse ignition technology fitted in the heater, we don't expect you will have a hard time lighting it up. 
Some impressive safety features include anti-dumping protection and anti-flame protection.
Best Design:
PAMAPIC Patio Heater, 42,000 BTU Pyramid Flame Outdoor Heater 
There is something about pyramid heaters that makes them so classy. This Pamapic patio heater is no different. It has a stainless steel exterior that just oozes elegance. The heater is 89.4 inches tall and comes with a mesmerizing glass flame tube that can liven up and atmosphere. 
You can be confident that this will stand out on any occasion.
Aside from its design, the heater also has some fantastic features. The most noticeable one being the heat output, which is 42,000 BTUs. The heat can be distributed to a diameter of up to 18 ft. However, you can easily adjust the temperature to your liking. 
Firing it up is also very easy since it is equipped with a pulse ignition system. The heater base is spacious enough to house a 20-pound propane tank that you will use to fuel it, and it also adds more stability. 
Lastly, when you buy this heater, you will get a waterproof and dustproof cover. This means that you will not have to move it around every time it rains.
Newest Arrival: Parasol Standing Patio Heater
This is one of the most recent products, and we are very excited to introduce it to you. The patio heater comes with an impressive heat output of 48,000 BTU- which is by far the highest of any of the products we have highlighted above. 
In addition, it warms up very quickly, and within one second, you can turn that chilly patio into a warm comfy haven. Despite having a very high BTU, the heater can warm areas up to 250 sq. Ft., which is very impressive. 
It is also easy to operate since it is equipped with push-button ignition and a variable heat control knob that allows you to control the amount of heat. The company has not compromised when it comes to safety. 
The heater is fitted with overheat protection and tip-over shut off features. Therefore, you don't have to worry about setting your patio ablaze. Other safety features include the anti-tilt switch and flame failure device. 
Despite all these fantastic features, this heater is very affordable. 
Care and Maintenance of Patio Heaters
Before you buy a heater, you also need to know how you can prolong its lifetime. Patio heaters are simple and don't have a lot of hassle. However, you still need to practice a certain degree of preventive care and maintenance. 
One important thing that you should also do is ensure that the gas cylinder is full. This is because every time you try to operate a propane heater with an empty tank, you damage its ignition system. 
The second thing you need to do is regularly check the ignition system for soot, corrosion, and damage. Removing soot prevents corrosion. If the system is too corroded, you can replace it before any further damage is caused. 
Third, check to see if your fuel regulator is working correctly. The fuel regulator is the pipe that serves as the connection between the burner unit and the fuel cylinder. Inspect it from time to time to ensure that it is not clogged or damaged. 
If this part is damaged, fuel cannot be delivered effectively to the ignition, and it can even ignite due to leaks. 
Conclusion
There are different ways you can heat up your patio; however, we highly recommend you go for one of the above-listed products. Not only are they practical, but they have also all been tried and tested, and we believe they will be worth every penny you spend.