Winter might be upon us; however, it's never too early to plan for those warm summer months. Your patio should be a place where you can relax and have some family time or maybe read a book. 
You would be surprised at how much you can transform a basic stone patio with just a table and some comfortable chairs. That is why you need to invest in the best patio furniture. However, how do you decide which furniture to buy? 
With numerous options available in the market, landing on the best furniture that will compliment your patio is not that easy. For example, you might have heard or seen the new trend of wicker and rattan furniture, and you are now confused about which to go for. 
Well, you might be surprised to know that the difference between wicker and Rattan is not what you might think. Basically, Rattan is a material, and wicker is a style of weaving furniture. So, in essence, you can have both in one chair. 
Nonetheless, it would be best if you considered different considerations such as budget and material, among others, before you can turn your patio into your new favorite spot to dine and entertain your family and guests.
* We may earn commissions on some links without any extra cost to you*

Important considerations
There are many reasons you might want to buy patio furniture- maybe you want to set up an outdoor movie cinema, or you want to have another dining area for your family and friends. These are some of the things that should guide your choice. However, there are specific primary considerations that you should never ignore. Some of them include:
Function or Usage
Why do you want to buy the furniture in the first place? Were you impressed by your neighbor's patio, or do you want to spice up your backyard? Do you intend to host guests, or is it just for your family? Thinks about what pieces of furniture best suit your needs. 
For instance, if you only want to enjoy the warm summer days alone reading a book or maybe with your partner, you don't need to invest in an outdoor six seater couch. If you want to create an outdoor movie cinema, you have to go for comfy and warm furniture- no one wants to watch a late-night movie outside on a cold metallic seat. 
Whatever your purpose is, it's always advisable to first list what you want to do and the kind of mood you want your patio to project. For instance, if you're going to be hosting casual evening cocktails, you should go for several side tables instead of a dining table. 
The Weather 
Do you live in Texas, where it's mostly warm, or in Florida, where it rains a lot? These are essential questions that you need to ask yourself since they will dictate the type of material you go for. For instance, wicker furniture cannot withstand constant exposure to moisture. 
Also, strong winds can damage light furniture, such as those made out of aluminum or plastic. Lastly, wood tends to splinter and crack when exposed to hot, dry conditions and rot in wet areas. Therefore, not only look at your personal preferences and needs but instead always note external factors that can affect your furniture. 
How much space you have
What is the shape and size of your patio? Is it narrow and long, or is it broad and wide? This measurement will determine the size of your patio furniture. 
Make sure you leave enough space to walk around, and your furniture is not too squeezed together. The type of furniture you go for can even make small spaces appear more spacious. For instance, if your space is small, go for furniture that matches the patio's color. This is because they are less jarring and blend well with the space giving the illusion of a larger area. 
You can also choose to go for a bar table set instead of a regular dining set since the latter is narrower, and stools do not take up a lot of space. Café or Bistro tables are also great for limited spaces.
Your Budget
We might have talked about different things you need to look out for when buying furniture. However, in the end, your budget is what will affect your choice the most. 
It is always vital that you go for furniture that you can afford. That being said, never compromise on quality just to save a few bucks. If you are on a tight budget, you can take advantage of yearly sales. 
Also, furniture tends to cost less by the end of July and August when fall is approaching. 
Types of Patio Furniture
Wrought Iron Furniture
If you are looking for durability, you can never go wrong with wrought iron. Not only is it durable, but it is also classy and has a timeless look to it. If you live in windy areas, this is the best material for you since it can't be blown away. Additionally, wrought iron can be customized in many styles, colors, and designs to suit your backyard. 
Aluminum Furniture
Unlike iron, aluminum does not rust. It is easy to maintain and also super lightweight. Nonetheless, they are not as durable as wrought iron, and we would not recommend having them if you live in windy areas. 
Wood Furniture
Unlike iron and aluminum, there are numerous wood types, all with varying qualities. Therefore the kind of wood you choose will be crucial if you want to avoid splitting, rotting, and bags. Always go for hardwood such as cedar or dense ones like teak and eucalyptus. However, wood furniture is vulnerable to hot, dry, and excessively moist conditions. 
Wicker Furniture
Wicker is not a type of material- instead, it is a weaving process. You can have wicker furniture made of natural material such as Rattan or synthetic material. The only condition is that the material has to be pliable and durable enough to be woven into furniture. 
Rattan Furniture
A lot of people seem to be confused when it comes to wicker and rattan furniture. As we have mentioned above, wicker is just a manufacturing (weaving) process. On the other hand, Rattan is a climbing or trailing vine with tough, solid stems that vary from one to two inches in diameter. However, the vines can grow up to 200-500 feet. 
It is prevalent since it can be bent and curved to create any furniture design. Also, since it has a light golden color, it blends in well with the outdoor environment. 
Our Favorite Picks
There are numerous options to choose from when it comes to furniture. And we understand that your preference and outlook of your patio might influence your purchase. However, we have reviewed many products, and we are confident that the following products will suit any patio out there. 
| PRODUCT | MATERIAL | SIZE | WEIGHT |
| --- | --- | --- | --- |
| Greesum 4 Pieces Patio Outdoor Rattan Furniture Set | Rattan | 37.5 x 11.3 x 25.8 inches | 48.5 pounds |
| Hanover Traditions 9-Piece Cast Aluminum Outdoor Patio Dining Set | Cast Aluminum | 84.44 x 41.81 x 28.81 inches | 83.1 pounds |
| INOVIX Grand Premium Steel Bistro, Folding Outdoor Furniture | Powder-Coated Steel | 38 x 24 x 7.5 inches | 38 pounds |
| Ranchview 7-Piece Outdoor Dining Set | Rattan Hardwood | 78.74 x 39.37 x 29.13 inches | 79.8 pounds |
| PROHIKER 3 PCS Patio Rattan Conversation Chair Set | Rattan | 22.75 x 21.75 x 17.75 inches | $142.99 |
| LOKATSE HOME 6 Pieces All-Weather Rattan Patio Sectional Sofa Set | Powder-Coated Steel | 28.3 x 23.6 x 27.9 inches | 81.5 pounds |
| Shintenchi Outdoor Furniture 5 Piece Set | Steel | 25.39 x 23.62 x 23.23 inches | 92.4 pounds |
| Tangkula AM0991HM 3 Piece Furniture Wicker Outdoor Patio Set | Steel | 30 x 23 x 17 inches | 48.9 pounds |
OVERALL FAVORITE PICK:
Greesum 4 Pieces Patio Outdoor Rattan Furniture Set
For any furniture to be our favorite pick, it has to be durable, comfortable, reasonably priced, versatile, and aesthetically pleasing. The Greesum rattan set does not disappoint on all these fronts. It is a modern and comfortable set made out of rattans that are woven using a wicker style. These seats can comfortably fit up to five people. It comes with three seats (one two-seater and 2 one seaters) and a table.
Additionally, since its rattan wickers, they have a tremendous load-bearing capacity. It also comes with padded cushions to give you that extra comfort. You don't even need to add cushions on the backrest since the rattan is flexible, making it very comfortable. However, you can add a few pillows if you want to achieve a specific look.
This set is made with versatility in mind. You can use it for virtually anything from a coffee bistro, mini dining area, and cocktail spot or even for an outdoor family theatre. Rattan is also very resistant to unpleasant weather conditions such as rain. 
However, always remember to place the cushions indoors since exposure to rain and sunlight might damage them. When you don't intend to use your patio, maybe during winter, you can easily place the seats and table indoors since they are lightweight. 
If you are looking for functionality, durability, and comfort, this is the furniture set for you. 
Best for Dining:
Hanover Traditions 9-Piece Cast Aluminum Outdoor Patio Dining Set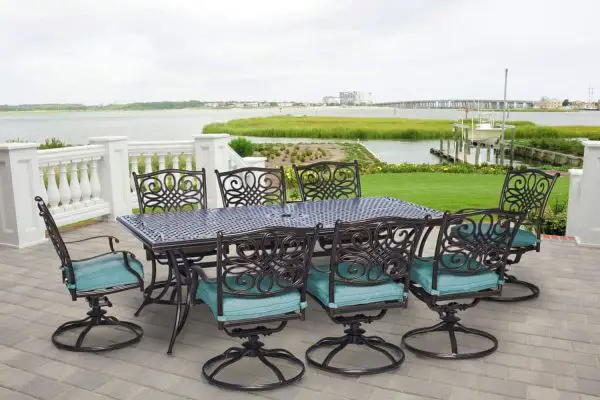 Are you a family person, or do you love hosting guests for dinner or brunch? Then this is the right pick for you. This set with a large table that is more than 80 inches long and 8 chairs. It has a simple traditional design that makes it look elegant. 
Both the chairs and the table are made of brushed bronze cast aluminum, which is very durable and rust-resistant. The set comes with some beautiful (blue, red, or brown) cushions to make the seats more comfortable. 
The set is also UV resistant, meaning you can place it anywhere you want. You don't have to worry about having an overhead cover on your patio. 
What is impressive about the seats is that they come with 360-degree swivel rockers. You can smoothly perform a smooth 360-degree spin as you enjoy your meal. Also, Hanover has one of the best customer services, and they will help you replace any part that is broken during transit for free.
 If you have a large family or love having guests over, this is the perfect pick for you. However, keep in mind that you need to have a more extensive patio to fit well and leave space for free movement.
Most Budget Friendly:
INOVIX Grand Premium Steel Bistro, Folding Outdoor Furniture.
If you are on a budget and you are looking for a simple set of patio furniture where you can read a book, drink coffee or maybe just spend time with your partner, then this is the pick for you. 
This Inovix set comes with 2 seats and one table. Both the seats and the table are foldable, and you can easily place them indoors and not worry about them occupying too much space. 
Also, if you want, you can easily fit them in the back of your car and go for that picnic you have been planning for. 
Additionally, they have a powder-coated steel frame structure that is rust-resistant and also not susceptible to weather conditions such as rain. The seats might look small; however, don't let that fool you; they have a load capacity of up to 300 lbs. lastly, no assembly is required; just unfold them, and you are good to go. 
Most Elegant:
Quality Outdoor Living Ranchview 7-Piece Outdoor Dining Set
If you are looking to add a touch of elegance and luxury to your patio, then this set from Ranchview should be your top pick. Just like most elegant furniture, it has an appealing traditional and straightforward design. However, it is made out of the best quality materials to ensure durability. 
The set is comprised of a 78-inch long table and 6 chairs. You can tell that both the chairs and table are handcrafted. Both have hardwood legs that complement the light and dark grey colors of the set. Since its colors are dull, they can suit any patio setup. 
Add a few decorative lights above the patio and some plants on the side, and your dining will not be the same. 
Trendy Choice:
PROHIKER 3 PCS Patio Rattan Conversation Chair Set
The last but not least product that we will talk about is this set from Prohiker. The design of this furniture is just what you need for outdoor purposes. 
It is made of high-quality premium rattan that can last almost a lifetime. This is because it can withstand most weather conditions, and unlike wood, it does not crack. When you purchase this product, you will get two chairs, all with seat cushions, and one small table. 
Both the table and the seats have non-slip pads to increase stability and also protect your floor. 
Assembling is also quick and easy; it will only take you around 20 minutes, and you can do it on your own. One last impressive feature about this product is the after-sales service and warranty provided by the manufacturer. 
In case of damage during transit, they are willing to refund or replace any broken parts within 24 hours.
OTHER AMAZING PICKS
Tangkula AM0991HM 3 Piece Furniture Wicker Outdoor Patio Set
This set stands out thanks to its neutral grey color that blends effortlessly with any outdoor décor or design. The set comes with 2 single cushioned seats, and a concise glass table breathes a romantic aura into your backyard. Perfect for catching up with your partner over a glass of chilled lemonade.
The moderately reclining seats are made from lightweight rattan material and hand-woven PE wicker, while the glass frame of the table is made from sturdy iron. Sophisticated 4 anti-drop suckers are fitted beneath the glass to enhance the table's stability. 
This sturdy construction ensures the set will serve you all year long with little maintenance required. The table's tempered glass top is removable and can easily be wiped clean with a damp cloth.  
Another cool thing is that the cushions are waterproof and are not attached to the chairs' frames. Meaning any dirt stuck in the wicker's crevices can be easily removed and the pillows separately cleaned. 
If you're looking for a versatile, breathable, and high resilient patio furniture set, the Tangkula 3 piece outdoor patio set ticks all your boxes.
Lokatse Home 6 Pieces All-Weather Rattan Patio Sectional Sofa Set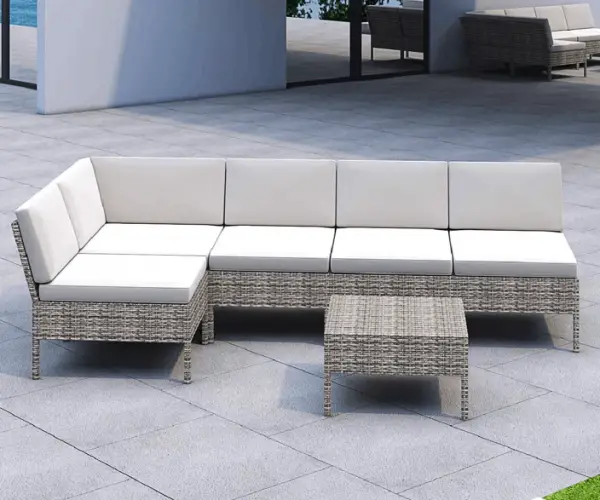 At first glance, this set looks like indoor furniture. However, when you look closely, you can appreciate the meticulous designing the Lokatse Home incorporated in this sofa's making. 
The sofa set is made from a quality steel frame, synthetic resin, and top-grade PE rattan wicker that is durable, sturdy, and lightweight. Moreover, the steel frame is powder-coated for rust resistance and to ensure it easily supports any weight thrown at it. 
The seat is fitted with cushions made of a highly resilient sponge for optimal comfort when it comes to comfort. At the same time, the back cushions are evenly stuffed with cotton. Occasional cleaning is required to maintain the sofa's elegance-which is relatively easy even for kids.
The outdoor sofa set is relatively easy to assemble, but instructions are provided on their website if you encounter some difficulties. Another amazing aspect about Lokatse Home is their excellent after-sale services, including a 30-day free replacement or refund on damaged parts. 
While the price sofa set is slightly higher than most products, it's worth every penny.
Shintenchi Outdoor Furniture 5 Pieces Set
This 5 piece rattan sofa set comes with 2 single sofas, 2 ottomans, and 1 coffee table. In terms of comfort, this set does not disappoint. The high-density splash-proof cushions and curved backrest fit perfectly on your back curve for maximum comfort.
 Additionally, the ottomans give you the best leg support and may serve as an additional seat. Besides the outstanding craftsmanship, the coffee table top is beautiful and has enough room to place your drinks or accessorizing with flowers.
To ensure stability, the set is made from a sturdy steel frame coupled with intricate weave patterns. This rattan furniture is also waterproof and UV- resistant, making the set a perfect fit for your patio, backyard, and any outdoor space. 
Moreover, the waterproof polyester covers that come with the package are easily removable and washable. You also enjoy a 1-year after-sales service and friendly customer support when you purchase this gorgeous outdoor garden furniture.
Last Pointers
I am sure that by now you have already decided on which product to buy. Whichever product you go for, there are a few things that you can do to make it look even better and last longer. This includes;
Accessorizing 
You can always enhance your outdoor furniture with varied colors, textures, and accessories. Add several cushions and throw pillows to create that incredible homey comfort and warmth. You can also add sheets that have bright, colorful patterns to give your patio a Mediterranean theme. 
Maintenance of patio furniture 
While all of the products we have highlighted are very durable, if you don't take care of them or expose them to certain externalities, they can get damaged. Several care and maintenance practices include.
Always clean your furniture. However, the method of cleaning will depend on the type of furniture. For example, you can clean wicker furniture with a hose or pressure washer. Also, never use water and soap on wooden furniture unless they have been coated with an exterior-grade varnish. 
Store furniture that isn't weather resistant. Always place cushions and other types of furniture, e.g., wooden ones, indoors when it's raining or when you don't plan on using them.