Nothing beats having friends over or just being with your family and firing up the grill to make a delicious meal. While more people are going for gas grills due to their convenience, charcoal grills are still very popular and create more flavorful meals. This is because of the smoky element they add to your barbeque.
Nonetheless, you still need to take your time before buying a charcoal grill and consider all your options. This will help you pick out a grill that is suited for your taste and will serve you for many years to come. 
In this article, we are going to look at some of the things you should always look out for when buying charcoal grills and also review some of the best products available in the market. 
* We may earn commissions on some links *

Table of Content
Add a header to begin generating the table of contents
Why Charcoal Grills And Not Gas Grills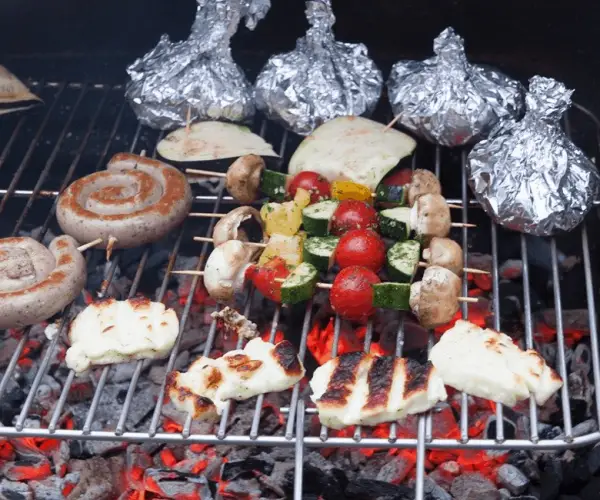 Comparing charcoal and gas grills is a bit hard, and at the end of the day, it all boils down to preference. It's like comparing manual and automatic cars. Most people prefer automatic cars because of their convenience while others would rather a manual car because they want to feel more in control or engaged in the driving process. 
Yes, gas grills are easy to use and control the flame just connect to your gas line, and you are good to go. Charcoal grills, on the other hand, have to be lit manually and you can only control the flame by adjusting the amount of charcoal you use and the vents. Let's look at the specific advantages of charcoal grills.
The most significant benefit of going for a charcoal grill is that it is less expensive than gas grills. You can have a grill for even less than $50. This is because charcoal grills do not come with a lot of fancy parts such as regulators, gas cylinders etc. 
Apart from the price, most chefs and home cooks believe that charcoal impacts the flavour of food positively. This is because it gives it a smoky flavor which a lot of people like. When you grill food over charcoal, it gives off a special aroma known as guaiacol, which basically makes food taste like bacon. 
How amazing is that! Also, in terms of safety, charcoal does not flare up like open flame gas grills. 
This makes them a little bit safer than gas grills. Other advantages include:
Charcoal grills tend to be more portable than gas grills due to their design
Charcoal burns hotter than gas
Charcoal grills are ideal for searing and low heat cooking. This is because you can push the charcoal on one side to control the temperature. You can sear your protein on the hot side and finish cooking in the cooler area
Nonetheless, there are some drawbacks to owning a charcoal grill such as:
They are messy and not easy to clean
Charcoal is expensive
Ashes can get in your food
You don't get as many features as those that come with gas grills such as heat control
Types of Charcoal Grills
There are three main types of charcoal grills:
Kettle Grills
This is the smallest of the three and usually clock in at around 22 inches in diameter, or 363 square inches. However, some models can even reach up to 36 inches in diameter. 
They have a spherical shape which allows them to retain and reflect the heat inside so that the food is cooked evenly. They also have domed tops/lids to trap the hot air and circulate it more effectively. Also, they are easy to maintain since some of them come with removable ash receptacles.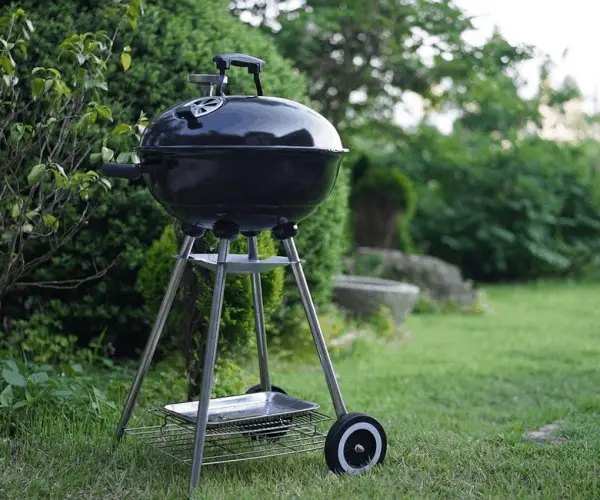 Barrel Grills 
This is significantly larger than kettle grills, with the average size being about 36 inches in diameter and a cooking area of 435 square inches. They are made from steel barrel which normally weights 55 gallons. The barrels are normally placed sideways and then cut in half. Hinges are then used to connect the lower half to the top half. This allows for easier opening and closing. This type of grills usually have vents in the top and bottom, a chimney on the lid, and legs to hold it off the ground. These grills are well suited for smoking since the multiple vents allow the cook to better control the internal temperature.
Ceramic Grills 
Ceramic grills are believed to have originated in Japan, where they were referred to as Mushikamados. They found their way to America after the Second World War, where American service members introduced them to the country. This type of grill is significantly more expensive than the rest, and a unit can set you back as much as $700. While they may be expensive, they have great features to match their price point. For instance, their solid ceramic construction allows for superior heat control. In particular, they can slow cook or smoke meat better than any other charcoal grill. 
Other types of charcoal grills include:
Tandoor oven
Cart Grill
Square charcoal grill
Japanese Hibachi
Pellet Grill
Brazier
Things to consider before buying a charcoal grill
Your Budget
While charcoal grills are significantly cheaper than both gas and electric ones, you still need to consider the budget. This because you can have one going for as low as $50 and another going for as much as $700. With such price diversity, you need to consider what you want with your grill and which is the best you can get at your price point. 
The number of people you intend to serve
This will dictate the size of the grill you choose. If you have a large family or you occasionally host friends, you should go for one that has a large surface area. However, if you only want to be grilling for two people, a grill area of 18 inches should suffice. 
Where would it be used?
Do you intend to use your grill indoors or outdoors? This is a crucial question since charcoal grills tend to release smoke. Also, they are not allowed in most apartment buildings. The best place to place your grill should be in your backyard. Avoid placing it near walls as it might stain them or near electric appliances.
Important Features on Charcoal Grills
This is the most important consideration. Different features make a grill effective, and you should always ensure that your product has most of them. These features include
Temperature control
You cannot control the temperature of a charcoal grill by just turning a knob. It is more technical than that. Temperature control depends on the lid, dampers/vents, and the ability to adjust the distance between the food and the charcoal. When you close the lid, you can retain more heat and increase the cooking temperature. Vents also play an important role in temperature control. You need to have at least two dampers, an intake, and an exhaust. The intake vent controls the amount of oxygen that enters the grill. The more oxygen you let in, the hotter the grill is. Ensure that your damper is tightly fitted so you can accurately choke off or increase oxygen when you need to control the temperature. The last heat control feature is how adjustable the grill area is in relation to the base of the grill. Ensure that you can be able to raise or lower your grill area. Lowering it increases the temp and raising it reduces it. 
Two-zone cooking capability
Does your grill allow you to have one hot side and another cooler side for indirect cooking? Ensure that your grill is spacious enough or is compartmented to allow you to push hot coal on one side and leave enough space on the other side for indirect heating. 
Grates
These are the surface where you cook your food. Most of them have a net-like surface. It would be best if you considered what material the grates are made out of. An ideal material should be a good conductor of heat, long-lasting, and can bear high-temperatures. Most grills come with wire grills, which are actually the best for this type of cooking because they don't block radiant heat and airflow. 
Access to Charcoal
How easy is it for you to add or remove charcoal from your grill? Ensure that you go for a grill with a door that allows you to add charcoal or move it around. This should also apply to ash removal since you don't want ash piling up inside your grill. 
Our Top Picks
Now that we have highlighted some of the things that you need to look out for when buying a charcoal grill let's review some of the best products available in the market.
Product
Type
Cooking Space
Material
Royal Gourmet 30″
BBQ Charcoal Grill and Offset Smoker
Barrel
800 sq. inches
Stainless Steel
Dyna-Glo
DGN405SNC-D
Heavy Duty Stainless
Charcoal Grill
Square Charcoal Grill
568 sq. Inches
Stainless Steel
Baywell
18 Inch
Charcoal Grill
Kettle
299 sq. inches
Stainless Steel
Masterbuilt
MB20041220
Gravity Series 1050
Digital Charcoal Grill + Smoker
Barrel
1050 sq. inches
Stainless Steel
Kamado Joe
KJ23RH Classic I
Charcoal Grill
Ceramic
324 sq. inches
Ceramic
Best Overall:
Royal Gourmet 30″ BBQ Charcoal Grill and Offset Smoker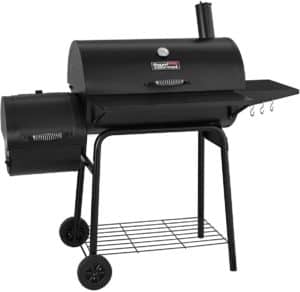 Our top pick has to be this grill from Royal Gourmet. It packs every feature you want in a charcoal grill, from the size, the design, the price, and the portability. To begin with, this grill will only set you back around 100 USD, which is a bargain given the features it packs. 
The grill has three compartments- the main cooking area, a warming rack, and an offset smoker. The main cooking area comes with a surface area of 800 inches, which is more than enough to cook all the burgers at a moderately sized party. It also has a warming rack that allows for indirect cooking and comes with a surface area of 179 square inches. 
Just place your parties there as you wait for your bans to grill, and they will stay warm until when you decide to serve. If you want a more smoky flavor, you have the offset smoker that has a total of 183 square inches. You can use it as a small grill. Just ensure you fuel it using lump charcoal or briquette. 
You can also add a small number of wood chips to intensify the smoky flavor.
The grill also has enough space on its side where you can place plates or your seasonings. Other cool features that come with this grill include a smoke stack, temperature gauge, scald-proof handle, access door on the side for efficient input, and charcoal and ash removal. 
It also has side air vents, which allow you to regulate the heat more effectively—lastly, a pair of wheels for added portability. If you want a grill that is affordable and also functional, this is the product for you.
Best Design:
Dyna-Glo DGN405SNC-D Heavy Duty Stainless Charcoal Grill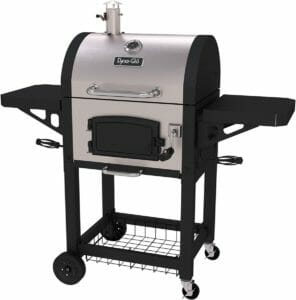 The design of this grill will have you sold at first glance. Given how it is designed, you can easily mistake it for a gas grill due to its compact rectangular stainless steel exterior. However, looks are not the only thing that this bad boy has to offer. 
First, the charcoal tray can easily be adjusted, which allows you to control the heat better and offer versatility when it comes to the types of food you can cook. It also has an impressive cooking space of 568 sq. inches, which is more than enough for all your grilling needs. 
To be precise, you can grill up to 20 hamburgers at one time. That is very impressive.
This grill is also ideal for searing proteins since it has two heavy-duty, porcelain-enameled, cast-iron cooking grates, which are effective at retaining heat and locking in your meat's natural juices. Another impressive design feature is the heavy-duty cart with side shelves and a storage basket where you can place your ingredients and condiments. 
As earlier mentioned, access to charcoal is a crucial consideration. The manufacturer has ensured that the grill comes with a steel access door on the front of the grill for easier access. Also, for maximum heat retention, the grill's lid and front firebox are double-walled, which allows the charcoal to burn more efficiently. 
Lastly, it is straightforward to clean, and you can move it effortlessly due to the 6-inch resin wheels. If you are looking for a grill that will stand out and be the centerpiece of any cookout, you should highly consider buying this product.
Most Affordable:
Baywell 18 Inch Charcoal Grill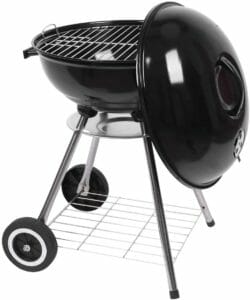 Can you imagine a grill that goes for not $150, not $100 but less than $50, and it still meets all the grill's basic requirements? Well, this Baywell charcoal grill is just that product. This grill is ideal for outdoor home use and also picnics and camping due to its portability. 
However, don't let this make you think that the grill is small. It has an 18-inch cooking area diameter, which is not far behind when compared to the other products on this list. Let's get to the technical features of this baby. 
First, it is made out of high quality galvanized steel. Therefore you don't have to worry about rust, corrosion, or durability. It also has adequate heat control and retention features since it comes with an adjustable air vent damper that allows you to control the heat without lifting the lid. 
Also, to add charcoal more effectively, the cooking grate has two handles. This allows you to remove it and add charcoal into it easily. 
The grill is also very portable. This is because its parts are detachable, and they can easily be assembled in minutes. If you are on a budget and don't intend to host many guests, this is the best grill for you. It is economical and has all the features you might need.
Best Splurge:
Masterbuilt MB20041220 Gravity Series 1050 Digital Charcoal Grill + Smoker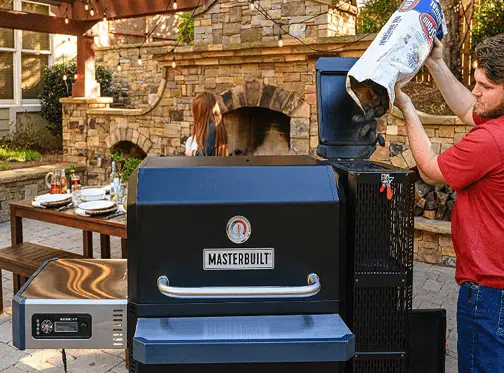 Now we shift to the other side of the pricing spectrum.
If you have some extra bucks to spare and are looking for a modern, well designed, and functional grill, then this product from Masterbuilt should be on top of your list.
It is often hard to incorporate modern technology with charcoal grills. For instance, have you ever heard of a charcoal grill where you can control the heat with your phone? This feature is mostly available in modern gas grills. 
However, Masterbuilt was able to release a charcoal grill with a temperature control feature operated with the digital control panel or with a smartphone using Wi-Fi or Bluetooth. How impressive is that!
Apart from being futuristic, this grill also has other great features. For starters, it comes with a gravity-fed charcoal hopper. This allows the grill to hold up to 8 hours of fuel using lump or briquette charcoal. You don't have to remove charcoal after every use. It also features foldaway racks and a folding shelf that provide you with some extra cooking space. Also, it has a stainless steel front shelf where you can prep your meals. 
This grill might be a bit expensive; however, it is an easy sell for us given all its amazing features.
Best Ceramic Charcoal Grill:
Kamado Joe KJ23RH Classic I Charcoal Grill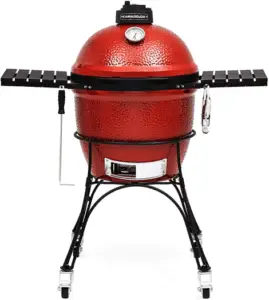 Ceramic charcoal grills tend to be more expensive than other types of grills due to their amazing heat retention and fuel consumption rate. Kamado Joe is one of the top brands when it comes to grilling, and we could not end our list without featuring one of their products. 
In particular, it is known for the durability and versatility of its products- and this particular grill does not disappoint. It has a ceramic exterior, and the interior grates are made from stainless steel.
This grill comes with an impressive "divide and conquers" system that enables you to have a revolutionary multi-level, half-moon design where you can cook different foods at different temperatures. You can also control the temperature with the tower top vents that can be opened and closed to allow the right airflow. 
When you have control over the temperature, you can easily smoke your meat at a constant 225F for long hours or even sear it at 750F. 
Ceramic Charcoal grills are wonderful and, more importantly, versatile, and we highly recommend this particular brand. 
Conclusions
Charcoal grills can intensify the flavor of any food. While they lack some of the convenience that comes with a gas grill, we still believe that they are better due to their price and portability. Also, some have impressive features, such as digital control. Since grills can be very diverse, we have tried to analyze different products that fall under different categories. Therefore, we believe that from the above list, you can easily pick a grill that can effectively serve all your grilling needs.