For people who grew up playing in tree houses, those memories become some of their fondest ones. A tree house is a structure built among the branches of a tree and can be an excellent extension of the house. Tree houses can be great summer projects that the whole family can work on together. You can be as creative as you like. Tree houses have fascinated people of all ages for decades.
There's just something about being inside a tree house that awakens the inner child in us all. Children love having a private place to play make-believe games outside the house, and adults enjoy having a quiet spot that is an extension of their house. It may also be used as an observation deck.
Depending on your budget, you can build as magnificent a tree house as you like. Here are some amazing ideas for tree houses and also the way to build them.
The Basics of Building Any Tree House
Verify Local Building Codes
Before beginning to build your tree house, you must check with your local authorities whether you are allowed to build one or not. Verify the size and location and any other guidelines that need to be followed. You don't want to build the entire tree house only to have it torn down.
Choose the Right Tree
It is very important to choose the right tree for the tree house. This will support the entire weight of your tree house, so you must choose an old, large and durable tree that can withstand a lot of weight. You want to choose a tree that grows slowly and has strong and dense wood. The ideal species of tree for the job is oak. Others such as cedar, apple, and beech make for great options as well.
Once you've selected a tree, make sure it is free of pests, fungal infections or any other insect infestations. Once you've cleared the tree, you may go ahead with planning your tree house.
Draw Out a Plan
Make a sketch of the plan of your tree house. How big you want it to be, its general dimensions, and how many windows or, if any, you want it to have. What would be the shape of the roof, and what kind of entrance and exit would you want?
Collect All the Tools and Material That You Would Require
It is important to use lightweight material to build your tree house to put the least amount of load on the tree. Make sure you have all the tools you need out in the yard, so you don't have to keep going back and forth.
Start by Building the Platform
You must build the main frame of the tree house and then raise it to your preferred height and stabilize it with beams and posts.
Hang a Pulley
Pulleys are very useful in transporting tools up and down the tree house while you work.
Lay Down the Flooring
You may use plywood or another material of your choice to lay down the floor. Make sure to include a trap door as well.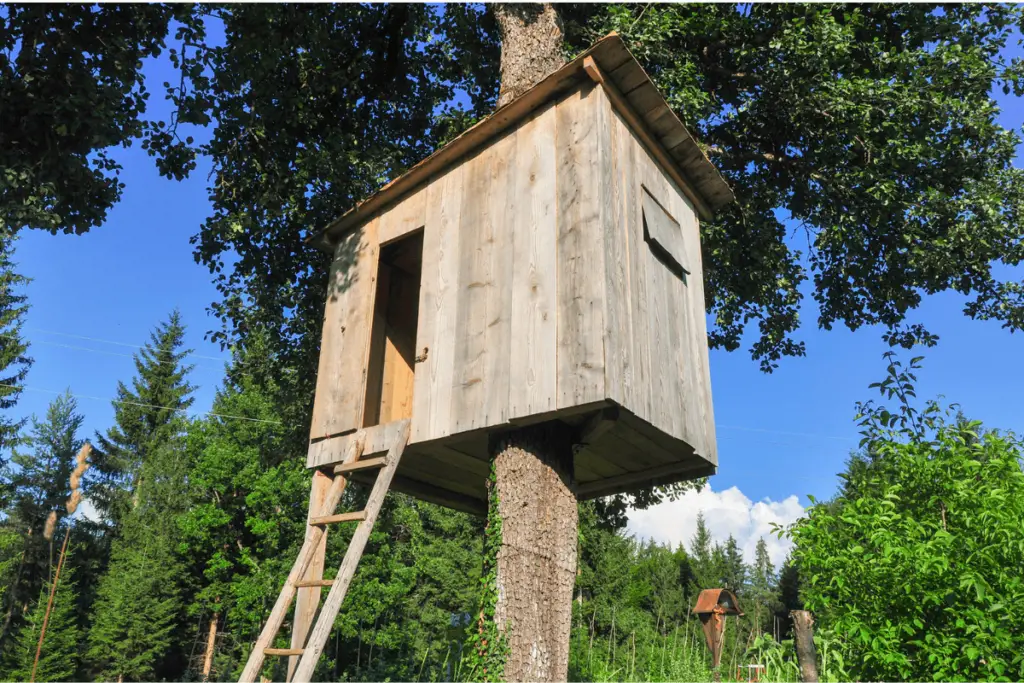 Install Windows and Doors
Install the walls and leave room for doors and windows. If you want to add a slide, you may do that at this point.
Finally, Build the Roof
Once the flooring is complete, and the walls are raised, it's time to build the roof unless you plan on making an open tree house. The roof can be made with a tarp, or a prefabricated roof may be used unless you want more innovative options and add waterproofing and shingle work.
Build a Ladder
This is important to access the tree house. You may get creative and build a staircase or keep it simple and install a ladder.
Add Any Finishing Touches
You can add your personal touches to the tree house, depending on what theme you want to follow. You can make it pirate or castle themed, and you may add slides or swings. Adding lights and door knobs can add character to the place.
Top 6 Tree House Ideas That Will Make It Look Unique
Here are some great ways to make your tree house stand out and look unique!
The Open Tree House
Make it an open tree house with no roof. This one is great to have in your backyard and is an awesome way to catch some peace and sun. It is not rainproof though, so it cannot be used in the rainy season.
The Reclaimed Tree House
You can use reclaimed wood and recycled materials such as old newspapers and empty bottles in your tree house. This is a great way to teach the importance of recycling to kids and build a tree house that is sure to be more unique than any others on the block!
The Exercise Tree House
This one's great for sporty and athletic kids. The entrance to the tree house can be a rock climbing wall, monkey bars, and a slide on the other end.
Install a Water Slide
All children love slides. What makes a slide even better is when it's a water slide that lands you straight into a pool! If you already have a pool in your backyard, you can connect your tree house slide with the pool to win the award for the best tree house in the neighborhood!
The Pirate Tree House
A pirate-themed tree house would be excellent for playing pirates with friends. You can pretend that the tree house is a pirate ship and the rest of the backyard is the sea. Get imaginative!
Hang Lights
Hanging lights in your tree house adds a whole lot of character to your tree house and back yard. You may add Christmas lights or any other beautiful fairy lights so that your tree house can transform into a clubhouse by night. Pretty lights create a lovely vibe, and this would be a great place to lounge at night.
Conclusion
No matter how old you get, tree houses never fail to fascinate. If you are looking to build a tree house over the summer, do try including one of these top 6 tree house ideas and add some character to your tree house!