There is no doubt that there are several benefits and reasons for having a suitable solar bird bath fountain in your garden or backyard. They help give a new and beautiful look to your garden and help create an atmosphere full of love, compassion, and other such good things in life. 
Solar-powered bird bath fountains are also cost-effective, and they also need little maintenance and upkeep. In this article, we will look at eight different types of solar bird bath fountains apart from sharing some general and useful information about these bath fountains for birds. 
We are sure it will be interesting and help our readers have the right information and knowledge based on which they can decide.
* We may earn commissions on some links *

Table of Content
Add a header to begin generating the table of contents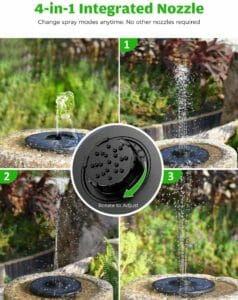 OKMEE Solar Fountain Upgraded 4
This upgraded version of the solar bird bath fountain from OKMEE is quite impressive, and therefore it would be a good idea to look at a few features of this product. It comes with a 4.1 Nozzle along with a 2.2 W solar powered fountain pump. 
You also will be able to get 4 different water styles. It is suitable for birdbaths and also for use in fish tanks, aquariums, ponds, pools, and gardens. It certainly will be liked by birds because of some unique features.
It comes with a gentle bubbling sound much to the liking of birds. It offers 4 different water styles, and the water can rise to a height of 50 to 70 cm. The OKMEE pump that is used is also of the latest technology. The water spray power is stable and stronger. 
On the whole, it offers good value for money.
Features:
The 4-in-one integrated nozzle is a big takeaway. The nozzle can be rotated to change different water styles.
You can be sure to get beautiful water styles.
The pump comes with a water-shortage protection feature.
It is made from high-quality PET material.
Birds will love the water life, and the burbling sounds that it makes.
VIVOHOME 28 Inch Height Garden Bird Bath Copper
There are reasons to believe that this 28-inch polyresin garden bath fountain could be the right one for those looking for a combination of the class versus modern-day requirements. It certainly can be an attractive addition to your home in general and your garden in particular. It imitates the stylish and old European way of life. 
Additionally, there are many other reasons why we feel that this could be a good buy. It can certainly go a long way in turning your garden or backyard space into a stylish, elegant, and charming space.
The bath fountain is made from high-quality PP material. It also is covered with a resin coating. Further, the product is also resistant to weather elements, including rainwater and other weather conditions. It also will not easily fracture, dent, or break. On the whole, you can expect that it will be a part of your home for years at length.
We are sure that the end-users will also love the sturdy base because it comes with 3 ground stakes that help keep the fountain in place firmly. The pedestal can also be filled with stones or gravel, and this could also increase stability quite a bit.
Features:
It comes with a large diameter.
It is easy to assemble.
The components are simple and, therefore, easy to assemble.
It has a decorative design coupled with a vintage old design.
It is light yet powerful, offering durability and value for money.
Smart Solar 34222RM Solar Fountain
 If you are looking for low maintenance but good value for money solar fountain bird bath product, then you have reasons to choose Smart Solar model #34222RM. It looks stunning because of the design and also because it has been made from weathered stone. It is easy to install and operate because it does not require wiring and other regular operating costs. 
The unique thing about this product is that you can allow it to function when you want it. Further, the battery can be charged in the sun, and the stored power can be used to operate the solar fountain during cloudy and inclement weather conditions. 
The battery will get fully charged in one to two sunny days. Once charged, it will provide 6 hours of uninterrupted running time. End users like it because of its low maintenance and can be wiped, drained down, and refilled after rinsing. Hence, when all the above parameters are taken into account, there are enough reasons to believe that it offers reasonably good value for money.
Features:
Classic and stylish looking.
Made from quality GFRC or Glass Fiber Reinforced Concrete
The weathered stone finish gives it that classical and beautiful look.
It weighs just around 38.5 lbs.
No wiring is required, and therefore installation is easy.
It also comes with a patented underwater integral solar pump and panel system.
There are no additional operating costs.
VIVOHOME 110V 40 Inch Bird Bath Water Fountain
This is indeed a gorgeous looking and free-standing electric Girl made from Polyresin. She also sports a cute looking umbrella. On the whole, it is a masterpiece in terms of design and yet remains simple and easy to operate. It is for those who are looking for an antique collection for their garden and outdoors.
It certainly is decorative and attractive to look at. The entire fountain has been designed in a breath-taking classic style, and we believe that it is one of its kind. The design is also quite durable, and it is made from the best quality PP material. The entire fountain is covered with a resin coating. 
It is capable of withstanding rainwater, other types of water, and other elements of nature. It is free from the risk of fracture, denting, or breaking.
The sturdy base helps keep the fountain firmly in place, and you can make it even stronger with the use of stones or gravel if you wish so.
Features:
It is a good looking fountain.
A classic addition to the garden or the backyard.
Birds will love to spend time on it.
It has a large diameter of 18.9 x 39.8 inches.
The base is also quite generous at 14.6 inches.
MUMTOP Outdoor Glass Birdbath Bird Fountain 

We have reasons to believe that this is a high-quality bird fountain. It is solar-powered and also comes with LED lights. We also are quite impressed with the foldable metal stand that comes as an addition. This makes it easy for storage or relocation. It is made from durable materials, and we also have reasons to believe that the glass is of high quality. 
It is the right place to invite your favorite bird and see it having its birdbath. It can easily be kept in the yard, patio, garden, or lawn.
It is capable of attracting many birds to your backyard or garden. They will spend more time, which will perhaps help to aerate your backyard's soil with the best of nutrients. Over a period of time, it may help to add beauty and greenery to your garden lawn.
The solar LED is capable of absorbing sunlight into electricity. It also turns into an auto mode when dark. This adds uniqueness to the entire birdbath fountain apart from helping create a beautiful ambiance during the night.
Features:
The electricity is powered totally by sun lights.
The charging time is around 8 hours.
Once charged, it can easily work for around six to eight hours.
It is waterproof, apart from being durable and energy-efficient.
Smart Solar 21372R01 Ceramic Fountainoltage Pump With Filter
This model #21372R01 from Smart Solar is indeed a smart looking and efficient performing Ceramic Solar water fountain designed for outdoor use. A built-in solar panel powers it. The voltage pump works on low voltage, and therefore it is energy efficient. 
This comes in handy when regular charging may not be possible because of inclement weather. There are some interesting and exciting features, and we will talk about a few of them over the next few lines.
It saves on water because it recycles the same water that is there in the bowl. It gets charged and works using the power of direct sunlight. A separate solar panel adequately powers the entire unit, and the solar panel is a part of the entire fountain. It also comes with a 10 feet cable that connects the solar panel to the pump.
Features:
We like the unique low voltage water pump and water filter.
It operates in direct sunlight.
It is water efficient because it recycles the same water in the bowl.
Easy to install and totally free from wires and other complex things.
Zero operating costs.
It comes with a water capacity of 1 gallon while weighing just 5.3 lbs.
Sunnydaze 2-Tier Solar Powered Outdoor Water Fountain
We consider this to be the perfect garden décor. The fountain comes with an overall diameter of around 23 inches x 34.5 inches tall. The overall weight is around 30 pounds. It also has a solid 10 inch diameter base. The measurement of the solar panel is 8.6 inches height x 7.4 inches long. 
We also consider it to be quite durable because of the combination of fiberglass and resin materials that have been used to make the bird bath fountain. The solar panel is also small and compact and installing it should not be a problem. The solar panel is complete in all respects. 
It comes with a rechargeable battery pack along with a compatible submersible water pump. The 16 foot power cord is also something that has impressed us.
The entire product comes with a one-year warranty and therefore you can be sure about getting the best value for money.
Features:
Long-lasting and durable polyresin construction.
Submersible water pump easily recirculates water across the entire fountain.
The water flow levels can be adjusted by adjusting the pump flow rate.
It has an overall height of 34.5 inches and adds beauty to the garden, patio, and other such places.
Smart Solar 23941R01 Fountain
We love the overall appearance and ergonomics of this Solar Bird Bath Fountain. The stunning lava red color is quite attractive, and the overall design features are quite impressive and unique compared to other such fountains in the market. 
A quality solar panel powers it. We are happy that it is easy to operate, and no wiring costs or other operating costs are required.
The overall assembled dimensions are 17×5 x 15.5 x 22.0 (Length, Width, and Height). The 4 tier cascading fountain not only will impress human beings, but birds will also be attracted to it. It certainly looks awesome in the garden, patio, or backyard wherever it is placed.
Features:
We like the low voltage pump.
It saves water and recycles water from the bowl.
It helps create a relaxing atmosphere when placed on the deck, garden, patio, or backyard.
The entire unit is powered by a solar panel that comes with a 10 feet cable.
On the whole, a great looking Fountain that is durable and offers reasonably good value for money.
Note: The solar unit cannot store power.
Important Features to Look For In Solar Bird Bath Fountains
Here are a few important points to be kept in mind when you are planning to buy the right Solar Bird Bath Fountain:
Fountain Style: You have to spend some time identifying the right style of fountain. This would depend on the available space and where you are planning to keep it. You could choose between drip-style fountains or bubblers or even go in for cascades. 
They come in different spray patterns, and it would depend on the fountain design and the type of nozzle head that customers choose.
Placement: Placing the birdbath fountain in the right place is essential, and you should give it quite a bit of thought. Unless the fountain is placed in the right place, you may not be able to attract birds. 
Further, the fountain should be placed in such a place that the solar panel gets recharged when sunlight is available. The distance between the solar panel and the fountain is also a factor that we should consider.
Battery Backup: We also believe that you should choose a bird fountain after carefully considering the battery backup. The backup should be strong enough to keep the fountain unit running for a few hours once charged. This is even more important in places where sunlight during winter might be a rare commodity.
FAQs
Do Solar Fountains Really Work?
Yes, the technology that operates and runs a solar-powered bird bath fountain is simple, and it is a proven and working technology. However, you have to choose the right solar panel with the right capacity. The motor that generates power should also be of the right capacity in conjunction with the solar panel.
Do Birds Like Solar Fountains?
Yes, birds do like water flowing out from open spaces, and they would not mind sitting around it for some time. During summer, they look for solar-powered bird fountains to quench their thirst or even have a quick bath in the water recycled by the motors powered by solar power.
How Do Bird Bath Fountains Work?
The technology behind the working of bird bath fountains is quite simple. The fountains are basically powered by a pump that draws power or electricity from the solar panels. The pump, in most cases, works as a bubbler when pushing out water from the fountain. 
The water tends to evaporate quickly, and therefore, water levels must be monitored carefully. This will avoid the water level going down dangerously low, and if this happens, the pump will not work properly.
Conclusion
We hope we have given our readers a reasonably good insight, information, and knowledge about the various aspects of the running of solar-powered bird fountains, the types and specifications, and other such things. 
At the end of the day, they go a long way to make the garden, backyard, patio, or other such places quite beautiful and lively.