Has a colorful sight ever brought you happiness? Isn't it relaxing to see all those natural colors around yourself? If yes, then you'll probably love this aesthetic being of nature known as the butterfly. These creatures undoubtedly take you to a fantasy world where there are peace and prosperity everywhere. So, what about the idea of keeping them close to you? Sounds great, right?
Well, if you do want to see this miraculously beautiful gift of Mother Nature more often, you are just at the correct spot to know how? Starting a backyard butterfly garden can serve as a great idea. By planning for butterfly gardening, establish, develop, and preserve a healthy environment for butterflies. The plants that you put in these gardens are essential for the butterflies to grow well.
If you are invested in initiating this idea and don't know how to do it, do not panic as I'm here to help. On this journey, come with me to know all about a butterfly garden, needed essentials, plants, set-up procedure, size of the applicable area, and even maintenance.
I'll take you through all the fun facts about a butterfly garden. Below here, you will also find all the essential steps that you need to take for a successful start to develop this garden. So, without wasting more of your time, let us get straight into it.
Table of Content
Add a header to begin generating the table of contents
What Is A Butterfly Garden?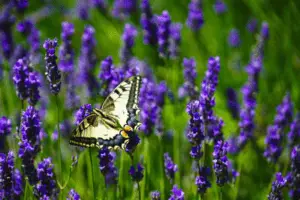 Are you curious about getting to know how to start a butterfly garden? If yes, then you are at the correct spot. A butterfly garden implies a human-made garden with all the natural essentials to make the butterflies feel at home.
These essentials include trees, plants that butterflies can feed on, and bright colors that attract them.
Butterflies are perhaps Earth's most exquisite and fascinating species. A butterfly garden is an exceptional way to have and support a more butterfly's habitat. Since the modern world's growth and modern human activities such as homes, farms, and roads, many naturally existing butterfly habitats have been damaged.
If you plan on creating this type of garden, let me double your happiness by telling you that it is quite easy for you to multiply the number of different butterflies in your backyard. You will need some essential and advantageous plants and proper planning.
Why Do You Need a Butterfly Garden?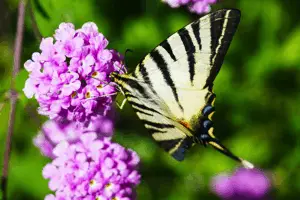 Having a butterfly garden will bring a visual boost to your garden and the environment due to the deduction of natural habitats used by insects like honey bees and butterflies.
In the recently passed decades, there has been a rapid advancement in the construction industry. With the development of new roads, towns, and cities, the percentage of forests and natural insect habitats has shockingly fallen. Due to all these factors, many species have lost their natural growing environments. Butterflies are one of those many creatures.
So, is it okay for us to let these magnificent and elegant species go extinct? Of course not. What can we try out to save them from filling colors for the coming generations and the world? Creating a butterfly garden helps you in saving them and making them grow more healthily as well. So, by having a garden for this purpose, you can play your part in protecting this natural asset.
We can all do our part to support important the critical habitat of honeybees and butterflies.
Are you thinking about how butterflies can be an asset to us? I'm going to answer that as well for you. Butterflies are helpful to us as they play a vital role in the ecological world and human life. Here's how:
Pollination:
For the beneficial growth of the ecosystem, pollination is one of the most important services in which butter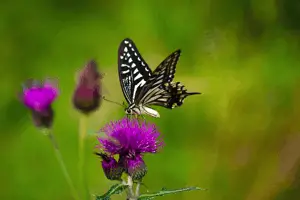 flies play a vital role. Animal pollination is one of the key factors that help in the successful growth of crops and flowering plants.
The dependence percentage for crops and flowering plants on pollination is about 35 and 90 percent, respectively.
Butterfly gardens can also help offer a balanced environment that facilitates the diversity of butterflies and even other pollinating insects such as flies, beetles, and bees.
All the plants which work in attracting butterflies will also help in bringing bees and birds as well. Every one of them plays a major part in the diversity and advantageous growth of the ecosystem. This factor will also result in abundance, including habitats of plants, livestock, and micro-organisms.
Part Of The Food Chain: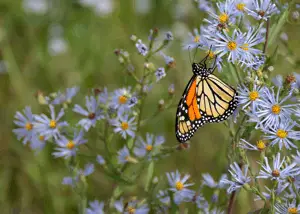 One can not deny the importance of the food chain for a smooth, natural life-cycle process. This law is in nature's hand. Butterflies also play their part in continuing the food chain.
These creatures serve as a feed to many animals and insects, including lizards, spiders, birds, etc. Many animals, especially birds, also eat caterpillars. Hence, the diminishing of this creature can adversely affect the ecosystem as a whole.
Bringing Colors To Life:
The positive consequences that nature can have on one's mood are quite obvious. The studies and findings also make this fat evident that nature and its beauty can undoubtedly improve the mental well-being of a person. Have you ever observed how relaxed you feel when you are gazing at the greenery or other natural beauties?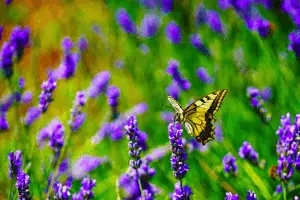 The natural blend of colors that butterflies carry along will definitely win your heart at an instance. This factor can make an immense difference in your life.
The things you see around yourself can reflect in your mood and thinking as well. So, the aesthetic beauty of this creature will undoubtedly make you feel relieved from the worldly tension and stressed routine life.
Which Plants Can Support Your Butterfly Garden?
A butterfly garden won't be a butterfly garden without butterflies, right? So, what can you attract them to your yard? Investing in plants that are rich in nectar will result in the successful development of your butterfly garden.
What Are The Best Plants For A Butterfly Garden?
Butterflies search for nectar as they get their nutrition through them and explore areas where they can find such plants or flowers for feeding on them. For your butterfly garden, as mentioned earlier, growing nectar-rich plants is important as this is the main attraction for them. Here is a list having the best plants that can enhance your garden easily.
Butterfly Bush: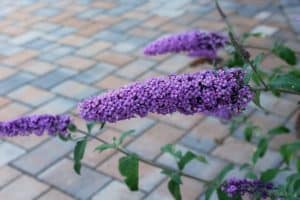 Curious about which floral plant can give winged insects the major attraction? Nothing can serve this purpose as perfectly as a Butterfly Bush.
This vivid, purple plant will never fail to draw more butterflies to your garden as its nectar-filled flowers are great for enticing the butterflies. These will also enhance the aesthetics of your garden.
Coneflower: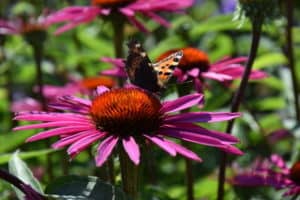 Coneflower is a preference for many birds, bees, and butterflies. This plant frequently attracts the majority of butterflies to your garden.
Lavender: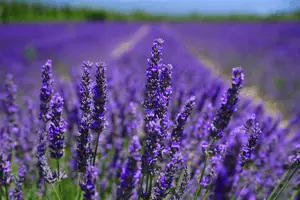 Who doesn't love the pleasant aroma of lavender? This pleasant look of these is what makes it appealing for the butterflies.
Salvia:
S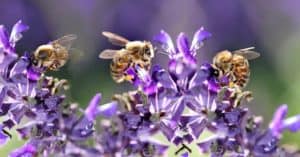 alvia is a popular choice when it comes to gardeners and favors the attraction of butterflies, with its fabulous flower and appearance.
Verbena: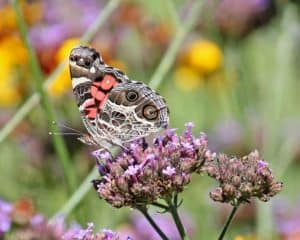 Verbena grows large heads of delicate, lovely, orchids in multi-colors, including purple, yellow, red, cream, and white. Butterflies are going to make a quick entry into your garden for these cheerful groups.
Bee Balm: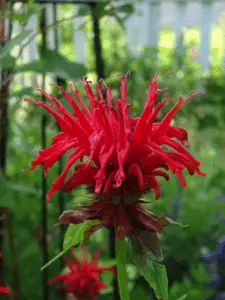 Bee Balm is known to attract butterflies, bees, and hummingbirds with its red, purple, white, and pink colors.
Yarrow: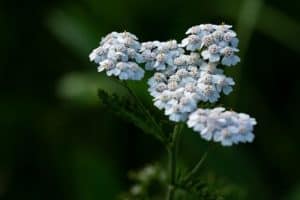 Yarrow is also known by the name Achillea. It is a popular must-have for any gardener who aims to attract butterflies to his butterfly garden.
The vibrant, beautiful orchids of this plant make it look highly-appealing and eye-catching. Moreover, its blooms can serve as a great place for the resting butterflies. The favorable conditions for the growth of this plant include direct sunlight and moist soil.
Centaurea: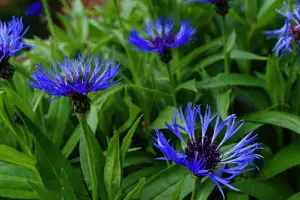 For Centaurea, two alternate names are also used. You may know them by the name 'Bachelor's Buttons' or 'Mountain Bluets.'
The reason behind these being a major source in attracting butterflies is the major nectar producing quality that they possess.
Blanket Flower: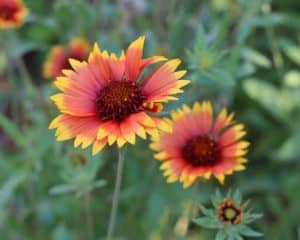 The main essence of beauty for the summer gardens is this one, the Blanket Flower. It is also called Gaillardia.
The name symbolizes its resemblance to the conventional style of blankets from Mexico. The patterns of this plant make it look enticing. It serves as the perfect choice for your attractive butterfly garden.
Penstemon: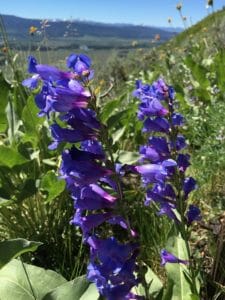 With its vivid, bell-shaped flowers, Penstemon is sure to bring a beautiful, friendly scent to your garden, which will act as a huge source for attracting the colorful creatures.
Aster: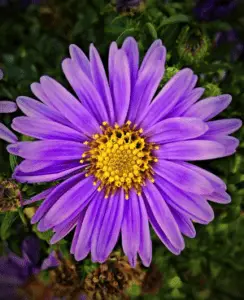 Asters are virtually sure to attract the attention of every visiting butterfly due to their complete branches and bright blooms! These exquisite native plants are the ideal complement to a beautiful butterfly garden.
Scabiosa: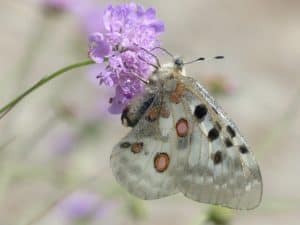 Scabiosa is one of the best choices for a butterfly garden. The beautiful flowers are tall enough to attract flying butterflies to explore your garden.
Coreopsis: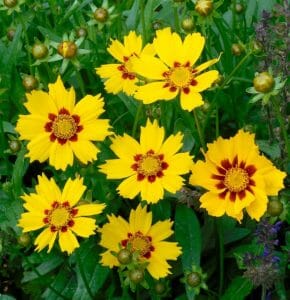 The presence of this plant will make your garden look bright and beautiful even when it's not a sunny day. The vibrant color of these blooms plays a key role in drawing the majority of butterflies to your backyard garden.
How To Set It Up A Butterfly Garden?
Do you want to set-up a beautiful butterfly garden? Wondering about the procedure? Don't worry, here is a step by step guide that covers all the details for you. Follow this procedure and welcome all the brightly-colored butterflies to your backyard.
What Are The Essentials For A Butterfly Garden?
Before going on to the actual procedure, let us first make a list of the essentials that you will need for starting your backyard butterfly garden. Make a check-list of the following items:
Flat and large rocks
Source of water
Attractive plants
Trees or shrubs
Sunlight
Shelter
Non-pesticide area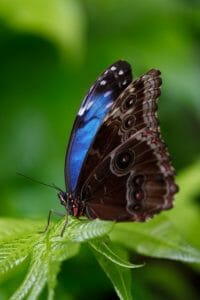 Rocks:
The vibe and resting place for the butterflies is what you will get through the placement of rocks.
Water Source:
Water is the essential liquid for all living beings. The same is the case with butterflies. Adding a clean source of water for them to drink is crucial.
Attractive Plants:
The main attractive factor for these creatures is the presence of bright, fragrant, and feed-worthy plants.
Trees or Shrubs:
Both trees and shrubs can act as a major factor for improving your garden's vibe and environment. Shrubs work amazingly well to enhance the quality of air as well.
Sunlight:
When it comes to nature, sunlight is the main focus. The plants you will feature in your garden will get all their energy through this source. Moreover, when the days are colder, the direct sunlight approach in your garden is vital for the butterflies as well.
Shelter:
Shelter from strong winds and heavy weather factors is another important consideration to make. This factor can guarantee the successful development of your garden.
Non-pesticide area:
The sensitivity that butterflies possess towards pesticides is undeniable. If you want to develop your garden well, make sure that you select an area free of pesticides.
Steps of Starting a Butterfly Garden:
This quick step by step guide will aid you to start a backyard butterfly garden.
Step 1: Site Selection
Selecting the right location to set-up the whole garden is one of the most important aspects. The best location for you to choose is where direct sunlight can reach. This will help in the nurturing of the plants. However, do make sure that the area does not get strong winds, as this point can disturb your garden.
Other than this, planting the trees and shrubs can prove extremely beneficial for you. The trees can shelter this area against strong winds as well. Moreover, this factor will also help in cooling down the temperature when the days are quite hot.
Step 2: Rock Positioning
This may not seem as crucial as it is, but other than serving you the garden's major vibe, the placing of rocks is an essential aspect. Try to place some large rocks at a place where the sunlight can easily reach. This positioning of the large and flat rocks will provide the butterflies with an area on which they can lie during the colder morning under the sun.
Step 3: A Safe Water Source
Equipping your butterfly garden with a water source is yet another important point. The butterflies are not able to drink water from open sources. To provide them a healthy amount of this essential liquid, fill a container with water and position it safely in your garden. This will help these insects to rest and have a safe place for drinking.
Step 4: Addition of Plants
As discussed earlier, plants serve as the main appealing factor for the butterflies to come into your garden—the dependence of adult butterflies mainly on nectar that they get from nectar enriched plants.
The above-mentioned list of plants will serve amazingly well for you to develop a healthy and successful garden for butterflies.
Other than the nectar, it is the sweet aroma and vibrant color of the plants that draw butterflies' attention. This whole set-up will give them their natural habitat's vibe. u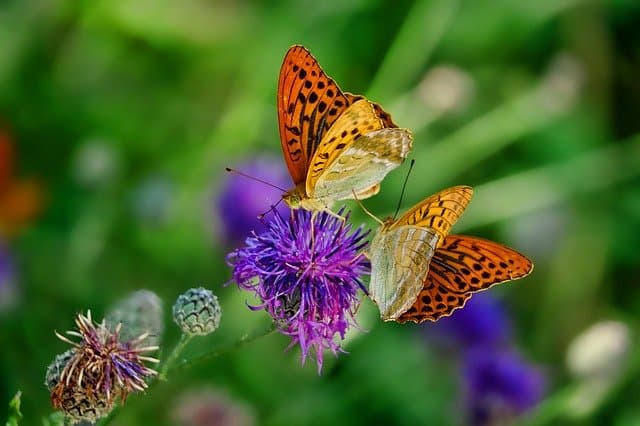 How Do You Maintain A Butterfly Garden?
Your butterfly garden, like any other type of garden, would need some care from your end. The following points can help you maintain your garden successfully:
Ensure a place that remains free from natural and human-made pesticides
Invest in potted plants so that they can continue to feed your butterflies when your soil is not in a position to grow or support the new ones
Do not forget to change the water frequently and ensure fresh and clean ones for their drinking purpose.
Do invest in proper arrangement of shelter so that the plants you own do not get destroyed from extreme weather and other conditions
The Closing Thoughts:
Like every other being, butterflies also serve as an important aspect of this ecosystem and run smoothly. The colorful and aesthetic appeal of these creatures will draw you close to nature and calm your nerves to make you feel at peace as well. Investing in a butterfly garden can be a pretty great idea. This will serve as a major contribution to the ecosystem and your mental well-being as well.
However, many think this procedure is quite complex and requires some high-end professional knowledge; this is not the fact. You can initiate your set-up of a successful butterfly garden easily just in your backyard. My take on all the required steps and essentials will aid yours throughout the whole procedure.
Make sure to give a thorough read to all these points and start your own beautiful, bright, and colorful butterfly garden. You can do all of this by remembering some vital points and picking the right location and plants to provide the best environment for those beautiful and sensitive creatures.