Adding an outdoor rug to your cozy outdoor seating area can add some style and comfort to your patio. While Mother Nature does a good job of cooling us down during a sunny day, she can sometimes take it too far. Every homeowner who lives in the wind prone areas knows it.
The chances are that your beautiful outdoor rugs have been blown away by the wind countless times if you live in a windy area. The good news is that you can follow some simple steps to keep your outdoor rug in place. Learn how to keep an outdoor rug from blowing away below.
There are several options to secure outdoor carpet in place. If the outdoor carpet is an area rug, you have several options to secure the carpet from either above or below. Let's go over some simple solutions to keep your outdoor rug in place.
We're an affiliate
We hope you love the products we recommend! Just so you know, we may collect a share of sales or other compensation from the links on this page. Thank you if you use our links, we really appreciate it!

How To Keep An Outdoor Rug From Blowing Away
Area rugs usually blow away because they are light in weight, so considering a heavier weave rug will help in keeping it in pace. But what if you already have a carpet? no problem.
How Do I Keep the Corners of My Rug Down?
Although you will achieve the outdoor look you have always wanted when you install a beautiful rug, the chances are that some practical problems will arise. One of the most common challenges you are likely to face is tripping over the corners.
Keeping the corners of your outdoor rug down prevents injury, especially if you have young children. Let us look at how you can keep the corners of your outdoor rug down below:
The first thing you can do to keep your outdoor rug's corners is to use double-sided carpet tape made for outdoor use. This tape is an easy non-permanent solution to wandering rugs—several important tips to make help the tape last longer.
1) Make sure the installation area is clear of dirt or debris
2) Work on one corner at a time, lift one of the corners and apply the sticky side of the tape on the floor at a 90-degree angle
3) Use a utility knife to cut the tape from the paper side to keep it from sticking to the tape
4) Remove the paper backing and lay the rug down, pressing firmly
5) For larger rugs, consider taping the middle of the rug in strips and edges along the sides
We recommend this tape from YXLIFE that works on multiple surfaces and is removable
Click here to find YXLIFE Double Sided Tape on Amazon.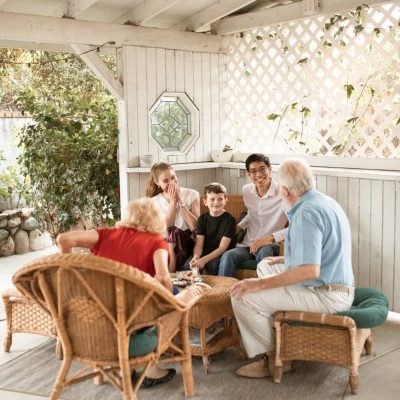 Place Patio Furniture And Potted Plants On The Corners
Try laying out your patio furniture so that the legs hold down the corners of the area rug. You can also try furniture weights that will help secure your furniture and rugs in windy locations. The patio furniture will block them from curling and being kicked up. Strategically placed potted plants also work well to weigh down corners.
Secure The Outdoor Rug To A Wooden Patio With Washers And Screws
Take four stainless steel washers and secure one on each corner with a countersunk stainless steel screw to make the corner flush. While this does put a small hole into your deck, it makes for a very secure rug installation.
If you're looking for a ready-made screw and washer solution, we recommend the YYST carpet Anchors. YYST is a popular choice for securing your rug to a wooden deck because they feature stainless steel hardware to prevent rust and a flush washer so that the screw does not stick out.
Click here to find YYST Stainless Steel Rug Anchors on Amazon.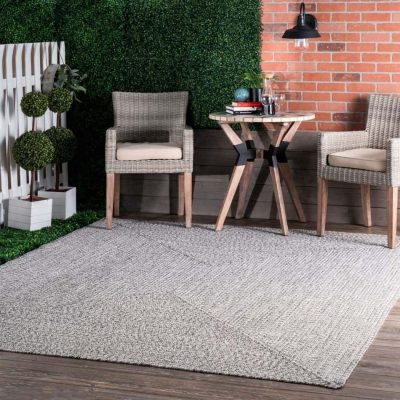 How Do You Attach Your Outdoor Carpet to Concrete?
Installing an outdoor carpet to your concrete patios and decks is the best way of giving a new look. The good news is that you do not need extensive knowledge and skills to attach your outdoor carpet to concrete.
A permanent outdoor carpet installation involves more work but can be handled with some tools and preparation.
Discover how you can install your outdoor rug to concrete in this complete guide:
Things to Do Before You Start
The key to a professional outdoor carpet installation is the prep work. Here is what you need to do before you get started:
Use a square shovel or a floor scraper to loosen any deposits on your concrete floor.
Remove the debris with the help of a shop vacuum.
The next thing you should do is clean the concrete floor with water and a mop and let dry.
Proceed to measure the length and width of your concrete floor once the floor is dry.
How to Size Your Outdoor Carpet Before Attaching it to Concrete
Installing your outdoor carpet will be easy and quick once you take all the required measurements. Here is how to size your outdoor carpet rug before installation:
Begin by choosing your preferred side to install the carpet full-width from wall to wall. Once you pick the side, proceed to place one side of the roll at the corner.
Take the other side of the roll and fit it at the base of the wall before spreading your outdoor carpet to the other side of the wall. Make sure to keep your rug squared to the floor. Do not forget to mark the edges of your outdoor carpet.
Proceed to remove the carpet and draw a chalk line between the marks. A metal straightedge will be handy for this task. Cut the outdoor rug with a utility knife once you draw the line.
Do the same for the remaining outdoor space. Make sure to align the edges uniformly.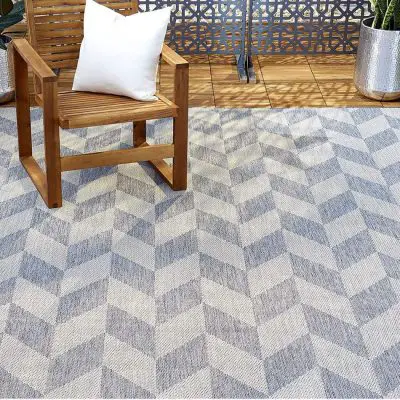 Tips for Installing Your Outdoor Rug to Concrete
Now that you are done with the prep work and sizing installing the carpet to concrete is time.
Tools needed:
1) Flooring adhesive
2) Notched trowel
3) Measuring tape
4) Utility knife
5) Cleaning Solution; Check the adhesive for the proper cleaning solution
6) 100-pound flooring roller (This should be available for rent)
Installation Steps:
Use a 1/8-inch notched trowel to apply flooring adhesive on the concrete floor. It is advisable to work backward when applying the glue.
Give the adhesive enough time to dry.
After leaving the adhesive to dry to the touch, install the outdoor carpet from end to end along one wall.
Use a 100-pound flooring roller to secure the outdoor carpet rug on the concrete floor.
Repeat these steps for the remaining roll of carpet.
Laying everything out and making sure the measurements are correct before applying the glue will make the process go easily. Work in sections and weigh down and corners and edges until the adhesive is fully dry.