Outdoor lights look fantastic as they are great at creating a welcoming atmosphere. One of the frequently asked questions about outdoor lighting is can outdoor lights stay out in winter? We'll go over some common questions regarding outdoor lights and share some tips to keep your backyard well-lit year-round.
Can Outdoor Lights Stay Out In Winter?
Modern outdoor lights are specially designed to be weatherproof and can be hung out all year round. Though most outdoor lights are weatherproof, you should check the wire and lights once a year and try to install them in a cool, dry place if possible to help them last longer.
The moisture in the air might cause the lights to accumulate rust. Please keep them in good condition so that moisture does not creep in. Check the Ingress Protection Rating of the lights before purchasing them. 
This rating will tell you how protected the outdoor lights are against possible enemies like moisture and dirt.
The Ingress Protection rating is expressed by two letters (i.e., IP), followed by two numbers. The first digit tells you about the dust proofing ability, while the second digit tells you about the waterproofing ability. 
With an increase in the ratings, the overall protection of your lights will also get enhanced. 
Both numbers are equally important in the case of outdoor lighting. Therefore, consider both while choosing your outdoor lights.
How to protect outdoor lights from damage?
Locate your lights correctly. Install the porch lights near the front door so that they can be kept away from the rain. Locate the lights right under the overhangs where the rains cannot reach.
If you have outdoor lighting fixtures on the mains system in the open, get hold of some light shields to ensure complete protection. Light shields are small, transparent boxes that are placed over the outdoor fixtures. Once you have placed them, seal them so that moisture cannot seep into the light fitting or the bulb.
You can also buy waterproof fixtures, which are specially curated for outdoor lighting. But if the fixtures are already in their places, and you do not wish to spend time and some extra bucks to replace them, lights shields are a suitable option.
You can stop worrying about outside elements if you install solar lights. No wiring is involved with these lights. Thus, there is minimal possibility of the wires getting damp and creating a short circuit. If you want solar lights throughout the night, you have to buy the ones with batteries.
Can solar lights stay out all winter?
Solar lights are an excellent buy since they ensure the safety of areas and use green energy for operation. With the increased usage of solar lights, questions regarding their durability are on the rise.
Though many people are still doubtful about solar lights' efficiency during winter, be assured that they operate just fine. Sometimes, the winter period can also prove harsh on them, especially because they require sunlight to remain functional. 
A well-built solar light can stand tall against snow, wind, rain, or in the face of freezing temperatures.
Good quality solar lights can stay out in winter. These lights are such that they can withstand all kinds of weather, whether it is ice, rain, hail, snow, and wind. Solar lights work perfectly even during snow and ice, but only as long as they receive enough sunlight for being fully charged.
Solar lights are specifically designed so that they do not warp easily due to fluctuations in temperature. In the case of the fixtures that are IP65 rated, the snow built up on the panel cannot enter inside the sensitive parts of the lights.
Several solar panels are also tilted so that the snow can roll off easily and not get stored up. Thus, even during a strong winter storm, the solar lights will not gather snow. Even if you find piles of snow lying on the solar panel, you can knock it out using a regular broom.
Those who are living in areas that receive heavy snowfall can shed all their worries now. Solar lamps and lights continue to function properly, even while it is snowing. Under such weather conditions, a battery charge is built up, having light snow coverage on the panel. 
If ice, debris, or snow get accumulated on the solar panel, you can take a dry towel and remove it. Remember not to use any chemicals for cleaning the solar panel.
The duration of the solar lights will go down only if the sky remains cloudy. If you want your outside solar lights to operate from dawn to dusk, the lights' fixtures must receive direct sunshine for 4 to 5 hours.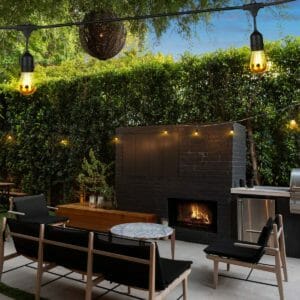 How to store solar lights?
Once you have decided to store your solar lights in a safe and secured place, the first thing that you need to do is switch them off completely. Then, disassemble them properly. It is always recommended to store the lights in a dry place, such as the basement, garage, or utility shed.
Solar lamps with glass should be covered in bubble wrap so that the glass does not break or crack. You can also use spare blankets if you do not have bubble wrap. When the solar lights are to be stored for a long time, say 2 to 3 months, you should make sure that the batteries are removed. Before you install the lights back, wipe off the dust using a soft, damp cloth.
How to take care of outdoor lights?
Outdoor lights and lamps add extra charm to the environment. Be it your backyard or your vegetable garden; outdoor lights never fail to enhance the ambiance. It remarkably increases the beauty of your chosen spot.
But be careful! Not maintaining them properly might make them hazardous. If you are confused about how to maintain and take proper care of your outdoor lights, here are some suggestions to help you out:
Clean properly:
Cleaners with high chemical concentration might destroy the special, unique finishes on your favorite lamps. So, it is better if you use a mild, regular detergent, a soft cloth, and some water to rub off the grime. Before you start cleaning, make sure that you have switched the power off.
Though outdoor lights are meant to be waterproof, they are not indestructible. The moisture of the air leads to the rusting of the lamps. For cleaning this, you can use natural ingredients like water and vinegar.
Stay away from the grass:
Avoid installing the fixtures on your lawn. This will make mowing very difficult around them. What you can do is that you can place the fixtures in flower beds. 
If you have buried low voltage wiring, avoid using wooden chips to cover up the dirt. You do not know when the wire might resurface, and if it comes in contact with the mulch, a fire might break out.
Place lights carefully:
Choose a few points in your area where you would need light. These might be areas like the porch, garage doors, and lighting in steps and paths. If you are installing lights along a path, consider putting the posts in a zigzag fashion. Be careful where you install the tall fixtures.
Avoid placing them at the end of your driveway or the playing area of children so that accidents do not crop up. Be extra cautious if you think of placing the lights near swimming pools, garden ponds, or fountains.
Select the right bulbs:
In this case, you need to follow a few ground rules. Firstly, use outdoor-rated bulbs for outdoor fixtures. Also, avoid inserting any bulb that is beyond the maximum wattage of your fixture. If you do that, it might create overheated wiring, resulting in damaged insulation.
You might wish to change your old bulbs and choose LEDs. Before you purchase an LED bulb, check that they are compatible with the older fixtures in use for a long time.
Inspect lights and cords:
If you had stored up the supplies for your outdoor lighting for a long time, it is recommended to check them before using them. Look for wear and tear signs, such as fraying cords, loose connections, etc. If you find any abnormality in the lights or cords' functioning, do not use them.
Switch off when not required:
Please turn off your outdoor lights when they are not required. This will increase their longevity of the bulbs and keep them from being overheated if they are incandescent. This is also a smart practice to optimize energy usage. You can consider adjusting, dimming, or completely switching off the lights when you step inside or leave the house.
Now that you have an idea about can outdoor lights stay out in winter and how to store them properly, you will find minimum issues in installing them and maintaining them regularly. 
So, what are you waiting for? Get started with installing pretty, sparkling outdoor lights and brighten up the cozy corner of the garden or the yard. Let the celebrations begin!
You might want to check out our guide to decorative garden lights.