One of the advantages of having a birthday party or family get-together in the backyard during the summer is that it allows for more outside activities.
These ideas will enable you to enjoy the nicer weather while entertaining a large group of friends. Having the party outside rather than in the house also eases the burden on the host.
Partying outside is a wonderful opportunity to decorate the garden and put together a colorful theme, whether it's a more formal garden party idea or a more informal barn dance or garden cook-out gathering, whether it's for a child's birthday or an adult milestone event.
Backyard Birthday Party Ideas for Adults
It's essential to plan if you want to have an outdoor birthday celebration. To ensure that the guests know what to anticipate when they get their invites, pick a theme early in the planning process.
For visitors with special dietary needs or questions about scheduling or attire, this is an excellent way to let them know what to anticipate.
However, planning the specifics is fun once you've chosen a date and a theme. So draw inspiration from our ideas, have fun, and let the celebrations begin.
Karaoke
Many people enjoy karaoke, even if it's not for everyone. It's also common for individuals to get up and play after a few beers.
It's time to bring out your karaoke machine or hire one for an evening full of terrible covers of classics! During the breaks in the music, break the crowd up into teams and have a little fun.
Quizzes and trivia about music are usually entertaining. Props like hats and masks for attendees to wear while performing are a fun way to remember the event.
There are several ways to transform your yard into a stage and a dance floor. Also, don't rush the process of compiling the ideal playlist.
The point of picking tunes that no one has heard or likes is a waste of time. As a result, be sure to prepare a variety of crowd-pleasing options.
A Normal Get-Together
Throwing a party without any theme is the simplest task possible. A party doesn't have to be much more than a get-together with your loved ones, only a little fancier.
Or you could have a party on your lawn! All the usual party supplies, such as streamers, balloons, and pizza, should be included. Anything to get you in the holiday spirit.
Get creative and utilize what you have around the house to set up a temporary bar. It won't all fit together perfectly, but that's part of charm and fun.
It may not be the most innovative idea, but it's the quickest and most convenient way to organize an outdoor birthday celebration.
It's a win-win situation for everyone if the visitors are friends and they've had delicious food and drink, a laid-back setting, and pleasant company.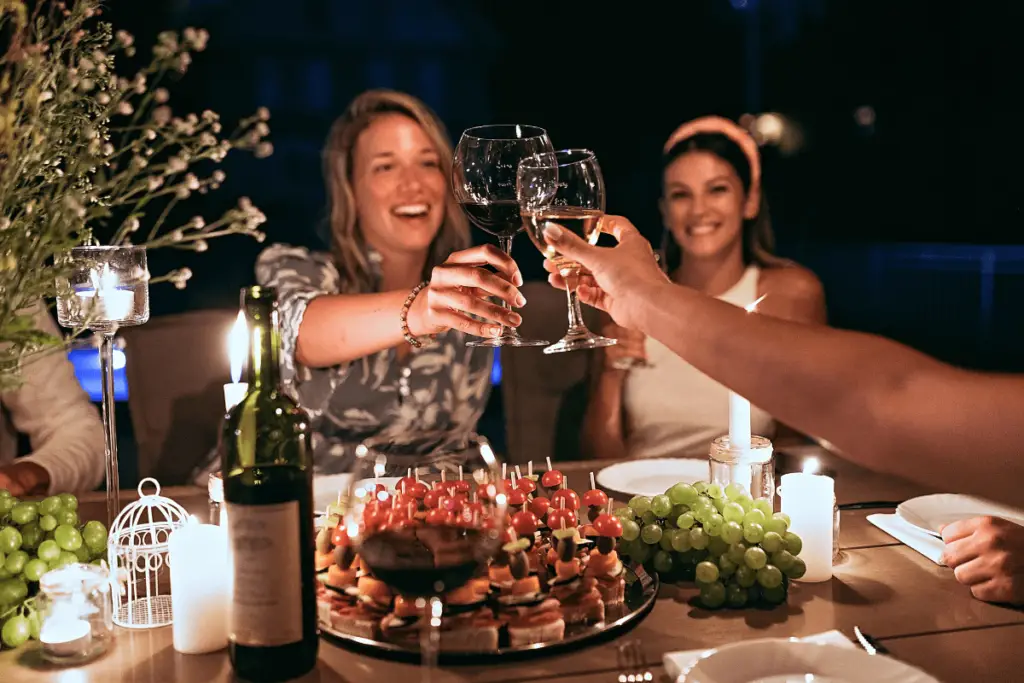 Choose a Theme
The best method to plan an outdoor party is to choose a beautiful color scheme or an exotic party theme.
Linens, tableware, flower arrangements, and any outdoor garden decorations like bunting and balloons can all be linked by a few primary colors that run throughout your design.
Choosing a color scheme and matching your table décor to it is a quick and easy method to create a well-decorated table.
Movie Night
The party may be a throwback to your school days, with movie nights and sleepovers. Make a slumber party out of it by setting up a tent in your garden with plenty of pillows and blankets.
Just like a Friday night blockbuster, pick your favorite movies and pair them with delicious food to make the perfect night.
For each get-together, you should provide your visitors with a variety of gourmet popcorn and a tasty snack mix. Throw it back to the good old days by making a few childhood favorites like cheeseburger pockets or crust pizza.
BBQ
For a summer celebration, nothing beats an old-fashioned backyard barbecue. It'll be fun and carefree to commemorate the occasion if everyone gathers in the sunshine with a beer and a burger.
From young to old, this is a party that everyone can enjoy, and it may be huge or small, depending on your preference. Even if you don't want to do the grilling yourself, you may have it catered for you.
The food is, of course, the most significant part of a barbecue. Prepare your menu in advance, and if you want to go the additional mile, you may paint some wood or use a tabletop blackboard to display your menu selections.
If it's going to be a casual event, stick to the kebabs, typical burgers, and hotdogs. It's possible to jazz things up by adding zucchini fries, prawns, halloumi cheese, and more.
A BBQ is a simple yet effective backyard birthday party idea that will be well-received by all of your attendees. Enjoy the weather, eat great food, and relax in the sun.
Pool Party
Nothing beats a good old-fashioned pool party as a birthday celebration during the summer months. Let loose in the pool with some pool floaties and noodles, then crank up the music.
You may serve cool drinks and food at the same time in a kiddie pool that serves as a beverage cooler. The perfect appetizers for this get-together are hot dog sliders and pizzas topped with grilled chicken.
To thank your visitors, serve coconut tres leches cupcakes as dessert.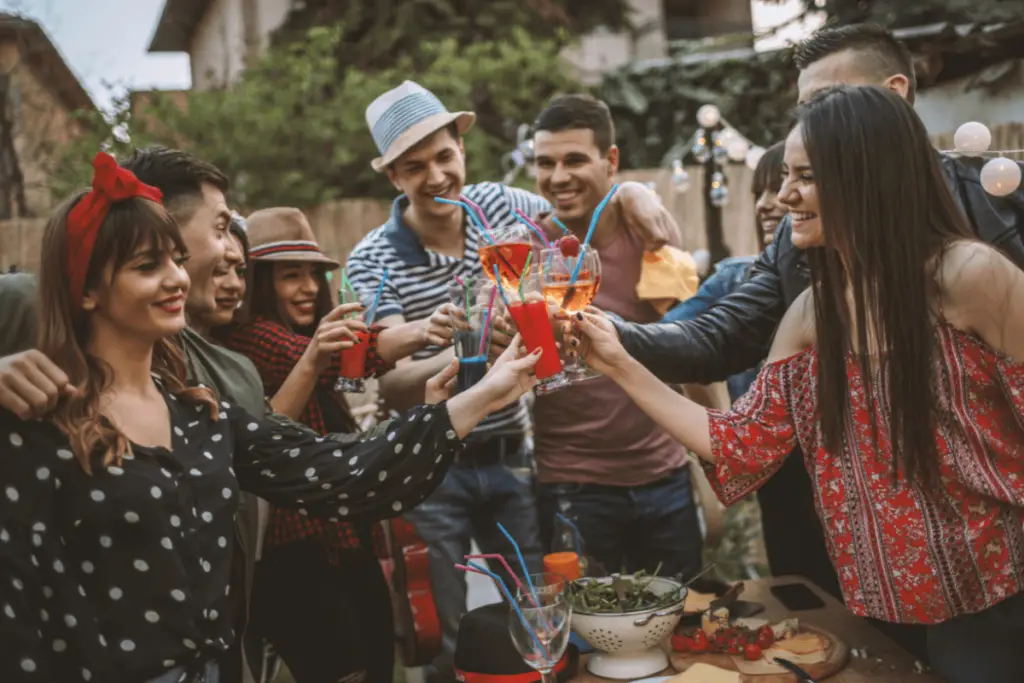 Floral Decorations
Keep things basic regarding table decorations for an outdoor celebration. When planning a party, avoid anything that requires a lot of time and effort to set together, and instead, pick simple displays that you can put together in a matter of minutes.
Flowers are a simple method of sprucing up a party table, and picking in-season blossoms might work out less costly too. A variety of jam jars, basic glass vases, pitchers, or jugs make great receptacles lined on the table. Pop a few single stems or plant cuttings in each.
Wrapping Up
We hope these backyard birthday party ideas for adults have given you some ideas for a memorable celebration of your own.