Decorating a patio is not only an outlet for creativity. It can also serve as a way to add more functionality to your outdoor space. But there's one problem when it comes to buying outdoor furniture: these items are usually expensive. Depending on your preference, you might have to spend hundreds to thousands of dollars to buy a patio set. Why is outdoor furniture costly? And is it worth the additional cost or not? 
Outdoor furniture is expensive due to using better materials and additional protection against element exposure. This kind of furniture is often built with great design and longevity in mind. Purchasing good-quality furniture is recommended because it can keep their looks and sturdiness in the long-term, whether it rains or shines. 
Designing a patio is not as easy as it looks. As a good homeowner practice, each housing renovation needs to balance practicality, comfort, cost, and budget. With proper framing and color choices, you can make an interesting interior design even with affordable materials. 
But that is not the case when it comes to outdoor furniture such as patio sets. Because this furniture is used outdoors, there is always an additional cost.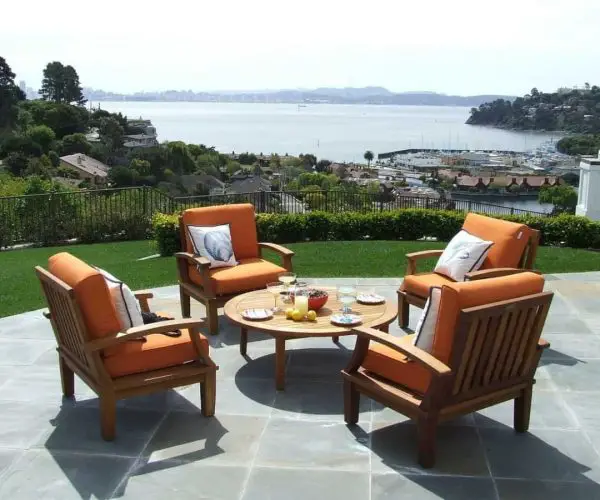 Why Is Outdoor Furniture So Expensive?
Outdoor furniture is known for its utmost resilience, and rightfully so. These products are going to be exposed to rain, sun, snow, and other elements. Factors such as additional processes to make the final furniture more resilient is added to the cost, making the product more expensive. All of these are essential additions to make sure that the furniture can last for a long time. 
To ensure the quality of outdoor furniture, these are often made with high-quality materials. Metal furnishings are made with powder-coated aluminum. Wood products are treated to add water resistance and pest repellant, among other things. And plastic-made furniture is usually made with UV rays in mind to avoid discoloration. And cushions are designed for utmost water drainage. 
Besides the materials used, another factor that manufacturers consider is good build quality. For example, cheap wooden furniture is glued together, making the product vulnerable to damage. More expensive furniture uses joints for better build quality and minimizes exposure to natural elements. 
Manufacturers of expensive outdoor furniture also consider the aesthetic designs of their products. Even if the furniture can last for a long time, you can't call it good outdoor furniture if it doesn't look good. Whether it is metal or wood, additional engravings or aesthetic additions usually require more labor, increasing the product's cost.
Is Expensive Outdoor Furniture Worth It?
According to the New York Times, reasonably priced furniture can be found in the range of $800 and less. You can get the higher-end items for $1,000 or more, and that's a lot of money for furniture.  If this is the case, is it really worth it to buy expensive outdoor furniture? Or would it be better to buy cheaper, low-quality products?
If you have the spare fund to do so, well-built expensive outdoor furniture is worth it. High-quality outdoor furniture would be a better purchase in the long run. You don't have to regularly buy new, cheaper furniture each year. In addition, more expensive furniture tends to look better and even "timeless" as they age. 
An expensive patio set can last for more than a decade, while a cheaper one will likely deteriorate in less than five years. Not to mention that the annual cost of cheaper furniture can increase each year. Hence, the annual cost for expensive outdoor furniture over its useful life is less than buying new after a year. 
It all boils down to the construction of the furniture. A piece of exceptionally-made furniture below $700 is rare but not impossible. Check the quality of the product yourself to weigh in if a product is a good purchase or not. If you want furniture longevity, avoid any products that are too lightweight and too flimsy.
How Much Should You Spend On Outdoor Furniture?
Products priced at $700 and above are considered expensive, while products that cost more than $1,000 are over the top. Furniture sets around $300 to $600 can be considered as moderately priced. Take note: the quality of the furniture sets usually increases as the price increases. 
Your purchase should depend on your furniture needs. If you have a covered patio, moderately-priced furniture can be sufficient. But for exposed patios, you might want to save for extra funds to purchases one with good quality. 
What Is The Best Month To Buy Outdoor Furniture?
Ideally, the best time to buy outdoor furniture is between late August and October. Since most people are gearing up for winter sales, manufacturers and retailers often use sales to offload their summer inventories, especially furniture. However, the selection might be minimal, so better keep it in mind. 
If you missed the sales, don't worry. You can still find great prices, as long as you don't shop during the summer months—demand for outdoor furniture during the summer increases due to the weather. Also, your product might get delivered late or after the season due to the increased volume of deliveries. 
5 Outdoor Furniture You Can Find On Amazon
For shoppers with a $400 budget, this four-piece Acacia chair and table wood set are good options. For as low as $389.99, you can enjoy comfortable and sturdy patio furniture for coffee and a lounging area. 
If you are looking for a cheaper option, you can always go for a rattan furniture set. Most rattan furniture is lightweight but very durable and comfortable. These items are also weatherproof by rust and anti-corrosion treatments. It will keep you cool during the summer days because of its breathable woven patterns. 
If you like a metal furniture option, this five-piece set is another good option for quality and quantity. This is great if you want to add functionality to a bigger patio space.