Things To Consider When Purchasing Outdoor Garden Wall Art
A beautiful garden is not just about natural lush green lawns; it also needs as much care and decorating as the interior of your house. In most cases, garden walls are left untendered, which leads to a lackluster appearance. However, by merely placing a few wall arts around your backyard, you can drastically change this and spark some life into your garden. Nonetheless, there are a few things that you need to consider before purchasing these pieces of art.
Aesthetics- 
We only invest in art because it looks good. While other features such as durability, size, and material are crucial,-it is the beauty of something that often pushes us towards buying it. Always choose art that intrigues you and also complements your garden's existing layout. 
Size and Design
– Garden wall art comes in a variety of sizes, designs, and materials. The size and design of the art you choose should always correspond to your wall's size and complement your backyard's general outlook. For an ambient look, the sculptures should be spaced well enough for them to express themselves effectively. There is no limit to the art pieces one can mount on a wall, but cramming them may lead to a disturbing rather than pleasant appearance. 
Material
– The material used in the construction of a wall art determines its durability. Canvas sculptures ideally offer the best display, but they are not ideal for outdoor wall art. This is because they are prone to corrosion and are also more expensive than those made from other materials. Glass sculptures offer brilliant color displays. Regardless, they tend to break easily, which is not ideal for any outdoor setting, especially when kids are involved. The crown inevitably lands on artworks made from metal ores. They are strong, flexible, durable, and highly resistant to corrosion. They are also relatively cheaper than those made from other materials.
We have looked into all these parameters to give you a compressive list of some of the best outdoor garden wall arts available in the market.
A Review of The Best Outdoor Garden Wall Art
PRODUCT
DIMENSIONS
MATERIAL
COLOR
Limeide Floral Wall Art
14.6 x 14.2 x 1.4 inches; 1.9 pounds
Iron
Blue
Juegoal Flower Garden Stakes Décor
25.59 x 8.27 x 3.94 inches; 1.83 pounds
Iron
Glass beads
Yellow, Pink
Deco 79 55103 Metal Wall Décor
25 x 1 x 25 inches;
1 pound
Iron
Multicolored
Juegoal Sun Wall Art
12.7 x 12.7 x 0.1 inches; 11.3 ounces
Iron
Multicolored
Fonmy Stainless Steel Wind Spinner
6 x 6 x 0.2 inches; 3.87 ounces
Steel
Multicolored
Juegoal Flower Wall Art
16 x 16 x 1.2 inches; 1.25 pounds
Iron
Yellow
Aroma Trees Ladybug Garden Wall Art
9.13 x 3.74 x 3.66 inches; 6.6 ounces
Iron
Multicolored
Songxin Pink Metal Floral Wall Art
14.13 x 14.06 x 1.97 inches; 1.08 pounds
Iron
Pink
GiftMe 5 Metal Butterfly Wall Art
10.2 x 7.7 x 1.2 inches; 14.4 ounces
Iron
Multi
colored
Metal Hummingbird Wall Decor 3D Art
28 x 12 x 1 inches;
1.8 pounds
Iron
Multi
Colored
Liffy Outdoor Metal Peacock Wall Art
23.23 x 20.87 x 2.36 inches; 1.29 Pounds
Glass
Iron
Blue
Gigalumi Turtle Garden Figurines Garden Art
12.96 x 9.3 x 7.64 inches; 2.72 pounds
Resin
Multi Colored
Asawasa Resin Attic Solar Garden Sculpture
9.57 x 7.28 x 7.01 inches; 1.48 pounds
Resin
Multi Colored
Myjaqi Coastal Decor Metal Fish Wall Art
12.7 x 7.6 x 1.1 inches; 15.2 ounces
Iron
Multi Colored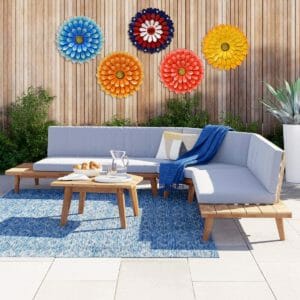 Table of Contents
Add a header to begin generating the table of contents
1. Limeide Floral Wall Art
The Limeide floral wall art is our top pick as it automatically transforms your outdoor living space with its stunning array of colors and top-notch design. It features a nature-inspired flower with detailed handcrafted layers for depth and multi-colors that creates an ecstatic ambiance that brightens up any garden or patio you place it in. 
The eco-friendly flower sculpture is made from recyclable metal ores and is powder-coated for sturdiness and durability. With a diameter of 14.2 inches and weighing just 1.9 pounds, the floral wall art will add a refreshing look for both your outdoors and indoors. A metal hook on the back provides for easy mounting of the wall art in your garden. 
Glowing online reviews of the product means you can rarely go wrong with the Limeide floral wall art once you get the right size for your establishment.
2. Juegoal Flower Garden Stakes Decor

The 25 inches Juegoal Flower Garden Stakes Decor is the go-to product when you're looking to make your garden wall beautiful and pleasing to all who visit your lash backyard. The flower stakes are made from a robust metal, a 1.8-inch glass bead that lies at the sunflower center, whereas a ductile spring connects the stem to the sunflower base. All these designs are to give the sculpture a lifelike feature. 
The springs enable the decorative structure to gently move with the breeze; the rust-proof flower stakes glow in the dark. At the same time, the glass beads absorb sunlight and, at night, automatically glows faintly for a scenic experience. 
Installation is pretty straightforward, screw all the parts together, insert the flower stakes firmly in the ground, and you're good to go! The product will give you peace of mind if you have pets to destroy them as they usually do with garden flowers.
3. Deco 79 55103 Metal Wall Decor
Deco 79 consortium has meticulously produced elegant and sophisticated quality designs for over four decades. Its unique designing styles and philosophies have always been evolving to satisfy your needs. The 55103 model is a celestial-themed masterpiece.  It features a large sun silhouette, a crescent moon, star sculptures, and wavy sun rays. 
The bright crescent moon is ingeniously crafted to depict a smiling face for some comic effect. The wavy sun rays, filled with boho style patterns, are hand-painted for a beautiful polished finish. The 55103 wall décor illuminates your garden with its multiple designs and bright colors, creating a magical aura for your friends and family. 
The entire wall art is exclusively made from high tensile iron and can be left outside even under unfavorable weather conditions without the risk of damage or corrosion. The 25-inch diameter masterpiece is undoubtedly going to cheer your garden and will provide a wow factor when you host a pool party under the moonlight.
4. Juegoal Sun Wall Art
Another quality product from Juegoal further enhances the manufacturer's reputation as one of the globally leading brands. Juegoal maintains iron ore as the primary material for construction. The vintage-themed sculpture is then polished and hand-painted to perfection for a gleefully bright masterpiece. 
Unique color patterns and designs line up the façade of the Juegoal Sun Wall Art as well as its wavy rays. A bright glaze adds a colorful charm to your backyard, and a sturdy hook at the back enables you to hang the sun to any wall or fence in your garden. 
The sturdy piece is guaranteed to serve you for an extended period with minimal maintenance costs incurred if there will be any.
5. Fonmy Stainless Steel Wind Spinner

Fonmy specializes in high-quality gift and craft products for gardens and home decors. The stainless steel wind spinner offers you a fashionable mixture of traditional and modern themes. It is constructed using stainless steel that combines both flexibility and strength. 
The spinner is painted with an epoxy coating that ensures the paint does peel or crackle. Moreover, it protects the Fonmy wind spinner from rust and chemical corrosion. The reflective gilt powder gives off a sparkling and magical 3-dimensional vision. 
This pulsing effect is viewable from a long distance away and gleams at night when hit by light. A swivel hook enables the spinner to twirl during gentle breezes and can be enhanced by connecting it to a motor. 
A 1-year warranty offered by Fonmy and return policy guarantees the product is of the highest quality as advertised despite its relatively low price compared to the other featured products.
6. Juegoal Flower Wall Art
The sun is at the center of the universe; why not make the Juegoal Flower Wall Art the centerpiece of your garden wall. The 16-inch chic floral decoration with distinctive three layers is individually handcrafted and painted for a flawless high-quality design. Bright yellow color with dark edges gives you a refreshing feel of nature. 
The Juegoal flower wall art is non-toxic, making it a great addition to your wall art even if you're endowed with kids and pets. The art is big enough to be visible from afar, and the bright color makes it outstanding in the backyard. 
On your next trip to the home depot, the Juegoal Flower wall art should be at the top of your list of purchases.
7.  Aroma Trees Ladybug Garden Wall Art

The Aroma Trees Ladybug Garden Wall Art Set will come in handy when you're looking for outdoor wall decor ideas. The wall art set is constructed from solid metal for prolonged usage.  A hand-painted high-quality coat ensures the sculpture is rust-resistant and retains its original glossy color even after exposure to adverse weather. 
The cute ladybugs offer a beautiful bling color when hit by sun rays. You enjoy versatility from each of the 5 – 3.75-inch ladybugs as they can be arranged more than 25 different combinations and patterns to your desired preferences. You can hang the bugs on the wall, gate, or any tree you deem fit. 
Their cheap cost offers you value for your hard-earned money without compromising on the product's quality.
8. Songxin Pink Metal Floral Wall Art 

Need a splash of color in your backyard? The Songxin Pink Metal Floral Wall Art might just be what you're looking for. The floral art is handmade from quality molded metal to produce a unique, detailed 13-inch diameter four-layered petal flower. 
The layers are vividly painted bright pink to spring your garden wall into life. The rust-resistant feature makes the flower ideal for the garden as it does not rust or fade even under wet conditions. The flower decoration impresses at first sight, and you would be forgiven if you're caught staring at it for way too long. 
Songxin has an excellent customer service team, and all your inquiries and orders are aptly responded to and timely dispatched, respectively.
9. GiftMe 5 Metal Butterfly Wall Art
Butterflies play an essential role in our ecosystem and will undoubtedly help the GiftMe 5 Metal Butterfly Wall Art brighten your garden wall or patio. This product comes with a set of 4 variable color options, red, blue, green, and yellow. 
The butterflies are from high-quality iron and masterfully varnished to give them a sleek appearance. The wrought iron is rust-proof, while the paint job is masterfully done to ensure it doesn't peel off even after prolonged exposure to rain and sunlight. 
The packaging is just as impressive as the wall set itself as they come wrapped in brown gift boxes. On your next invite from an outdoor enthusiast, you now know which will be the best outdoor garden wall art to go with.
10. Hummingbird Wall Decor 3D Art Sculpture
The Humming Bird 3D wall décor instantly transforms your backyard into a gorgeous chilling zone. A gorgeous anesthetic 3D design of 2 hummingbirds sucking nectar from flowers makes for the façade the wall art. The flawless finishing shows how GSC, the manufacturer, pays keen attention to detail and expert craftsmanship involved in creating their products.
 It is produced from durable, rust-resistant metal and vividly decorated for a magnificent outdoor metal wall art.  Three levels of UV resistance offer layers of protection against corrosive sun rays. The sculpture is slightly costlier than most of the other wall arts, but with a 3D design, it's worth every buck you will chuck out. 
You are also afforded a refund or a replacement on products damaged on transit or if the quality you receive is not satisfactory.
11. Liffy Outdoor Metal Peacock Wall Art

Liffy has been proudly producing garden-themed decors since 2004, and their Beautiful Peacock Wall Art will be a pretty addition to your garden wall. What strikes most about this product is its strict adherence to the processing of the raw materials. The glass melted under high temperatures painted and sprayed with lacquer while the curved, welded, sprayed with plastic, and finally with dye. 
This premium materials ensure the peacock is of the highest quality. The peacock's body design gives the Limeide Floral Wall Art a run for their money as the best outdoor garden wall art. The head is extensively polished with lively eyes and a brightly colored beak. Besides, the glass wings are painted with rich colors and detailed patterns engrafted, while the metal feathers are skillfully handcrafted for an array of stunning and pretty feathers. 
Hook holes on the back allow for easy hanging of the peacock on your garden wall with screws or nails. The quality of the packaging is unrivaled by most of the products on this review. The Liffy Peacock Wall Art will be an excellent present for any of your folks. The customer is always right with Liffy, and full refunds or replacements are given for defective products without a hassle.
12. Gigalumi Turtle Garden Figurines Garden Art

The Gigalumi Turtle Garden Figurines is a perfect addition to your lawn or garden with its unorthodox features. The turtle is fitted with a solar and 7 LED lights for brightening up your backyard. During the day, the gentle reptile may seem immobile, but underneath is recharging using sunlight. 
At night, the turtle automatically comes to life with a soft display of beautiful lights for up to 10 hours during summers and 5 hours in the winter. It's important to note that the solar panel should be kept clear for effective charging. Obstruction to the solar panel may trigger it to light up the LED lights during the day, draining the power.
This outstanding functionality is made possible by the quality materials used in constructing the turtle garden art. Resin covers every part of the sculpture and is coated with UV-resistant paint for a robust and long-lasting build. The back of the turtle is filled with succulent plant designs that camouflage with the surrounding. 
Every figurine is individually hand-painted with bright colors for sleekness. Each of the LED lights is waterproof and can be left on the patio even under a massive deluge. Gigalumi offers a 90-day replacement or refund warranty and a dedicated customer service department that ensures all of their global potential and current clients get swift responses to their queries.
13. Asawasa Resin Attic Solar Garden Sculpture
The Asawasa motto is 'Just For A Comfortable Home,' and they live up to their word with the Attic Solar Garden Sculpture. This lawn ornament transforms your garden into an integral part of your household. Your kids will find themselves spending more time in the park with the non-toxic decoration than on computer games or making a nuisance inside the house. 
The sunlight recharges an AA battery engrossed deep inside the attic. You just ought to turn on the figurine, and the batteries will recharge according to the light intensity. A 5-hour charge can give you up to 8 hours of power. As the sun sets, a light sensor automatically lights the waterproof LED light bulb fitted in the sculpture illuminating your garden with a warm glow of dazzling lights. 
The ornament is made from high-quality resin and polished with a paint that is UV resistant. This gives the sculpture a traditional but classy appearance while ensuring it's healthy and durable. The Asawasa Attic Solar Garden Sculpture works like clockwork, but to show the appreciation for customer satisfaction, agents work around the clock to keep responding to any matters arising.
14. Myjaqi Coastal Decor Metal Fish Wall Art
Vitalize your garden wall with a colorful set of 5 Myjaqi Coastal Decor Metal Fish Wall Art. The brightly colored tropical fish are designed to bring a refreshing feel of nature into your garden. The fish are made from rust-resistant iron metal and hand-painted in beautiful patterns for a gorgeous look. 
The fish are decorated with bright color shades that make them stand out in the garden for further appeal. The paint is UV and water-resistant, ensuring the coastal metal fish wall art set serves you for an extended period. Measuring 12 x 7 x 0.31 inches, it is easy to set up as the fish wall art set comes with a lightweight, thin piece of metal ready to hang on to your wall. 
This product is inexpensive, despite its dazzling beauty. With all the welding, painting, and assembly done by hand, you're assured the final product is of high quality.
FREQUENTLY ASKED QUESTIONS
1. How do you hang outdoor wall art?
The 58 inch thumb rule predominantly used in museums and galleries still applies with garden art.  There should be a 58″ allowance between the center of the artwork and the ground. This ensures the art is not hanging up too high, providing comfortable eye-level viewing of the displayed artwork. Other sculptures come with hooks, which make it easy to mount on your garden wall.
2. Can you hang canvas art outside?
Ideally, canvas art is highly corrodible from weather elements, so it isn't advisable to hang it outside. However, a waterproof cling film can be placed on the canvas to keep it dry. The downside of this is moisture being trapped inside the film, which may distort the art. So it's safe to say canvas wall arts make for incredible indoor decorations but can't be used effectively in your garden wall under extreme weather conditions.
3. What should I hang outside?
Wall arts made from metal ores are ideal for the outdoors. Most of them come galvanized or coated to ensure they do not rust. Nevertheless, they are least affected by long exposures to extreme heat fluctuations between summer and winter. Resin ornaments come in second but are not as sturdy as their metal compatriots.
4. How do I know an item is durable?
The information the company provides can be considered, but it's not conclusive as the periods provided are usually exaggerated to woo customers. Product reviews may also offer valuable information but suffers from bias, and customers have different preferences.
CONCLUSION
Contemporary wall arts are durable and long-lasting; however, proper care and maintenance of these decorations are required to maintain them in perfect condition. Ensure you regularly clean and wipe off the dust to retain their elegant appearance. Click on the provided links for purchases or more information on the featured products.