Everyone dreams of having the perfect backyard – a place of peace and serenity away from the hustle and bustle of regular life. But how can you make yourself a cheap backyard oasis?
You may think that a big budget is required to create your ideal sanctuary at home, but the truth is, it's very easy to turn your garden into a haven with less money than you might think you need. And all it takes is a few simple steps.
Here is our list of some of the simple, budget-friendly additions you can make to your backyard to turn it into your dream oasis.
Build A Patio Or Deck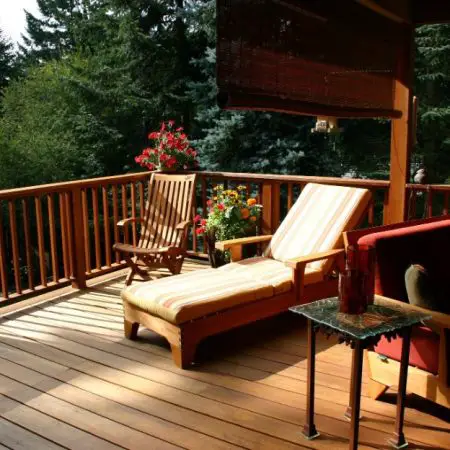 Creating a space for a table and chairs instantly adds a feeling of luxury to any backyard. Decorate your deck or patio with plants and lighting to add an indulgent touch. Adding outdoor dining furniture, and even a sofa with cushions and blankets creates a peaceful, cozy space that can be used all year round. Building a covered area with an outdoor heater adds extra versatility as well.
You could hire someone to come and make it for you, but with easy DIY options, you can customize your space to fit your needs and make it exactly how you want it.
Lay An Outdoor Rug
A beautiful rug isn't just for your lounge, and instantly adds texture, comfort, and a fun pop of color to your backyard. Outdoor rugs come in all shapes, sizes, and colors and work in any kind of space. When buying a rug for your backyard, make sure to buy one that specifies that it's for use outdoors. Outdoor rugs are made to withstand wind, sunlight, and rain and will last much longer than a regular indoor rug.
There's a great selection of rugs on Amazon, from this simple but striking black and white striped Seavish rug to this unique abstract watercolor style rug. Prices vary, so take your time to find one that you love and that fits your budget.
Mood Lighting
We mentioned lighting briefly earlier, but lights don't have to live only on your patio or deck. Lighting placed strategically amongst garden plants, rock pools, and trees can create an atmosphere and ambiance that changes the mood of your garden throughout the day and from season to season. Fairy lights, lanterns, candles, and torches can add a sense of serenity or theater to your space and allow you to use your backyard long after the sun has set.
If you want to add a fun party feel, colored lights also look great and often come with color change options to help tailor your backyard to your mood.
This 25-foot string of G40 outdoor globe lights is simple but chic, whilst these bamboo flame effect torches look like the real thing, without the risk of things catching fire. Of course, real flame torches are also available. If you'd prefer something a bit more practical, opt for solar-powered lights to illuminate your garden paths, like these GIGALUMI lawn lights.
Get A Fire Pit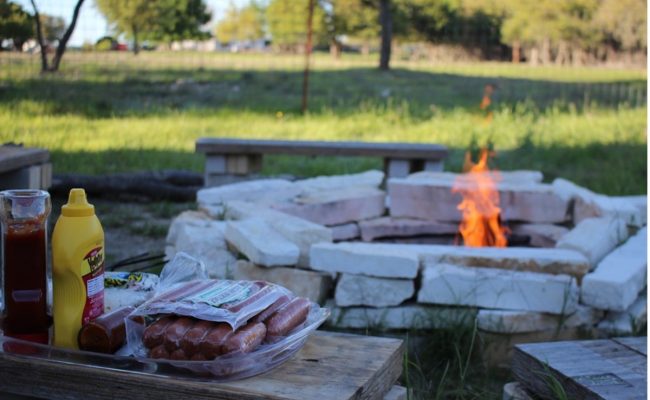 Fire pits add instant luxury to any backyard and can be bought for a reasonable price, or built easily from wall stones or brick. You can find an easy-to-follow guide for building your own fire pit here.
If you'd prefer to buy a pit, there's a huge array of metal pits for great prices and in a variety of styles. If you want to keep it simple, this KingSo wood-burning fire pit is incredibly inexpensive at just $57.99. And with a 4.5-star rating and ten and a half thousand reviews, you can be sure you're getting more than your money's worth. But if you'd prefer something a little more dramatic, perhaps this NSdirect tower fireplace is more your style. Traditional fire pits can also be used as barbecues, and some come complete with grill attachments.
Whatever you choose, remember to always place it on even ground, protect any surrounding grass or plants, and keep it out of the wind.
Add A Water Feature
There's nothing quite as soothing as the sound of gently running water. A fountain, waterfall, or pond in your backyard can add instant serenity. Water features can be built from scratch using rocks and the required parts (which can be found here) or bought ready-made for simple installation. Whether your backyard is large enough for an elegant fountain, or you're more into the rough and ready tumbling rock waterfall, there are plenty of options for you. This Alpine Corporation water jar fountain is elegant and chic. With a 4-star Amazon rating and over 1,200 reviews, it comes in a stunning turquoise or red and would look great on your deck, patio, or nestled amongst your flower beds.
Bamboo water features are rustic, bohemian, and a great budget option. Amazon offers this fantastic bamboo tap, complete with a pump, that can be added to any bowl to instantly create a great feature. With adjustable arms, you can even adjust the height of the tap to make the water sound louder or softer to suit your preferences.
Get Yourself A Hammock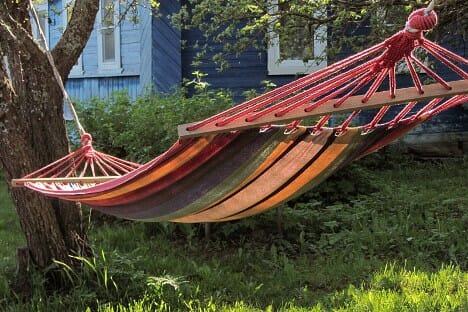 Hammocks are great for adults and kids and add an instant element of relaxation. Hung between trees or suspended on a frame, hammocks come in a variety of sizes and every color you can imagine.
This best-selling hammock on Amazon is a great example of a free-standing hammock – made out of durable double cotton on a steel stand and available in a wide range of colors and patterns. This Anyoo cotton garden hammock is perfect for hanging between trees and comes with all the required straps and clips for safe installation. At just $26.99, it's an absolute steal and is also portable enough to take camping or for a day at the beach.
Another great item to make yourself – if you have the time and inclination – hammocks are an easy DIY project, with ideas all over the internet.
And if you don't have enough space for a full-sized hammock, how about opting for a hammock seat instead? Equally as comfy and relaxing, but more compact and not reliant on having suitable trees in the garden, this style is great too.
There are so many ways in which you can make your backyard into an oasis on a shoestring budget. These are just a handful of ideas, and the internet is full of hundreds more. So have some fun, get creative, and enjoy your very own backyard oasis.