A fire pit is one of the most practical things to add to your backyard. Not only do they give a house a cozier look, but they are also great when hosting bonfires or movie nights outdoors during the winter season. 
The great thing about fire pits is that you can also use them during warm summer evenings when you want to have drinks or a barbecue with friends outside.
If you don't have a fire pit in your backyard or patio, you can build a DIY fire pit yourself with a few handy tools. Here is how you can make your own fire pit. 
Though it may not look as chic as the ready-made fire pits you get, it is cheaper and does the job adequately.
Once you have your fire pit, you want to make sure it goes with your outdoor area's aesthetics. There are multiple ways you can design your outdoor fire pit area. 
The main aim of creating it should be to maximize comfort around the pit and encourage others to lounge and sit around it. The location should essentially look and feel good while also serving the purpose it is supposed to, which is to keep you warm.
You can design your fire pit all by yourself in many different ways and with minimal effort. Keep reading for the best and most practical design ideas you can emulate.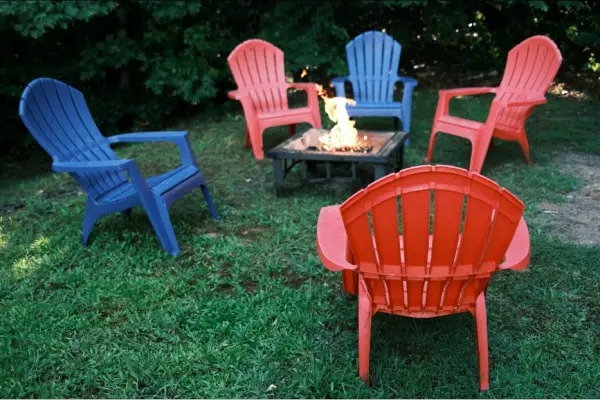 Ideas for Outdoor Fire Pit Areas
Here are some ideas that will make your fire pit aesthetically pleasing,  functional, and WOW your guests.
1. Give every seat access to the fire
You don't want some of your guests to benefit from the warmth of the fire while leaving the others to shiver in the cold. For that reason, you should try to arrange your sofas and chairs all around the fire pit.
Sometimes, smoke from the fire pit makes it challenging to sit near it. Here are some ways to reduce the smoke in your fire pit and allow your guests to keep sitting nearby and enjoy the warmth.
2. Place the fire pit in an area with a good view
You could keep your fire pit in the backyard or on your patio. Just make sure that whatever area you choose has a good view of the plants, garden, and the stars above.
3. Make the outdoor décor an extension of the indoors
Your outdoor area is an extension of your indoor living space, which is why it is best to have a cohesive décor theme and color scheme. For example, if you have a contemporary and modern design indoors, try to emulate the same type of design outdoors. This will make your outdoor fire pit effortlessly chic.
4. Make it comfortable
Having a fire pit space that looks good and cozy is essential. But remember, ensuring comfort is important as well. The comfort level will probably make your guests sit for an extra round of s'mores, so make sure your seating area is cozy, large, and warm.
5. Design the fire pit with large rocks
Line your fire pit area with large stones to make it look rustic and appear as if you are in a hot spring. If you have a low-ground fire pit, lining it with large rocks will look good and help keep children and animals safe.
 This idea is easy and cheap to carry out, but it will also create the perfect romantic atmosphere. It will also make the atmosphere warmer as the rocks will absorb the warmth from the fire. You can use artificial or real stones for this.
6. Keep the fire pit under a shade
By keeping your fire pit under a shade, such as under a gazebo, you and your guests can enjoy the warmth even when it is raining.
7. Hang lights around the area
Since the fire from the pit does provide natural lighting, it probably is not enough. Hence hanging string lights will give your fire pit area a more magical and romantic look while not being too bright.  
8. Stick to a minimalist look
You can never go wrong with a simple and minimalist look in your fire pit area. You can do this by having white furniture and removing any miscellaneous pieces of décor around the area. Consider having an open-basin cast iron fire pit to make the overall area even more aesthetic.
9. Make sure that the fire pit is in the right spot
If you are building or installing a fire pit in your outdoor area, make sure the wind does not blow in the pit's direction. This minute detail can become detrimental to your outdoor experience.
10. Install a glass marble in your fire pit
To make your fireplace aesthetically appealing, you can install a glass marble on top. This will make your fire pit stand out and effortlessly enhance the ambiance of the area. If you want to go ahead with this idea, check out this full guide on using glass marble for fire pits.
Other Tips to Consider
Here are some other additional tips you can take into consideration when designing your fire pit area. The attention to detail will help create the perfect ambiance and mood in your outdoor space.
Plant hedges around the fire pit area for privacy
Make sure your fire pit area is separate and away from the pool
Add color-coordinated and bold fabrics to your seats and sofa
Add vintage metalwork on top of your fire pit to make it stand out
In addition to the central fire pit in your area, you can create a DIY miniature tabletop fire pit using planters by following this guide.
The Bottom Line
There is something heartwarming, comforting, and satisfying in sitting with a group of people around a fire pit. For that reason, you should do your best to optimize this space with our ideas for outdoor fire pit areas. Most of these ideas are straightforward and easy to do and won't cost you an arm and a leg!