An outdoor kitchen has many benefits, especially if you love spending time in your backyard. Hauling food indoors and outdoors can become a hassle, but with an outdoor kitchen, you've nothing to worry about. Imagine doing all your cooking outdoors all year round. The best part: you get to enjoy your own BBQ parties as hosts!
More often than not, hosts get too caught up with preparing meals, bringing in plates, drinks, and the dishes, so much so that they forget to interact with guests and enjoy their own parties. All of that, however, changes with an outdoor kitchen. 
If you're planning to have a BBQ party or a soiree of any kind, here are some of the best ways to design an outdoor kitchen for BBQs and additional tips you can use to make the most of your outdoor parties.
For those who don't have an outdoor kitchen, you don't have to miss out on the fun. Here is an easy and straightforward guide on building an outdoor kitchen yourself with a few handy tools and materials.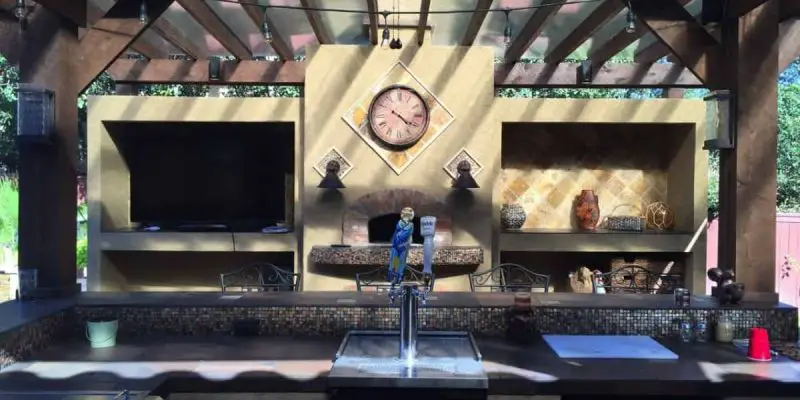 Designing an Outdoor Kitchen For BBQs
1. Ensure Comfortable Seating
Make sure to add seats next to your outdoor kitchen so that your guests can sit near you while you grill burgers. This ensures easy interaction with everyone and allows everyone access to fresh and hot food. This is also one reason why outdoor kitchens are so great; they allow you to extend your living area space so you can do multiple things simultaneously.
2. Use Bold Colors
Add a splash of bold colors as part of your plan to design an outdoor kitchen for BBQs. You can do this by painting the cabinets in shades of yellow, red, blue, or even pink. You can also consider adding frames or colorful utensils on the kitchen countertops, which will be very eye-catching. You can also set up the table with colorful plates, placemats, spoons, and glasses.
3. Place a Mini Fridge
A backyard mini fridge is an essential part of an outdoor kitchen. So, don't forget to get one for your BBQ party and stock it with enough drinks for all the guests.
4. Set Up the Dining Area
Your dining area does not need to be grand or extravagant. It can be as casual as you can keep it so long as it's comfortable and functional. If you're planning to buy new dining chairs and table for your outdoor area, consider buying wooden furniture as those are best for keeping outdoors. They can withstand harsh weather.
One way to decorate your dining table for the party is by putting up a tablecloth on top. Additionally, put up a floral centerpiece or vase and colorful cushions on the seats to give it a pretty and cute touch.
5. Place Covers
If you live in an area with unpredictable weather, it would be a good idea to add a cover or umbrella on top of your outdoor kitchen. If it rains, you don't want to end up not being able to grill meat for your guests or, better yet, end up with wet or soggy food.
If you want protection from the sun, another design tip you can use is to plant trees near or around the outdoor kitchen. This idea provides natural shade from the sun.
6. Build an Oven in Your Outdoor Kitchen
If you want to go the extra mile and are willing to put in the money for it, consider installing a wood-burning oven next to your grill in your outdoor kitchen. This will genuinely appeal to your pizza-loving family and friends and those who like a good party but aren't fans of barbecue food.
However, if you cannot afford to get one installed, you can definitely try your hand at building one. It is not that complicated or requires strenuous work. Use this guide on how to build a brick oven in your outdoor area to get started.
7. Build a Herb Garden
You can also build a herb garden next to the kitchen. This will be very convenient for you as you can use the fresh herbs for your marinades, sauces, or for cooking other things.
8. Install a Patio Heater
If you're planning to host your BBQ during winter, consider placing an electric or gas patio heater near your outdoor kitchen and living space. Here is our list of best patio heaters if you want to pick one.
The outdoor heater will be an excellent investment that can be used for many seasons to come. During your BBQs and parties, the heater will allow your guests to cozy up next to the heater and enjoy their warm, tasty food.
9. Invest in a Built-In Kegerator
If you and your guests are huge fans of beer, you can consider adding this feature to your outdoor kitchen. This will be very practical, look unique, and stand out in your outdoor kitchen. You can even consider having a kegerator with two taps so that you can serve two types of beer or drinks to the guests.
10. Add Some Lighting
An excellent feature that makes any outdoor celebration all the better is lighting. Hanging fairy lights will give your outdoor kitchen an aesthetic vibe and the perfect ambiance for entertainment. At the same time, it will also provide you much-needed light to carry out your cooking when it gets dark. Here is how you can install more lights and decorate your backyard with lights.
Bonus Design Tips
Add in potted plants around the kitchen, such as on countertops.
Select accessories such as cushions and upholstery that are moisture-resistant, sturdy, and durable
If you plan to change your countertops' overall design, consider using stainless steel for the tops as they are the most durable.
Install an icemaker if you think you will need to use it a lot for your BBQ parties. It will save you from running inside every time you need ice.
So, these were some ideas on how to design an outdoor kitchen for BBQs. Once you've implemented them, you can unwind and enjoy your outdoor parties with your friends!