Nothing beats a sunny afternoon relaxation session on some lovely garden furniture. Maybe you're just kicking back with a good book or having Sunday brunch with the family. Rattan furniture has facilitated the formation of many memories, but is the material itself just as timeless?
High-quality rattan furniture can be left out all year round and expected to endure most weather elements like rain and snow. However, it may be prone to fire damage, as well as damage from pests and vandalism. On the other hand, Rattan cushions are not as durable and must be brought inside during bad weather.
Today we talk about the wonder-material that decorates countless backyards. We discuss the elements rattan can be exposed to, as well as some cushion maintenance tips.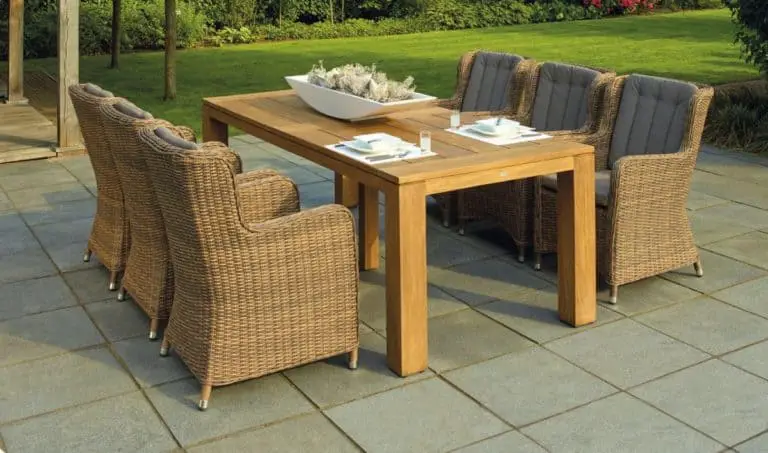 Can you leave rattan furniture out all year?
The answer to this question depends on the quality of the furniture. Rattan furniture weaving and frames come in varying qualities, which also affects durability. 
You have nothing to worry about from the weather elements (rain and snow, especially). The weaving is tight and impervious to ultraviolet exposure, and the frames are usually crafted from aluminum. The great thing about aluminum is that it does not rust or corrode. Water will be like…well, water off a duck's back.
Of course, we need to specify what exactly we mean by "high-quality." Oftentimes, the best kinds of rattan weaving are made from polyethylene resin and are referred to as PE rattan. This material has a significant advantage over natural rattan, which degrades at a much quicker rate. 
This gap is more pronounced when both materials are exposed to the outside world for extended periods.
Of course, PE rattan's perks come at a price because it comes with all the benefits of natural rattan wicker, without any of the inconvenient rotting. Cheaper man-made alternatives include polyvinyl chloride (PVC) and polyurethane (PU) wickers. 
While PU and PVC share PE's resistance to long-term water and sunlight exposure, they do not have its resemblance to the real thing.
Rattan made from PE is also better for the planet because it is recyclable and can be repurposed. It may be a bit pricey, but with garden furniture (and all furniture, really), it is better to just buy once.
Can you leave rattan furniture in the rain?
The wicker and framing will be the main determinants of the answer to this question. With furniture, in general, you will find that quality is king.
Natural rattan palm wicker is, without a doubt, a spectacle to behold when expertly crafted, but, unfortunately, it does not last forever. Over time, the material degrades; naturally, a process only expediated by exposure to rain. Of course, the material will withstand a few storms, but it is not the best long-term option because it will develop mildew and rot.
Synthetic wickers like PVC, PU, and PE are much more suited to water exposure as they are completely waterproof. Water simply runs off the materials with no consequence or compromise in quality (unless covered in cheap paint). If you don't want the inconvenience of rushing to get your garden furniture indoors, synthetic rattan will serve you well.
The furniture frames are the other consideration here. These are often made from metal, and we all know the main concern with metal (especially outdoors) …rust. A lot of garden furniture features cast-iron frames, which are not bad if kept dry. However, expect them to rust and start looking unsightly if exposed to water for long periods.
For true durability, you will need furniture with aluminum frames. Aluminum does not rust, which means fewer worries for you. It's quite pricey, though, so prepare your wallet. However, it is worth it because it all but guarantees a decade of stress-free relaxation (at least). Stainless steel is also a good (and more affordable) option.
Rain doesn't just bring rust-inducing water and mildew, though. Heavy storms can also carry dirt, debris, and leaves that can sully your furniture. A cover may still be required if you do not want your furniture getting dirty.
Do you need to cover rattan furniture?
There are two main reasons why one might need to cover rattan furniture. The first is to prolong the lifespan of the furniture items. This is especially true if your furniture is made from natural rattan palm or features a frame that is prone to rust.
As we have already discussed, synthetic rattan wickers and rust-proof frames are well suited to all-year exposure to the elements. The main reason to cover such furniture would be to keep it clean and shield it from debris and dirt. 
What do you do with rattan furniture in the winter?
Wintertime presents an interesting set of challenges to garden furniture, and you need to know the best course of protective action.
Furniture made from natural rattan should be brought indoors or stored away somewhere dry on snowy days. Prolonged exposure to snow has the same effect on natural wicker as water…mildew and, eventually, breakdown. Constant temperature changes will also be a catalyst for faster breakdown.
The synthetics are the better option for wintertime. Snowfall will not affect them because they are waterproof. They will not rot, and neither will they be unduly affected by drastic temperature changes.
Iron and other rust-prone metals would also face problems in winter. Snow is water, so rust will never be far behind if the frame is exposed to it. Aluminum and stainless steel are the shining exceptions, of course. Rust-proof furniture will easily brave the long winter months. Also, aluminum is resistant to the effects of constant temperature change.
Can you leave rattan cushions outside?
Garden furniture is often used together with cushions. This naturally raises questions about the durability of these cushions.
The question is not easily answered, as there are variations. Most cushions in high-quality garden furniture sets are resistant to light showers and normal day-to-night temperature changes. However, we strongly advise that you bring them indoors if the weather turns ugly. 
Take time to contact the manufacturer to be certain of the kind of punishment your cushions can take.