Pressuring washing is the best way to get rid of the fine dirt, debris, and grease that has been collected in your concrete hardscapes for years. But can power washing damage concrete? Let's find out!
Can Power Washing Damage Concrete?
A well-maintained and clean driveway or another hardscape plays an important role in enhancing your home's beauty and the outdoor living space. Dirty and greasy concrete, paving stones, and bricks result in algae and mold growth, which looks very unappealing.
 When it comes to the best ways to clean the hardscapes, power washing tops the list. It is an easy and cost-effective way to maintain your outdoor space. You can either purchase the power washing equipment yourself or rent the tool from home improvement services. 
If you're not into DIY cleaning, we suggest hiring professionals to do the job carefully.
And yes, it is completely safe to power wash concrete, bricks, and other hardscaping material when done carefully.
While there are no special skills required for power washing, using the powerful machine in the wrong way can cause damage. The common pressure washing damages include paints peeling away from walls and pavements, damaged wooden decks, damaged shingles and siding, etc. 
Handling the machine the wrong way can also lead to physical injuries.
But the deal here is, pressure washing is not the culprit itself. The problem is with the inexperienced users who use the washer in the wrong way, on high pressure, with a wrong nozzle, and so forth.
So, sometimes it is possible to cause a significant amount of concrete damage when using the power washers the wrong way. The damage is quite visible. It is usually in the form of surface degradation, pitting, etc. Other damages include the removal of sealant and paint from the concrete.
Moreover, older slabs are more likely to get damaged.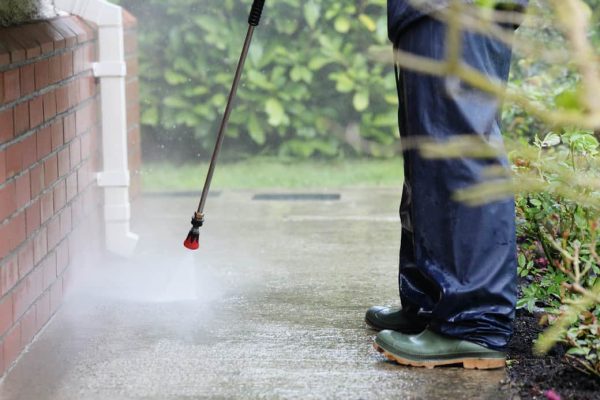 How Do You Power Wash Concrete?
If your hardscapes have collected a significant amount of dirt and debris, power washing is a great option. However, as we discussed above, handling the power washer in the wrong way can cause significant damage to the concrete and other surrounding structures.
Hence, the best idea is to hire an experienced professional who can do the job with full perfection. This is the best and the safest way to clean the concrete structures without causing any damage.
But if your budget is limited and you can't hire a professional, then you can learn to do it yourself. There are plenty of guides and video tutorials that can help you learn basic power cleaning skills. These guides will offer a step-by-step procedure for effectively cleaning the concrete patios, driveways, and walkways.
To help you a bit more, here are some pressure washing tips :
For a DIY power washing task, you can either purchase a good quality power washer or rent one if you have a limited budget. But before renting or purchasing the equipment, determine whether or not you actually need it.
If the area is moderately dirty, a garden hose with a spray nozzle would be enough to eliminate all the dirt and debris from the surface.
But if the area is extremely dirty and greasy, you can consider getting a power washer. It is a powerful spray machine that can remove the toughest dirt and debris from the hardscapes.
After renting or buying the power washer, practice using it on an inconspicuous surface. This will make sure that no damage will be caused in your outdoor space.
Selecting the right pressure washer is important for a thorough cleaning and for avoiding damages. Pick a washer between 3 to 4 GPM, and its psi should be about 3000. Next, you have to select a nozzle that will provide a wider angle.
Many inexperienced users invest in high psi power washers with different nozzles to get the job done faster, but they end up damaging their surfaces instead. So, avoid wasting your time and money on the high psi washers.
When you're pressure washing your hardscapes, make sure to use a continuous sweeping motion. Avoid using it on a single spot for too long; otherwise, it will cause damage to that area.
Further, keep the nozzle minimum of 12 inches away from the surface and maintain an angle while spraying rather than pointing it directly.
Should You Seal Concrete After Power Washing?
Sealing the concrete after power washing is a great way to keep your hardscapes clean and good looking for years. Concrete sealants prevent water, dirt, and grease from settling into the pores and imperfections. Not just that, sealers also prevent staining on the concrete. 
For these reasons, we recommend sealing your concrete after pressure washing it.
What PSI Should I Use to Clean Concrete?
As we already discussed above, a power washer with a maximum of 3 GPM and about 3000 psi work great for most concrete cleaning tasks.
Can You Power Wash Painted Concrete?
If you do it carefully, then YES otherwise, NO.
If you're using a high psi washer with no experience, then power washing a painted concrete surface can result in chipping of paint. But if you do it carefully with low psi equipment and following the above tips, you can power wash a painted concrete.
Does Power Washing Remove Concrete Sealer?
The answer depends on the quality and age of your sealant. If the sealant was applied years ago, there are chances that it will be removed with a high-pressure washer. Otherwise, it won't budge if you're using a low-pressure washer on a year or two old sealant.
How Long Do You Have To Stay Off Driveway After Sealing?
The best idea is to leave the driveway for about 24 hours after applying the sealer. If you can't wait for this long, leave it for at least overnight to dry and settle completely.
Does Power Washing Cause Mold?
Power washing, in general, doesn't cause any issues like mold or algae growth. However, when the job is not done correctly, water can build up in the sidings, resulting in such issues.
For these reasons, we recommend hiring a professional or do it carefully if you're opting for a DIY power cleaning. We hope you got your answer to 'can power washing damage concrete'!