If you're looking for backyard deck ideas on a budget, you've come to the right place! In this blog post, we will discuss several different ways that you can create a beautiful deck for your home without spending a lot of money. Many people think that they need to hire a professional to build a deck for them, but this is not always the case. There are many different DIY projects that you can complete yourself with a little bit of effort.
You should also think about the kind of weather you'll have to endure and when you'll want to use your deck the most. A north-facing deck would be ideal for hot summer days, but not so great on colder days.
If you have a south-facing deck, opt for the one that is not shaded. A sun-shading alternative is preferable to one without shade because it's simpler to protect yourself than it is to generate heat. In the end, your option should be based on the best access to your deck's usage.
When it comes to building a backyard deck on a budget, you want it to be a complement to your house and should be proportionate in size. Make your deck comparable in size to the biggest room in your home as a general rule of thumb.
A deck can be as small as a hot tub or a gazebo, but building an advanced deck with all of the trimmings might be too much for a novice handyman to handle, and you may want to stick with the basics and build on it as your expertise grows.
Whatever you decide before you begin building your foundation it is important to check the local building laws to see what you may need to do or if you require a building permit. It's not uncommon for the building inspector to want detailed blueprints before they will give you a permit.
Once your backyard deck design idea on a budget has been approved by your local building inspector and you have your permit you can start with the work. It takes some skills at this point and getting a do-it-yourself manual would be a wise choice.
60 Backyard Deck Ideas On a Budget
1. Build a DIY Backyard Deck or Patio
2. Lay Down an Outdoor Rug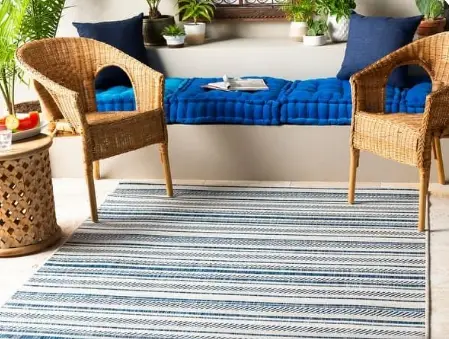 3. Create a Stone Path
4. Construct a Tree Bench
5. Set Up a Trellis
6. Create Shade with a Pergola
7. Invest in a Fountain
8. Use a Stock Tank Pool
9. String Up Some Mood Lighting
10. Get Crafty with Your Fence
11. Paint a Fence Mural
12. Grow Your Garden Vertically
13. Try Xeriscaping
14. Make a Space for Outdoor Dining
15. Include Comfy Seating
16. Heat Up with a Fire Pit
17. Don't Forget a Hammock
18. Create a Relaxing Space for Outdoor Meditation
19. Set Up a Backyard Theater
20. Flip Burgers in an Outdoor Kitchen
21. Invest in a Portable Bar
22. Add Some Kid-Friendly Fun
23. Set Up Some Lawn Games
24. Plant Bright Flowers
25. Build Color with Containers
26. Add Vintage Hardscaping Elements
27. Add Simple DIY Backyard Ideas
28. Low-Cost Budget Seating Ideas
29. Add Less Expensive Paving Materials
30. Add A Simple Planet Palette
31. Vertical Gardening Tips
32. Use Off-the-Shelf Materials
33. Backyard Hardscaping Ideas
34. Display a Collection
36. Vintage Backyard Decor
37. Backyard Lighting Ideas
38. DIY Outdoor Seating
39. Small Backyard Ideas
40. Backyard Furniture Ideas
41. Smart Backyard Ideas
42. Living Fence Ideas
43. Plant Inexpensive Perennials
44. DIY Backyard Fire Pit
45. Cozy Backyard Ideas
46. Make A DIY Planter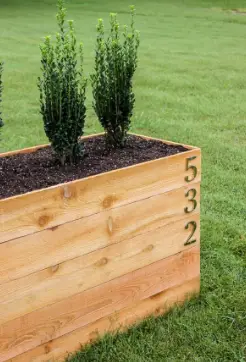 47. Easy Deck for the Big Easy
48. Decking Out Your Budget
49. Step Up to This Easy Deck
50. Backyard Beach Paradise
51. Do-It-Yourself Diagonals
52. Pallet Power
53. Easy and Affordable Deck Privacy
54. Easiest Deck in the World to Build
55. Easiest to Build Deck Design
56. Nesting with Grace
57. Paint a rug on your deck
58. DIY Decks
59. Desert Domicile
60. Sugar and Cloth
Frequently Asked Questions About Building a Floating Deck on a Budget
What is the cheapest backyard deck to build?
The most inexpensive backyard deck to construct is hardwood plank decking. If you're building a new deck, here are some options for your wood decking materials. Softwood is much more durable than the majority of woods that are commonly used. It's tough but has a smooth finish. Preservative treating and sealing are strongly advised if you're constructing a deck.
The common Redwood timber decking is shown in this example. Again, there will be many grades of Redwood available, depending on the desired look and quality. The following are the wood decking grades: B-Grade, Clear Heart, Construction Heart, and Construction Common.
Patios and driveways, on the other hand, are both significant. They both need strong foundations. These require more robust foundations than those used for occasional usage. The wood may take time to decay as it is sheltered by strong fundamentals such as well-built decking construction plans.
The most significant element of wood decking design is paying close attention to the details. Because time takes the best portion of the wood, paying meticulous attention to the wood decking design will avoid any damage. Patio awnings are an element of a house and structure's overall architecture. These not only have a function, but they also make a statement by themselves.
Teak is a very beautiful wood that may be utilized to build a deck on a budget since it is used in the production of patio furniture for insect-resistant and natural water decks without the need for a chemical treatment to protect the wood from decay or termites. Take pleasure in creating your own wooden deck.
What is the typical deck installation cost per square foot?
The average cost of constructing a 10×10 foot backyard deck is around $2,000, a 14×20 backyard deck costs roughly $6,000, and a 20×20 backyard deck costs about $9,000. The cost of constructing a backyard deck with pressure-treated wood, hardwood, or composite is approximately $25 per square foot in total, including material and deck installation expenses. Remember that prices vary depending on the materials you choose as well as the dimensions you choose; they also change depending on whether the structure is level or not. The average cost of a new backyard deck could range from $4,000 – $9,000. The minimum cost is $1,200. The maximum cost is $15,000 – $20,000.
What is the most cost-effective backyard deck to build?
The most inexpensive backyard deck to construct is wood decking. If you're planning a new deck, we've provided some suggestions for your wood decking below.
What is the average cost of constructing a backyard deck per square foot?
Remember, the cost varies depending on the materials you utilize, the sizes you pick, the level of construction on it, and any optional features like built-in seating or steps. A 10×10 foot backyard deck costs approximately $2,000 to construct, a 14×20 backyard deck costs around $6,000 to build, and a 20×20 backyard deck costs approximately $9,000 to construct.
How much does a 10 x 10 backyard deck set cost?
In 2022, homeowners will spend a minimum of $2000 and a maximum of $4,500 on a wooden backyard deck.
What is the cost of a 12′x12′ back deck?
In 2022, homeowners will spend a minimum of $3,000 and a maximum of $6,000 on a wooden backyard deck. To save money, you may build your own deck.
How much does a 20'×20′ backyard deck set you back?
The most affordable price to construct a wooden backyard deck in 20212is around $5,000, while the most expensive is roughly $15,000. It's also possible that the total cost varies based on your own personal decorations.