Are you planning on growing your own garden, but you're unsure of where to start? Well, you've come to the right place! Before you go to the gardening store and overwhelm yourself with all the tools and gadgets there, check out our top picks for essential gardening tools.
There are a variety of tools used in home gardening, but for a beginner, you'll need a trowel, angled shovel, garden rake, hose, and pruning shears to get you off to a strong start. Continue reading to find out what these essential gardening tools are used for and how they can make your gardening journey easier. 
5 Essential Gardening Tools
From trowels and shovels to hoses and pruning shears, below are the top 5 most essential gardening tools for a thriving home garden, even if you don't have a green thumb.
1. Garden Trowel
A handheld trowel is a multipurpose tool that can be used for everyday gardening tasks, such as planting and potting. You can use it to dig small holes or break up chunks of soil. It also comes in handy when you want to mix soil with other planting materials.
Trowels can easily fit in small spaces, so they're wonderful for planting in beds, planters, pots, or window boxes. Plus, they're also great for transplanting seedlings, repotting, and even digging up weeds.
Trowels usually come with a metal blade and a handle that's either wooden, plastic, or metal.
Top Tips:
For a better grip, go for a wooden handle. Make sure that it fits comfortably in your hand. 
To carry more soil, choose a wide blade. To dig up weeds or rocky soil, choose a long and narrow blade.
Stainless steel trowels or ones with a stainless steel blade are more durable.
2. Angled Shovel
A shovel is a tool that usually has a wide blade and curved tip. It's used to dig holes, move soil, and relocate plants. However, there is a range of forms and sizes available, so you should understand your needs and capabilities before making a purchase. 
For most beginners, an angled shovel is what you should go for. The triangular-shaped head is great for shoveling and moving soil around because you can lift and carry bigger mounds of soil on its wide blade. It can also be used in mixing soil with other materials.
Top Tips:
For tougher and/or rock-filled soils, select a pointed shovel tip. The narrow tip helps it to dig deeper into the ground and cut through any obstacles.
For softer soils or transplanting plants, select a rounded tip. It can slide into the soil much easier compared to one with square edges.
3. Garden Rake
Just by looking at its shape, a garden rake is basically a comb for your garden. Unlike leaf rakes with tines spread out in a triangular shape, garden rakes have shorter and thicker metal tines.
You can use a garden rake to easily smooth and even out soil levels and remove unwanted weeds at the same time. It's also useful in preparing your soil for new seeds, breaking up clods of dirt, or removing debris.
Garden rakes come in two types: flathead and bowhead. The flathead forms the letter "T" with the handle while the bowhead has arching supports with more stability.
Top Tips:
A garden rake shouldn't be too narrow or too wide. A 24-inch width is a good option.
To choose the right handle length, place the rake flat against the floor. If the handle reaches the same height as your nose, it's a comfortable length for you.
As for materials, the most durable garden rakes have heads forged from high carbon steel.
4. Hose and or Watering Can
It's an unspoken rule that all gardens need a watering tool. 
For small-scale gardens or container houseplants, a watering can (hand sprinkler) is enough. It's a portable tool that seems to establish a closer connection between your plants and you. There are stainless steel and plastic options available. Each one can hold up to 10 liters of water.
For larger-scale gardens, look for a hose. Unlike watering cans that need to be refilled regularly, this long flexible tube provides a continuous flow of water so you can water larger surfaces and hanging plants with ease.
Top Tips:
Look for lightweight watering cans to lessen the added weight when carrying your supplies around.
For more flexibility and durability, go for rubber hoses because plastic ones tend to crack in cold weather.
Consider installing a nozzle that will let you adjust and control water flow and pressure.
5. Pruning Shears
Pruning shears (secateurs) are used to keep overgrown plants under control. Anvil pruners work like a knife to cut through things on a flat surface. Meanwhile, bypass pruners work more like scissors that cut when 2 sharp blades pass through each other.
To keep your garden pleasant to the eye, you should prune and trim overgrown bushes regularly to help sculpt the plants and avoid any unwanted competition among your plants.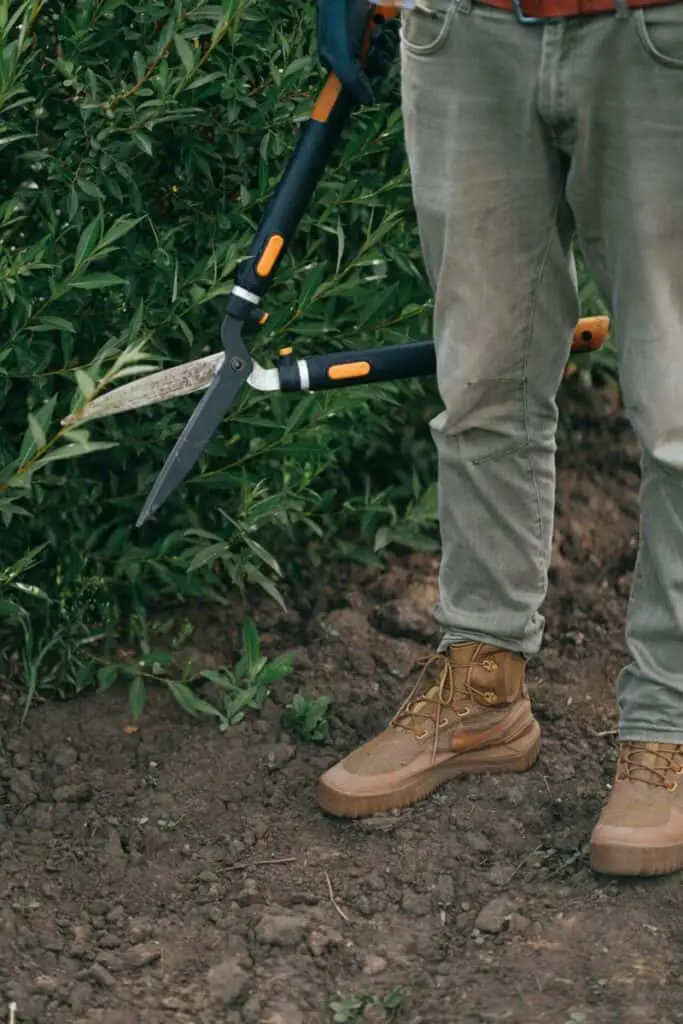 Top Tips:
For dead wood, use anvil pruners. For live plants and greenwood, use bypass pruners.
Pruners should fit comfortably to minimize the strain in the palm of your hand.
If you have hand problems or injuries, go for a ratchet pruner. It can help reduce hand fatigue while increasing cutting strength.
For sharper and cleaner cuts, you should sharpen your pruners regularly.
Keep Calm And Garden On
Now that you know what tools are essential to kick off your gardening journey, hit the store or add these items to your online shopping cart!  
It doesn't matter if you've just picked up gardening as a new hobby or decided to get more serious about gardening, gearing up with these 5 essential gardening tools will help you perform all kinds of different garden tasks as well as declutter your shed.
Gardening is a truly relaxing and satisfying hobby. If you want to start a vegetable garden, check out this practical guide. If you're more into flowers, here are some ideas about what to plant in your yard. Happy gardening!