Would you like to install small backyard pools on a budget in your backyard but don't think you can afford it? Think again! Small backyard pools can be installed on a budget, and they are a great way to cool off during the summer months. In this blog post, we will discuss some of the best ways to install a small backyard pool on a budget. We will also provide tips on how to maintain your pool so that it stays looking great all season long.
Contrary to popular belief, you don't need a big house or loads of money to make your vision of owning a pool come true. All it takes is a careful examination of your backyard or patio spaces and an informed decision on the best location to put your pool in while staying within your budget.
You'll be amazed at the many alternatives available to help you build a beautiful pool that will wow your guests. With so many people spending more time in their pools, small pools are becoming increasingly popular among homeowners. This is especially true when you compare it to large or Olympic-sized pools. Regardless of how small they appear, they may add beauty and enjoyment to your property.
The ideas in this post are both budget-friendly and aesthetically appealing, making them some of the greatest options available. So, get prepared to begin your pool construction process by providing you with all the information you need to make your dream of having a tiny pool come true regardless of the size of your home.
Before Opting for a pool, there are certain things to consider
1. Pool Type
There are several types of pools to select from. Each has its own set of features that distinguish it from the rest, especially when you're thinking about price, construction, durability, upkeep, and appearance.
They include:
 A. In-ground swimming pool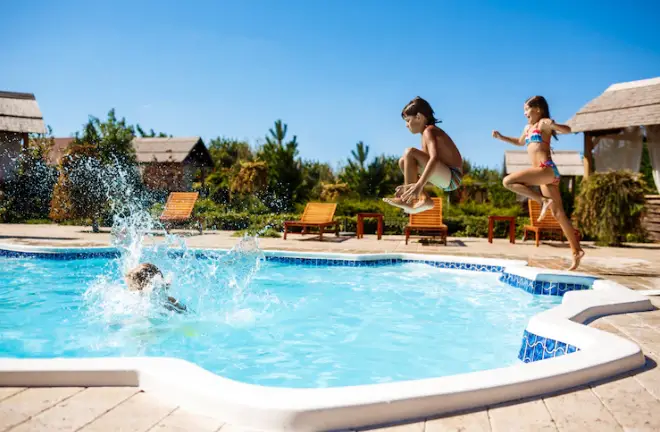 The in-ground swimming pool is also known as the underground swimming pool. It is the most widely used pool type by homeowners, especially those with numerous kids. An above-ground swimming pool is beautiful and luxurious, and it provides entertainment for families that enjoy relaxing by the poolside. The underground pool, unlike the other one, is rather pricey to install and maintain.
You'll have to budget for water bills after the pool is installed, as well as chemicals to purify the water and other maintenance expenditures. Underground pools may endure for many years. The average cost of constructing a basic one with a patio is between $30k and $70k. However, you can always purchase a smaller-sized pool for around $10k to $20k.
Types of In-ground Pool
Vinyl pool. If you're searching for an inexpensive in-ground pool, the vinyl-lined pool is the way to go. It's less expensive and simpler to build than a concrete pool since it does not follow any set norms. If properly maintained, it may only endure for about 18 years. It has been known to cause significant repairs or total pool failure due to the fact that the vinyl liner is fragile and prone to being punctured.
 Shipping container pool. The cheapest and most recent option for an in-ground pool is to make it out of uncycled metal shipping containers. It has to do with the construction of a swimming pool using used metal shipping containers. They come in a variety of shapes and sizes, some with hot tub dividers and clear viewing panels on their sides. The main disadvantage of this pool design is the lack of a structural wall, which might lead to failure. Even worse, if the corrugated walls and wooden floors are not properly maintained or constructed, they may rust.
Concrete pool. This has to do with the excavation and construction of a steel framework for concrete to be poured and sealed with a plaster finish. This may be re-applied when the need arises during maintenance. Concrete pools are quite durable and may be readily customized to suit your preference or style. They are, however, one of the most costly and time-consuming varieties of underground pools.
 Fiberglass pool. This is a less expensive and more popular option than concrete pools. It's also long-lasting and requires minimal upkeep. As a result, installing an in-ground pool of this sort for your tiny pool is cost-effective.
II. Above-ground pool
If you have a higher budget for an in-ground pool, this is the option to choose. It's easier to set up and generally comes as a kit. So, if you're handy with tools, you may either hire someone to install it for you or do it yourself without difficulties — if you're DIY inclined.
The above-ground pool, unlike the subterranean pool that requires weeks to build, can be set up in only a few days. It's portable; so you may take it with you as you relocate.
The pool's primary disadvantage is that it isn't as adaptable or versatile as an in-ground pool, which may be customized to fit your preferences. The above-ground pool is only available in round or oval forms, which may be less appealing. This also restricts your selections.
It's not as long-lasting as its bigger brother, and it only lasts 5-9 years. You may build a modest swimming pool for around $2,000 to $5,000 if you have a limited budget. You can find this above-ground swimming pool design on Amazon
2. Depth
Another thing to think about when selecting a pool is the depth of the water. The subterranean pool is deeper than an above-ground pool, and the greater depth you desire, the more expensive it will be to construct.
5. Durability
The in-ground pool is more durable than an above-ground pool but is prone to damage or abuse if it lacks adequate support.
 3. Budget
If you're on a strict budget, an above-ground pool is superior. When you have more cash available, you may build an underground pool at a later time.
4. Water type
Saltwater and chlorine pools are the two options. Although chlorine is popular and widely used among homeowners, saltwater swimming is now used to improve skin texture and eliminate chemical odor. When it comes to maintenance, the saltwater pool is less difficult than the chlorine pool, despite the fact that there isn't much of a difference in cost when considering installation time.
7. Additional Features
If you want to include extra or specific features such as waterfalls, fountains, color-changing built-in lights, and a fireplace, among other things, you'll have to spend more.
 Here are Some Small Backyard Pools on a Budget to Choose From
1. Deck-Style Pool
Do you have a large backyard that could use some more space? Have you been thinking about the best way to utilize your deck to improve the appearance of your home? If you answered yes, you should think about adding a modest pool onto your tiny deck.
2. Small Square Pool
Why opt for a rectangular pool when you can have it square and save money on materials? A square-shaped pool is more attractive and cost-effective than a conventional rectangular pool. It may be installed in any area of your home with limited room. And it provides enough space to swim with your family comfortably.
3. Mini Lap/Narrow Pool
If you love swimming and have a tiny backyard, you won't have to worry anymore. With its cutting-edge design for little places, this tiny lap pool will meet your demands. You may now swim and even prepare for the Olympics (if you're going for one) in your own house while still having enough room in your backyard to relax with family and friends.
 4. An Above-Ground Pool with a Nice Deck
You can build an above-ground pool with a beautiful deck in a restricted backyard if you don't have much space. This adds beauty to your property and allows you to relax and enjoy yourself with your family and friends in a recreational location. It's inexpensive, making it one of the best small above-ground pools on a budget.
5. Small Indoor Pool
It's time to make use of any free space or room on the first floor of your home. If you want a pool, a little indoor pool is ideal. While this sort might be costly, labor-intensive, and time-consuming (because of planning), the sense of achievement you'll get after finishing it will make it worthwhile. It is another alternative for adding luxury and elegance to your house. 
6. Wall-Mount Pool
You may also build a tiny pool that is built to be placed along the perimeter of your backyard wall in a small area. This design takes up very little room. The main drawback is that you will only have access to it from three sides because of the fence. However, it is an inexpensive approach to utilize limited space for a small pool. Check it on Amazon
 In Conclusion
Even if you have a tiny home, you can still enjoy the comfort and pleasure of having a pool. This piece will help you create your desired small backyard pools on a budget and space available to you.
Also, read How To Safely Build A Fire Pit On Concrete