There is nothing that creates a delightful rendezvous and a joyful spirit to your backyard than the glimmer of playful flames from a fire pit. However, the only factor that may stand in the way of having an exceptional backyard fire is a strong wind. That is the reason why you must consider blocking the wind to avoid errant sparks from causing fire hazards.
You can use a fire pit wind guard to block wind so that you can use a fire pit in your yard. The wind guard will protect the flames from the wind and prevent sparks from flying out. You can also block the wind with a tarp or choose the right location for the fire.
If you want to avoid fire damage to your property or an individual, you should be prudent and take proper preventive measures, as detailed in this article.
We've also highlighted essential ideas on fire pit wind guards and the best fire pit wind guards you can get from notable dealers. Keep reading.
How to Block the Wind so that You Can Use a Fire Pit
Whether you have a family gathering, dancing around the open fire, or telling stories, the glowing embers will undoubtedly provide great comfort to the ambiance. If the wind is not appropriately blocked, the fire sparks might cause danger to the surroundings.
Here are some of the ways you can block wind so that you can properly use a fire pit on your yard;
Block the Wind with a Tarp
You can create a wall between the fire pit and the wind by hooking bungee cords onto a large tarp. Once you have identified the wind's direction, stretch out the tarp and attach it to nearby trees or structures using the bungee cords. To prevent sparks from setting the tarps ablaze, keep the tarps at least 6 feet from the fire.
Make sure the bungee cords are secure by double-checking, after which the tarp should block the wind from reaching your fire pit.
Choose the Right Location
You can also protect your fire pit from the wind by choosing the right location, especially if you have a portable fire pit. If your fire pit is portable, you can try moving it next to a windbreak, such as the side of your house or next to a wooded area. These features will block the wind, making it easier to keep your fire pit burning on a windy day.
But, make sure you keep your fire pit far enough away so that a stray ember doesn't cause property damage.
Cover the Pit Fire with a Lid or Wind Guard
Another excellent idea is to block the wind using a lid or a wind guard. Wind cannot reach the fire if you have a cover over your fire pit. However, if you don't have a wind guard, you can use a grill lid. It should work just as well, blocking the wind from reaching the fire if it is the same size or about the same size.
Stand around the Fire Pit
If you don't have a tarp, a wind guard, or you cannot get access to the correct location, try standing around your fire pit to block the wind. A couple of friends with you can create your windbreak of human bodies. The idea might not be effective as using a house for a windbreak, but it can still help by slowing down the wind.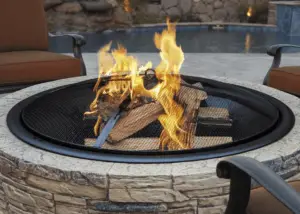 Do Fire Pit Wind Guards Work?
Fire pit wind guards do work. Wind guards are an excellent choice for your fire pits. Often, the guards are simple and practical solutions to the problem of a windblown flame.
Most fire pit wind guards are manufactured from tempered glass, making them very durable and can withstand high temperatures. Additionally, wind guards add so much to the table's look as the fire reflects off of the glass.
Note, without a fire pit wind guard, the flames would go all over the place to the point of being a safety concern to anyone standing close to the fire pit.
How Do You Put a Wind Guard on a Fire Pit?
It is essential to properly install a wind guard on a fire pit to ensure it shields your fire pit from the wind, prevents flying embers from flying off, and protects your fire pit from debris.
Below is a simple way on how to put a wind guard on a fire pit;
What you'll need
Wind guard
Screwdriver
Bracket with set screws
Silicon washers
Black rubber feet
Step1: Remove the wind guard from the packaging and inspect for any damage such as chips or cracks. If there isn't any damage, place glass panels on a soft flat surface to prevent damage.
Step 2: Confirm if each bracket has 2 set screws in them with the silicon inserts attached to the backside.
Step 3: Stand the glass panel vertically and slide the bracket onto the glass. Make sure the glass level with the bottom of the brackets.
Step 4: Connect the brackets to the glass panels using a screwdriver. Repeat the process until the wind guard is fully assembled.
Step 5: Tighten the Screws. Start from the bottom.
Step 6: Once your wind guard is fully assembled, center the complete assembly over your fire pit inserts.
Fire Pit Wind Guard Ideas
Round Glass Wind Guards Ideas
Round glass wind guards are compatible with round-fire pits. If you have a circular outdoor fire pit, then a round-glass fire pit wind guard is for you. These wind guards will add beauty and safety to your fire pit/table.
Rectangular Fire Pit Wind Guard Ideas
Always think safety first whenever fire is involved. These rectangular fire pit wind guards will keep the wind from disturbing the beautiful flames of your fire pit or help to protect young children from getting too close to the fire.
Best Fire Pit Wind Guards
GASPRO 17.5 Inches Square Fire Pit Wind Guard
I recommend GASPRO 17.5 inches square fire pit wind guard because it is made of tempered glass that enhances the elegance by reflecting the flames on the glass surface. This fire pit wind guard allows the flame to come up straight and creates an artistic elegance when the blaze reflects off the glass.
Fire Pit Glass Wind Guard
The Yukang Sobalai's rectangular clear glass wind guard is one of the best fire pit wind guards. The wind guard is made of tempered glass to help maintain lower flame heights and consume less fuel.
This clear tempered glass wind guard with non-slip heat-resistant rubber feet is made of 0.3 inches heavy-duty heat-resistant tempered glass to stabilize the flame and block the breeze. You can count on this wind guard to protect your family, friends, and children from fire.
Celestial Fire Glass Wind Guard
This wind/frame guard is a perfect fit for a 12 by 12 inches square fire pit burner pan, blocking breezes that compromise your fire.
Celestial fire glass wind guard will complement your outdoor fire pit with minimalist design and clean edges and instantly give it a more modern, sophisticated appearance.