If you're lucky enough to have a backyard hot tub, you'll want to make sure that you're doing everything possible to make it feel as exclusive as possible. In this blog post, we will discuss 10 different backyard hot tub privacy ideas that you can try. From landscaping ideas to patio furniture choices, we've got you covered. Let's get started! After all, this is your own little slice of paradise right in your own backyard!
It's important to have some wonderful hot tub privacy ideas for your garden spa to become the ultimate chill-out zone. You may enjoy the bubbles in solitude without being on display to your neighbors or the rest of your yard that way.
Putting a hot tub in its own private area will create a more distinct space that is set apart from the general environment and can be used just for relaxation. And, of course, luxurious slatted blinds or delicate plants that softly conceal you from prying eyes are another way to add aesthetic appeal to your hot tub enclosure.
So, if you've felt inspired by our hot tub privacy ideas for outdoor space, the designs below are well worth trying.
Backyard Hot Tub Privacy Ideas: 10 Designs for Your Spa
We've compiled a nice selection of fantastic hot tub privacy ideas for every style and space.
1. Place it Beneath a Modern Pergola
If you're looking for the greatest hot tub area, this beautiful shelter will make your tub more hidden while also encouraging you to use it when the weather permits. All of the surrounding slats may be adjusted to alter the amount of air and natural light. If desired, all of the sliding doors can be closed, creating a cozy winter swim thus allowing you to enjoy your own private oasis. You can also consider portable hot tub enclosures for creating privacy. If you have a more whimsical and romantic garden, this may not be the finest choice.
2. Use a Bamboo for Subtle Screening
Don't overlook the significance of plants as a natural screening option. It's a more subtle approach than a manufactured building, and it also adds to the amount of vegetation in your garden. The photo on the left features tall bamboo plants in a trio of contemporary pots, which effortlessly separate the grass from the hot tub. A leafy perspective while you unwind in the spa can also contribute to the ambiance.
3. Go for a Chic Corner Screen
If you wish to create hot tub privacy, a corner screen may be a great idea. It is all it takes to provide your hot tub with the privacy it needs without making it feel too enclosed. For example, this slatted design provides greater height than the adjacent fence while also allowing a summer breeze in. Its slender design also means that it won't take up much room.
Choose a color that complements the colors in your bath or the features around it for a more cohesive appearance. If you want a thicker screen, consider training some of the best climbing plants in the area – fragrant flowers like roses and jasmine will provide an especially lovely ambiance.
4. Offer Shelter and Privacy with a Wooden Gazebo
Gazebos in the backyard are wonderful as they provide a place to read, relax, and enjoy the weather year-round. They can also be used for home hot tubs because of their versatility.
If you have adjacent windows above your tub, using a hot tub gazebo is an excellent option because it will protect the tub from sight. You may also utilize the posts to support more fence panels for additional seclusion from the sides, as seen in this design.
5. Extend Your Fence
Are you seeking more information on your backyard fence? If the hot tub owners are searching for hot tub seclusion ideas, consider extending your new design horizontally into your plot to provide sides or even a portion of the yard.
It's a fantastic method to keep your backyard's aesthetic consistent while nevertheless dividing it into sections. This slatted design, for example, hides the portion of the lawn from view from the tub and promises a relaxing experience. This way both the hot tub as well as your backyard will remain private.
Furthermore, the subdued lighting emphasizes the art and gives an opportunity to add extra wall lights to encourage people to utilize the space even when it gets dark.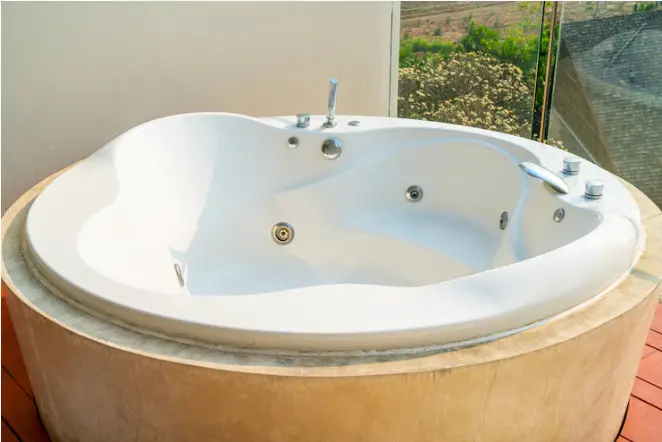 6. Opt for Frosted Glass
To make it appear more private, a hot tub positioned high up, such as on a deck or a roof terrace, might need to be hidden from passers-by. Fences are popular, but instead of picking something completely opaque that might make the area feel dark and dreary, consider an opalescent appearance. This creates a more elegant barrier that also allows light to pass through. It'll also be simple to maintain since it's easy to clean. You can also keep your hot tub private by adding tall plants and garden trellis in your backyard oasis.
7. Use Stone Structure to create something appealing
You may go daring with your hot tub concealment ideas for a more distinctive appearance, as this stunning arrangement demonstrates. Tim Redwood of Redwood Stone discusses how they implemented the design above at RHS Hampton Court Palace Garden Festival. 'As a consequence, we have come to be seen as the first choice if you want to hide or enhance a hot tub that many people see as unattractive by integrating it inside one of our garden follies,' says Tim.
Naturally, as well as converting the area into a stunning feature, it will also allow users to enjoy their tub in greater privacy – ideal for a romantic evening or for relaxing alone.
8. Use The Levels In Your Layout
Tiered garden ideas might be useful if you want to keep areas of your yard distinct. Take a look at this arrangement, for example, where the hot tub has been placed on its own level away from the patio space up top.
A row of planters runs along the railings above to provide an additional level of privacy and exclusivity to the area. Despite its tiny size, sunken deck lighting and structural plantings add warmth as well as intimacy to the space. It is amongst the most inexpensive ways that can provide privacy for your hot tub and make using the hot tub an enjoyable experience for you and your family.
9. Create An Outdoor Room With All The Mod Cons
Here's another enclosed design with sides that may be adjusted as needed. However, it also includes a comfy sitting area, making it ideal for both entertaining and repose.
The fireplace, in addition to its wood-burning element and wrought ironwork, provides a rustic feel for the space. The warmth from the flames will also help to keep your pet comfortable as it snoozes away in front of the fire. A glass panel on one side allows you to enjoy views of trees without losing privacy while providing a soothing view of nature.
10. Surround With A Soft-Hued Wall
Do you prefer a more laid-back look? This softly curved stone wall in a light terracotta coloration provides plenty of privacy while still maintaining a natural and organic feel. It also complements the decking beneath it, as well as the wooden steps. Potted plants provide an aesthetically pleasing accent to the scene, setting a Mediterranean garden vibe.
What are the Things to Consider When Making Hot Tubs More Private?
Various alternatives are available for screening. 'There are a number of choices when it comes to screenings,' says Charlotte Dean of HydroLife, from beautiful privacy-trellis style fencing to more permanent outbuildings for your hot tub to sit beneath. However, she adds that there is no "one-size-fits-all" solution and that while it's true that "it's a totally subjective choice,"
However, there are a few factors to consider when choosing how to make your hot tub more secluded, such as your budget. An enclosed structure, for example, is generally the most expensive choice because it has special features like lighting incorporated. Similarly, constructing a raised area just for a hot tub zone will necessitate landscapers and is unlikely to be the greatest option for the tight-pocketed.
Although it's tempting to invest in a tub enclosure that protects your investment, such as one made of glass or metal, it can be costly. However, having a garden wall built around your tub will most likely be less expensive – and if you have some DIY skills, you may build your own. A fence or add-on screen could be an even quicker and easier solution, but it might need more upkeep, especially if it's constructed from wood.
According to the team at BISHTA – The British and Irish Spa and Hot Tub Association, 'You may hide your tub from your neighbors by using clever planting. Plants, such as trees, shrubs, and hedges, not only provide shade but also serve as an excellent sound barrier. 'However, in order to avoid foliage falling into your tub,' you must think about the position.' Of course, plants must be cared for in order for them to remain healthy (and some will lose their leaves during the winter).'
Whatever hot tub seclusion ideas you choose, make sure the tub itself is on a solid, level, and sturdy surface, advises BISHTA. This must be capable of supporting the weight of not just the hot tub, but also its water and any occupants as well as any necessary equipment such as steps or an overhead canopy.
'It's a good idea to build patios with solid foundations feasible, but this should always be verified first with the supplier,' they advise. You'll need to make sure it has its own dedicated electrical outlet if you want an electric spa (if you choose one), and that there is a nearby water supply,' they add.
Finally, keep in mind the perspective you'll have from your chosen spot, as BISHTA emphasizes. 'Think about where you would be able to enjoy your garden's views if your main concern is to unwind'.