Having a wonderful yard and patio is something we all want. However, if you've ever encountered any landscaping, you know how quickly it can get super expensive. That being said, it's essential to set your priorities straight and determine the most necessary but cost-effective things you can do to improve your patio's overall appearance.
Patio pavers are an excellent solution to personalize your yard or patio. You can have the whole place look so much more luxurious without having to cash out massive amounts to make it happen. I'm here to help you find the best places to buy patio pavers in the US in 2021. 
I'm focusing on companies with online stores or multiple locations, so the area doesn't influence your decision that much.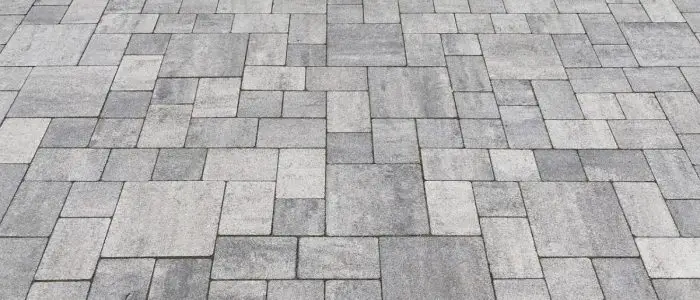 Pavestone
While Pavestone doesn't have an online store, they have an excellent website where you can check out all their products, see photos of how they look when they are set, check out what sizes of individual pavers are available, etc.
They have an extensive range of products, from rustic and simple to modern and luxurious. But, the best part about Pavestone is that there are literally thousands of spots across the United States where you can buy their products. 
However, if you are unsure where to look, check out their website. There, you can find a map of all the existing locations where their products can be found. They even have selling locations in Alaska and Hawaii because they sell their products at Walmart, The Home Depot, and other big home-improvement chains across America.
Mutual Materials
Mutual Materials is a brand with over a hundred years of history, making them the oldest and the largest supplier of masonry and hardscape products in the Pacific Northwest. They started as a brick company in 1900 and just expanded from there.
Now, you can find some of the finest patio pavers on the market here. They always kept their high-quality standard, and the choice of products is enormous. They sell circle kits, stone squares, porcelain slabs, red clay pavers, turf stones, and much more.
One handy fact about Mutual Materials is the fact that they also have an online store. You can check out how their products look in the photo gallery, check the prices, what sizes you can choose from, etc.
Techo-Bloc
While Techo-Bloc is a Canadian brand, there are many stores across the US (mostly in Pennsylvania) where you can buy their incredible products. They have their official website, too, where you can browse their products and check to see what you like.
Try their Blu 80 Polished pavers to get that modern, contemporary vibe to your patio. If you are looking for something more classing, though, the Victorian pavers will provide you just that. Also, every piece is the same size, so you can go wild and piece them together as you see fit.
I love the Pure patio pavers the most, as they are designed to look like old-school stone roads. But, they have much fewer bumps and are incredibly high-quality.
County Materials Corporation
County Material Corporation doesn't have an online shop, but they have a fantastic website where you can see all their products, not just the patio pavers. You can contact them to find out where you can buy their products, be it by calling them, or checking out the Where to buy page on their website. They have their own stores as well as partners that sell their products.
As for the patio pavers themselves, they have some unique choices. For instance, their Essence Wood Plank Pavers are amazing because they look like rustic wood but are actually made out of concrete. That way, you get the beautiful appearance of the wooden planks combined with the ever-lasting durability of concrete.
There are other fantastic choices too, such as the Destination Pavers. I love these because virtually every stone is of a different shape and size, making the mosaic look perfect when put together (they aren't actually all different, they fit in with one another perfectly).
Lowe's
Lowe's is a trendy brand for buying landscaping products, especially patio pavers. Lowe's great thing is that they have an online store and several live locations, making it very easy to find and buy their products.
Their patio pavers are very durable and quality-made, which is excellent if you want your landscaping effects to last. What makes Lowe's notable, though, is its online store. There are hundreds of different patio pavers to choose from, and you can easily see each product's prices. In terms of online availability, this might be your best choice.
Belgard
Belgard is one of the most well-known brands in the United States when it comes to hardscaping and patio pavers. They offer a wide variety of shapes, sizes, and styles at affordable prices. If you want a rustic, traditional-looking patio with wooden chairs and a quiet atmosphere, choose something like the Belgian Cobble or the Cambridge Pavers. But, if you prefer a more contemporary appearance, go for something like their Holland Stone pavers.
The choices are enormous, and you can find all the extra information you need on their website, be it brick dimensions, colors, or anything else. One other great thing is that their products are manufactured regionally. You can put your zip code into a search bar on their site, giving you the closest option where you can buy their products. Pretty cool, right?
Abbotsford Concrete Products
Last but not least is Abbotsford Concrete Products. They cataloged the products thoroughly on their website, so when you go there to check their offer, you will be blown away by how many choices and varieties of patio pavers they have.
One more great part about Abbotsford Concrete Products is that they offer matching wall stones to go with their patio pavements, allowing you to create an incredible atmosphere in your yard or on your patio. Gather around the barbeque or pave the way to the swimming pool.
They might have the most extensive offer from all the before-mentioned brands, but you cannot purchase online. You'll have to go to one of their locations to buy the products, but you can easily find them on their website.